Everything You Need To Know About Tonight's Tyson Fight PLUS My Jake Paul Interview
Clem blogged earlier this week about his disappointment in the myriad of rules surrounding tonight's exhibition fight between Mike Tyson and Roy Jones Jr. at LA's Staples Center.
For those of you who are not familiar with those rules, it seems tonight's bout has been watered down with some regulations that, in theory, will keep the collectively 105-year-old boxers healthy.
- The match is scheduled for eight rounds, but the length of each round has been cut from 3 minutes to 2.
- The fighters will wear 12-ounce gloves, as opposed to the 10-ounce ones they were accustomed to when they fought professionally.
- The fight will be stopped if either participant acquires a bad cut.
California State Athletic Commission executive director Andy Foster has said about tonight's main event, "It's about entertainment. It's not about competition.", so, "In this match, the referee will have the authority to stop the fight if it strays outside the boundaries of a competitive boxing exhibition."
And instead of a traditional group of judges sitting ringside scoring this fight on a scorecard, a trio of former champions- Christy Martin, Vinny Pazienza, and Chad Dawson will remotely score the bout in order to decide on a winner.
All of this extra hair that has been attached to the fight means most U.S. sportsbooks (including PENN) won't be offering wagering opportunities.  And since PENN isn't making a market, I am going to approach it as if it were a pick 'em because I don't want to lend any credence to a competitor's odds.  You certainly can, if you'd like… I just won't be mentioning odds in this blog.
So let's chat about this matchup and the circus surrounding it, shall we?
The biggest question I have been fielding this week is, "Should I buy this fight?"
I ran out of money in 2016, so I don't like to tell people where to spend theirs, but I will 100% be purchasing this event tonight.
It's going to cost me $50 and I honestly don't know if I will order it through my traditional PPV provider or if I will live-stream it at either TysonOnTriller.com or FITE TV.
The main card starts at 9 PM Eastern and the last time I checked, it contained 4 fights along with a couple of performances from rappers that have the word "Lil" in their names.
(Lil Wayne actually canceled his performance last minute, but I really don't care… As long as Mario Lopez is hosting, I am there.)
I am going to concentrate on the 2 fights leading up to the Main Event because I probably won't tune in before then.
The first fight is a mismatch, pitting a very good boxer versus an unproven one… Badou Jack vs. Blake McKernan.  This bout will be fought at light heavyweight and is scheduled for 8 rounds.
If the name Badou Jack rings a bell it might be because one of the first boxing blogs I wrote when I got to Barstool detailed the night Badou basically had a 5 inch long vagina-esque gash beaten into his forehead…
Jack needed 25 stitches after suffering this gruesome cut versus Marcus Browne on the undercard of Manny Pacquiao's win over Adrien Broner in January of 2019.
Outside of that, you should know that the 37-year-old Badou is from Sweden, he trained with Shannon Briggs for a while, he was signed to Mayweather's promotional team for a little bit, he has held 2 belts before (the WBC super-middleweight title from 2015 to 2017 and the WBA light-heavyweight title in 2017), and he enters this fight with a record of 22-3-3 (13 KOs).
On the opposite side of the ring is Blake McKernan, and if that name rings a bell it is because you are related to Blake McKernan.
For everyone else… 33-year-old McKernan comes into this bout undefeated BUT with only 13 fights under his belt. 
- He was a machine gunner in the U.S. Army for three and a half years, including a one-year stint in Iraq.
- In 2019, Blake signed a multi-year deal with International Championship Boxing, a promotion known for holding boxing matches inside an MMA-style cage. 
- He's mainly fought in the cruiserweight division and this match will be his first as a light heavyweight. 
- And finally, Blake has an 8-year-old son named Tyson, named for Mike Tyson.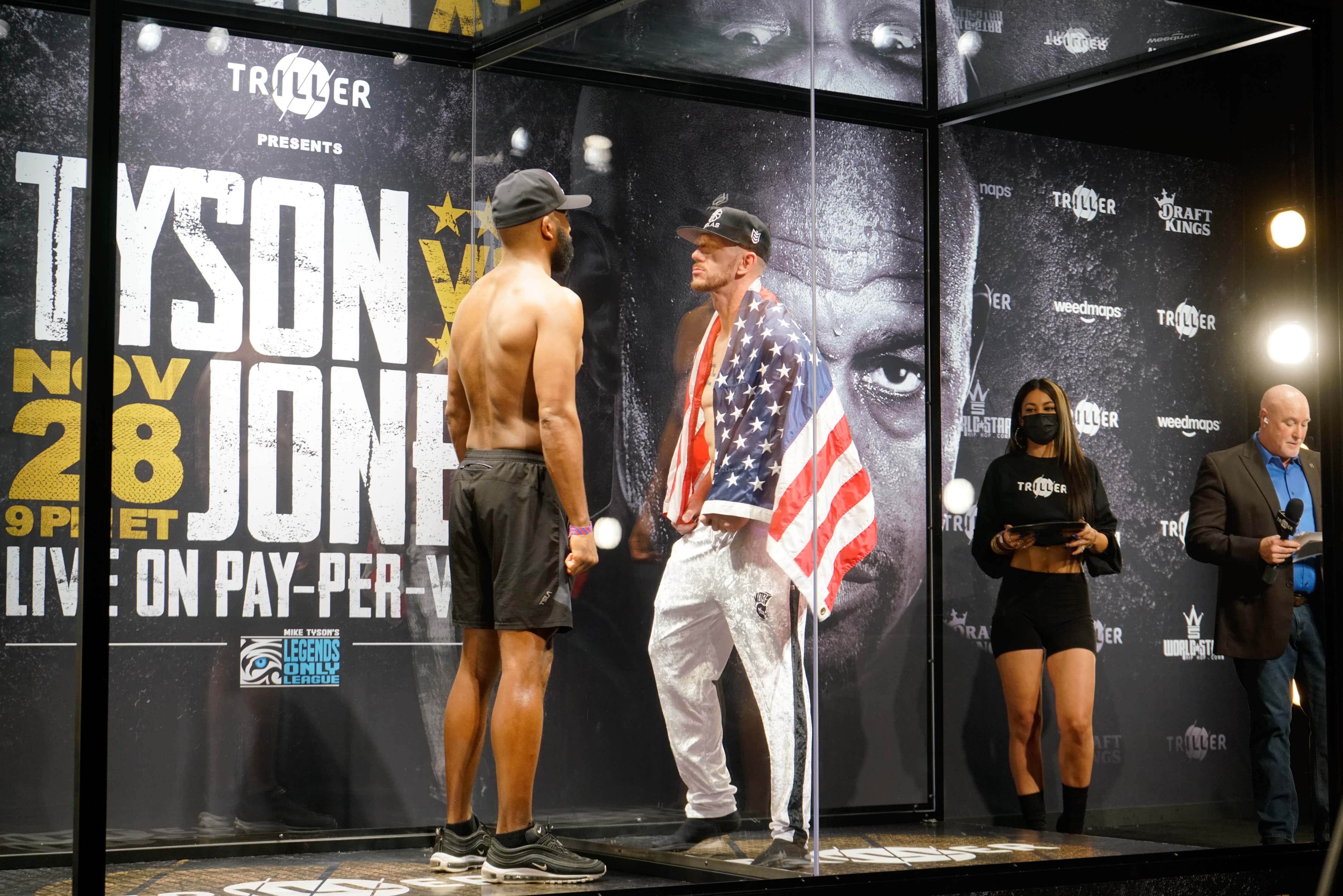 (the guy on the far right kinda looks like me without glasses)
McKernan has a puncher's chance in this one, but that's about it.  I would expect Badou Jack vs. Blake McKernan to end midway through, with Jack outclassing his greener opponent… Hopefully, headlines the next day will read "BADOU JACK HATES THE TROOPS".
The final fight of the night before the Main Event is one that is nearly impossible to break down because it is between 2 x-factors, but here goes…
Former YouTube star/influencer turned boxer/rapper Jake Paul vs. NBA veteran Nate Robinson.  This bout will be fought at cruiserweight and is scheduled for 6 rounds.
I didn't know much about Jake Paul before we sat down for our interview earlier this week, but what little I knew, I hated.  
Jake is easily the heel and has played the part of the villain to a tee throughout the promotion of the fight… Right down to his outfit for yesterday's weigh-in…
On the other side of the ring, Nate Robinson seems like an absolute delight to be around, and I think his stint in the league PLUS his reputation as a two-sport collegiate athlete gave him the eye-test edge for most casual viewers in front of tonight's matchup.
However, after speaking with Jake, I realized a couple of things…
1) Jake's douchey persona is probably all a lucrative act… Or at least it was when he was talking to me… He was actually quite lovely and even spoke to my kids for a little bit after the interview was over.
2) This kid is 13 years younger, 4 inches bigger, incrementally stronger, and more experienced in the ring than his opponent tonight.
3) He dates Julia Rose… Which seems like a pretty cool thing to do.
4) He's also FUCKING INSANE thinking he is ready to fight real boxers or even box veteran MMA stars, but you have to appreciate his moxie, right?… Julia Rose probably does.
This fight doesn't have the extra rules that Tyson vs. Jones is saddled with, so there are betting odds available.  And last I checked, Jake was around a 2-1 favorite.  I like those odds, and I probably like Nate Robinson's chin, so I will guess Jake Paul vs. Nate Robinson will be a sloppy match that will go the distance and Jake Paul will come away with a decision.
If this was a slam-dunk contest, there would be no contest… But it's not.
On to the MAIN EVENT…
I wish either of the fighters showed up to the weigh-in just JACKED, but unfortunately, they both appeared looking simply like in-shape 50-year-olds…
Here are the facts… 
- Roy Jones Jr. is undoubtedly the fresher fighter of the two having last fought on February 8, 2018, when he beat Scott Sigmon by unanimous decision closing his career on a 12-1 run.
- Mike Tyson has not fought professionally since June 11, 2005, when he refused to answer the bell for the sixth round against Kevin McBride.
- Tyson is naturally a heavier fighter than Roy, but an older Jones has been fighting at cruiserweight in recent years, sooooooo the size disadvantage against an already small heavyweight like Tyson won't be as much of a concern.
- Which leaves us with speed vs punching power… And Jones should enjoy a legitimate speed advantage BUT his 51-year-old chin is long gone and vulnerable to clean power shots from a hard puncher, and you don't need to be Robin Givens to know Tyson is still a power puncher if nothing else.
Looking at all that, and factoring in the way the commission wants to reduce this bout to "hard sparring" tips the scales towards Roy.
HOWEVER, there is the theory (which I made up) that this is merely a tune-up fight for Mike before he REALLY tests the PPV market with another fight vs Evander Holyfield.  You see, when Mike started to get in shape, Roy was not the first name bandied about for him to fight.
First, he was offered the opportunity to box former pro wrestling and MMA star Bob Sapp. That conversation then evolved to an offer to fight former heavyweight champion, Shannon Briggs.  But as the idea continued to grow (and eventually expanded to what Tyson hopes will become a series of all-sports PPVs called the "Legends Only League"), eventually the name of Roy Jones popped up.  And it's lucky for Tyson that it did because I interviewed Briggs about 6 months ago and he is still a fucking animal, and Bob Sapp is nothing short of a planet.
Roy, by comparison, is manageable, and the lack of real judges will make this thing fall Tyson's way if it is anywhere near being close.
That's why I like Mike in a decision.
And to rally back to the original question- "Should I buy this fight?"
I know Mike Tyson has become a kinder gentler man in the past few years, but I need to pay 50 bucks just on the off chance the first clean shot Roy lands triggers a buried instinct within Iron Mike's psyche and he bites the ears off of everyone in attendance.
Fingers crossed (and tongues out).
Enjoy the fight, and take a report.
-Large
---
SMALL FOOTNOTE More than a few boxing purists feel these exhibition fights and/or celebrity events are unhealthy for the sport of boxing.
(apologies Chef)
I disagree only because when it comes to viewership- Eyes are eyes… And if the sport can draw a few people in who otherwise would be watching Jake Paul pranks on YouTube, then I say, "So be it."
There is a downside inasmuch that I used today's 2,000-word boxing blog to highlight this circus without dedicating a single sentence to the two young heavyweights that are fighting an actual sanctioned bout overseas (Joyce vs Dubois).  But that was a price I was willing to pay, apparently, and there are a number of legitimate fights in December that I hope to break down for y'all.
TAR
-L