The Absolute Saddest Stats For Week 4 Of The NFL
If you missed any of the first three weeks of my continual NFL sad stats blogs do yourself a favor and check them out here as the feedback has been overwhelmingly positive.
I really appreciate everyone's love on these. Knowing this content helps fellow sad fans out there ease their pain if just for a few moments in their day makes me very happy that you all are happy. 
Now let's all get sad. 
Sad Stat #1: Justin Fields is on pace to break the NFL least amount of completions in a season record even with the extra 17th game
You may have heard Big Cat mention this on Monday's Pardon My Take but I took it on myself to draw out a weekly pace graph which I plan to release on Twitter each week to track Justin's progress. It's sad enough to know he's well on pace even with a one-game handicap, but seeing just how far ahead he is from Marcus Mariota who himself seems safely in the orange warning level makes this that much sadder. 
Sad Stat #2: Russell Wilson completed his third career pass to himself and is eyeing Drew Brees' all-time record
The Broncos were backed in their own endzone when Russ had a pass swatted back in his 5'11'' tall face forcing him to catch it and run for a 1-yard gain. This got me wondering to what extent quarterbacks catching their own passes relates to how short they are. Clearly, it makes sense that shorter quarterbacks will have more balls swatted back at them putting them in such a situation. But what does the data say?
Data: "Ummmm yeah duh…"
I ran a correlation analysis for any quarterback with at least one self-caught pass since 1999 and there is indeed a negative correlation (r = -.27) between height and the number of self-pass catches for NFL quarterbacks. Of course, this doesn't include quarterbacks that haven't thrown one, so I believe that number would help the correlation. Anyway, here is how this all looks graphed out with a few notable self-pass catching GOATs labeled:

Everyone. Absolutely everyone: "Of course Ryan Fitzpatrick found his way into another random ass QB stat"
The only thing more shocking in discovering Drew Brees caught six career passes from himself is that Kyler Murray has yet to catch one. But if you ever see a prop on career self-passes for Murray and it's anywhere below three - hammer that over right away. But pro tip - stay away from any yards gained prop on self-caught passes because the NFL average in all instances from this time range is -1.95 yards per play. Here's the entire distribution for your records.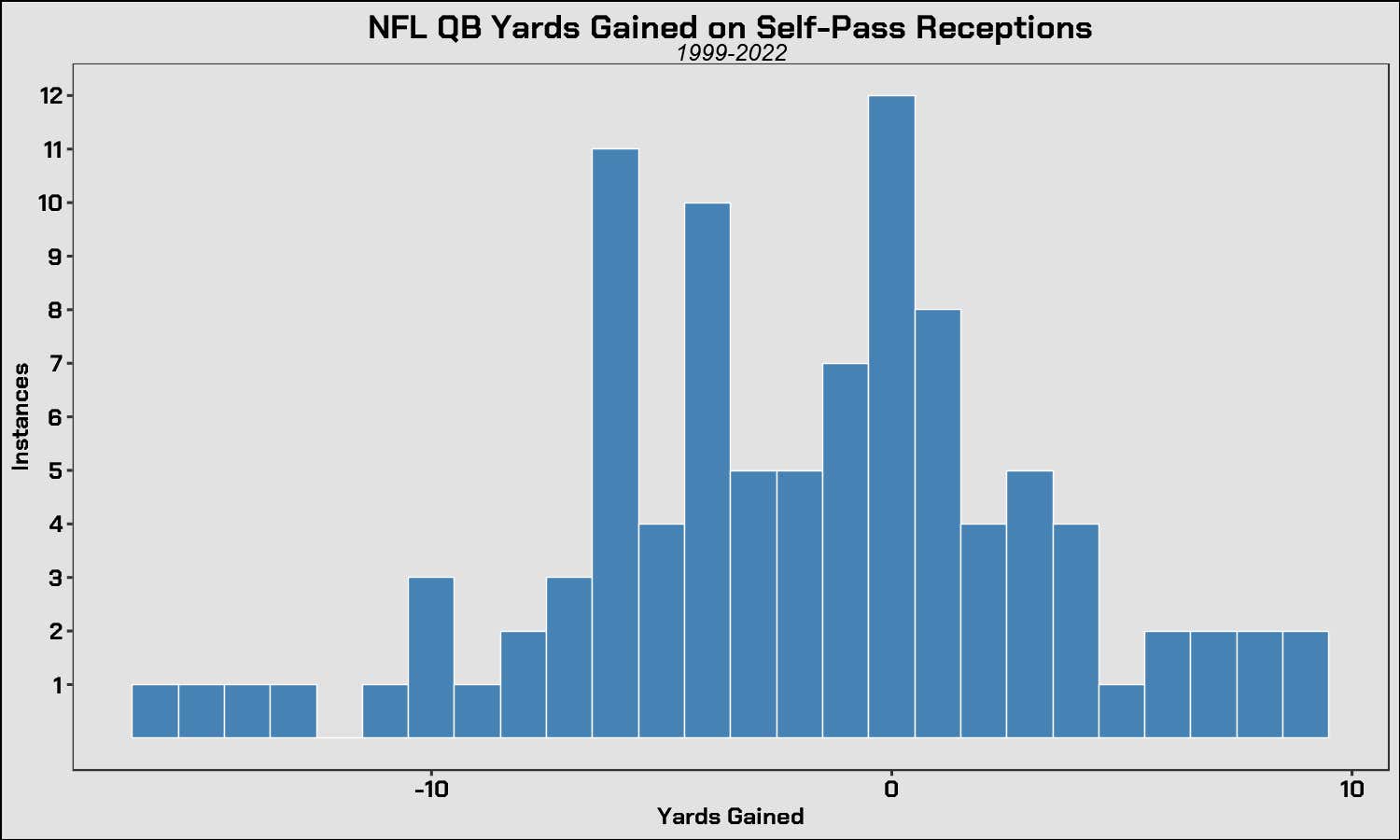 All in all, Russell Wilson's 1-yard gain was actually somewhat impressive. The only shame is that in the NFL you can't pass twice unlike the XFL and if the NFL is all about making offense even more high octane, I'm ready to submit this research to the powers at be advocating a rule change so we can have some of this in the NFL:
Sad Stat #3: The Ravens are 1-2 this year when leading by 17 points
If that's not sad enough for Ravens fans, here's a higher milligram dosage:
This stat is actually not accurate. It meant only for the two games lost. My data returned 17 seconds instead of 14 but either way, this is all pretty on brand with the theme of this blog when you compare this to the total elapsed time losing in games lost for all 2-2 teams in the NFL:
There truly is some Chargers Chargering type of stuff going on in Baltimore. I must have missed the ceremonial handoff between the Chargers and the Ravens. 
Sad Stat #4: The Lions 45 points were a franchise high for a loss
I think if your Lions fan you knew your day would come to find your team on this blog but honestly, this is about as good of a sad stat as you can ask so consider yourself lucky. They've scored more than 45 on 11 occasions winning them all including two 50+ point wins on Thanksgiving to go with a 44-point Thanksgiving loss which I might just have to put a pin in for a turkey time stand alone blog. Anyway, clearly I've spent too much time on the prior sad stats so I'll stop there.
Sad Stat #5: Matt Ryan has fumbled 9 times so far through four games
Big Cat beat me to the punch on PMT with this one but I've been all over Matt Ryan's elderly hands issues this year. Let's give the old man some credit though because he's only lost three of them which demonstrates the elderly population's experience in being able to fall. Marcus Mariota and Baker Mayfield are next up with six fumbles a piece. Shout out to Kyler Murray and Jameis Winston who lead the league in fumbles without losing possession on any (3).
That's it for this week. Except if your a Panther's fan and thought you'd escape my guy, Ian Hartitz:
Sadder than that though is that deep down there's at least a piece of all Panthers fans that are excited about the return of Sam Darnold. That's about as sad as sad gets. Even so, I'll take him over Justin Fields for more completions on the year. 
- Jeffro