Rumormongering About Potential Patriots QBs, Vol. V: Carson Wentz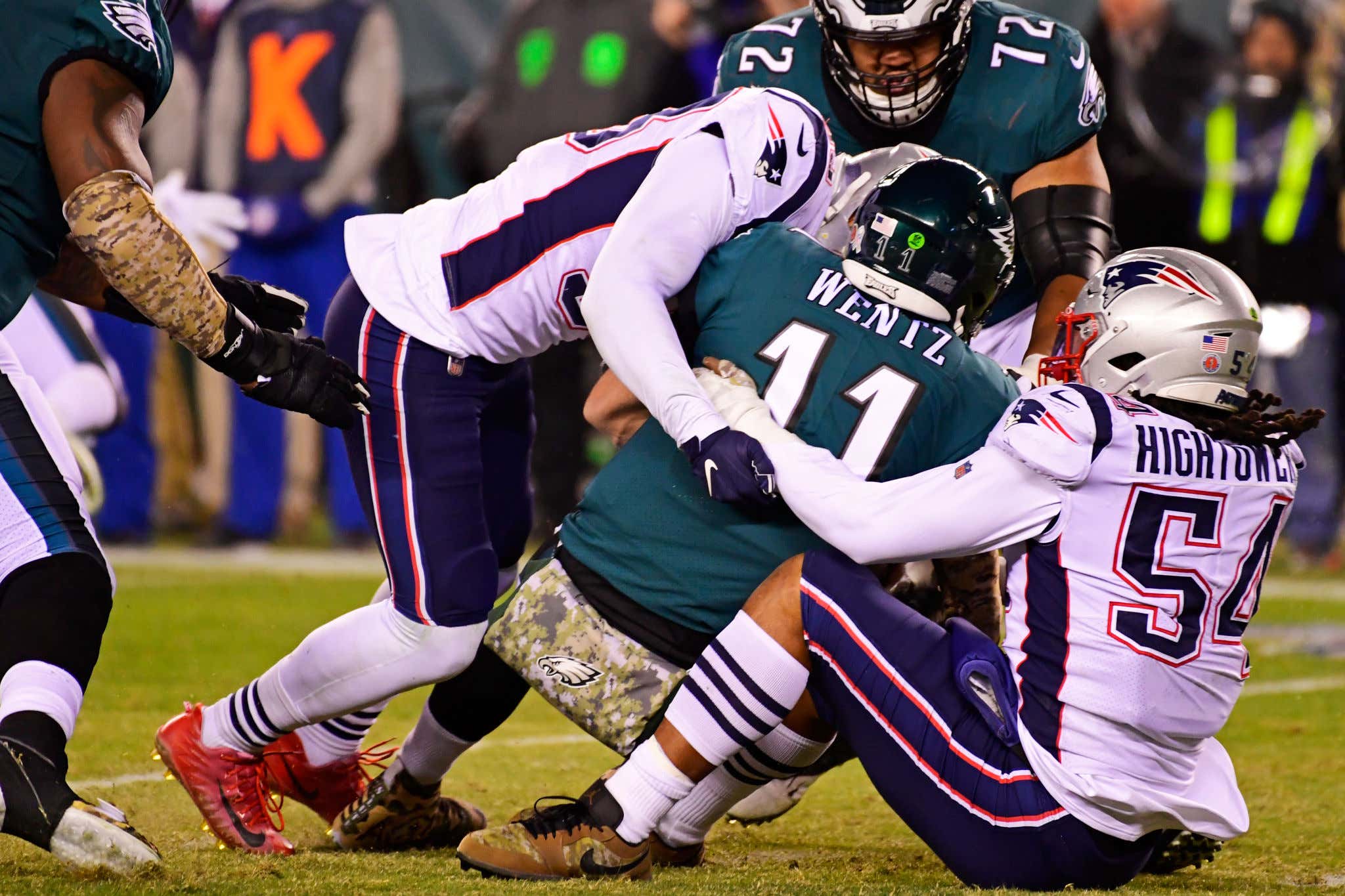 Corey Perrine. Getty Images.
This is the fifth in a series. Volume I: Aaron Rodgers is here. This is Volume II, me being right about Matthew Stafford not coming to New England. Here's Volume III on Jimmy Garoppolo. And Volume VI: Derek Carr. 
As the Patriots look to position themselves in the NYSE trading floor-like scrum that is the 2021 quarterback market, it's worth noting that it is deep in the human race to want to fix things. It's in our genetic code somehow. As much as creating something completely new, if not moreso. As much a hobby as it is a necessity. It's just deeply satisfying to take a thing past it's prime and restore it. Or make it better than before. Half the shows on HGTV are about fixing up dilapidated houses, even when demolishing them and building a new one on the foundation would be cheaper and easier. Drive around on a weekend in the summer and there'll be some guy with a padded blanket on his driveway filled with engine parts as he tries to restore some vintage car to its former cherry glory. Fixing up old furniture is the reason they've made "antiquing" a word. Andy Dufresne went all the way to Zihuatanejo sand and paint a fishing boat when he had enough of Warden Norton's money to buy a fleet of trawlers. And show me a woman that hasn't fallen in love with a handsome bad boy with a difficult past who plays by his own rules.
Which brings me (finally) to Carson Wentz and the potential that New England might be into him, so they can fix him. Not in the good looking rebel sense, but purely in the football sense. Right now he is the perfect definition of a distressed asset who'll end up with someone interested in a reclamation project. So why not the Patriots? 
I won't go too deep into the state of Wentz, because everyone knows the situation right now. How he was a mortal lock to win the 2017 MVP award until he got hurt. He was 11-2 at the time of the injury. The Eagles won the Super Bowl with him on IR. They gave him his job back and a huge contract. And since then he's gone 17-21-1 as a starter and got benched. He went from 33 touchdowns and seven interceptions in 2017 to 39 TDs and 29 INTs since. Including 16 TDs and a league high 15 INTs last year, despite playing in only 12 games. Among QBs with more than 120 attempts, he was 41st in passer rating. And graded 35th by Pro Football Focus. Short of a horrific Alex Smith-like injury, it's hard to imagine anyone falling so far, so fast. Hell, Jason Street was more accurate playing Quad Rugby. 
And this is not a stat his agent wants to have come up in any trade talks:
But that doesn't mean there's zero interest in Wentz. Just that it appears to be limited. The Patriots have been mentioned as a perfect fit by noted Pats insider Max Kellerman:
It's very possible that Bill Belichick and Josh McDaniels have looked at tape of 2020 Wentz and 2017 Wentz and can identify some small mechanical flaw in his game that they feel they can correct by having him paint the fence, sand the floor and apply/remove car wax on Belichick's antique roadster. As a matter of fact, Wentz' situation fits their archetype of the underachieving guy who comes to New England, gets coached up, and resurrects his career. From Rodney Harrison to Wes Welker to Kyle Van Noy to Trent Brown to dozens of guys in between. 
Here's the difference though. All those guys came cheap. The Pats bought in low on all of them. Those were low risk/unlimited upside deals. As hard as it is to believe, the Eagles are stuck with one of the statistically worst QBs in football, he's got a bad contract strapped to his back like he's fettered to a corpse. He's on the books for $34.7 million cap hit next year, eighth highest among QBs and ahead of Tom Brady, Matt Ryan and Ryan Tannehill, among others. And they still want major assets in return. From Adam Schefter: 
The Eagles are said to be looking for, in the words of one well-placed source, "a Matthew Stafford package," in return for Wentz. The Lions traded Stafford to the Rams last weekend for a third-round pick this year, two future first-round picks and quarterback Jared Goff.
So Philly is looking for a Matthew Stafford package in the same way that I'm looking for a $1 million a month to be Alexandra Daddario's male escort. Got it.
And getting the same results. By all accounts the two teams that most appear to be in the running are the Colts and Bears. The Colts have reportedly made an offer, and their interest is not at Stafford levels. Or anywhere close.
As for the Bears, according to Yahoo!, there's a potential problem there:
The Bears on Monday afternoon promoted quarterbacks coach John DeFilippo, adding the title of passing game coordinator to his resume. …

DeFilippo, 42, was the Eagles' quarterbacks coach at the beginning of Wentz's career, holding that title from 2016-17 before leaving to take the Vikings' OC job in 2018. From 2018-2020, Wentz's position coach was Press Taylor, who is now in Indianapolis. …

Of course, DeFilippo and Taylor had much different coaching styles. DeFilippo had the reputation of being a tougher coach, while Taylor was criticized by various reports for being too "buddy-buddy" with Wentz, who is just a few years younger than him.
Which might mean that the Bears are convinced they can land Wentz because he'd like to play for DeFilippo again because he got the most out of him. But the fact that he and his last coach were "too 'buddy-buddy'" is not something that should fill anyone with confidence he'll respond favorably in New England. It's a little hard to go from a coach who supposedly acted like your little brother to one who spent 20 years telling the best to ever play the game that he could be replaced with Johnny Foxboro in front of the whole squad. Fair or not, Wentz' reputation is that he's not much for the whole leadership thing. Which is something that is not only encouraged in New England, it's a goddamned prerequisite. You can't get a job interview unless "strong leader" is on your LinkedIn profile. 
So while it's tempting to see if the Pats could create some added value to this distressed asset and bring Carson Wentz back to his old, almost MVP-caliber self, that's an investment you make only when you think you're getting a bargain. It would require Philly to not only lower the asking price, but to eat a substantial chunk of his salary, throw in some old stereo speakers, and let you borrow their truck to haul him away. At this price, the Colts and Bears can have him. 
The chances Carson Wentz comes to New England (in a Matthew Stafford-sized deal): 1%