The 2017 Sex Scandal Teacher Starting Lineup

You might say, as so many seemed to toward the end of the year, that 2017 was a terrible time. Full of anger, divisiveness, scandal, strife and general bitterness. That may be, depending on your circumstances. But one thing no one can deny is that it was a great year for Grading the Newest Sex Scandal Teacher.
I mean, we can pretty much always say that. Calling it a good year for insane, attractive female teachers to throw their careers down the storm drain is like saying it was a good year to end on January 1st and end on December 31st. It pretty much goes without saying. But even by the noble and time honored traditions of GtNSST, it was special. Quite possibly the best ever.
And to help make the case, here is the annual Sex Scandal Teacher Starting Lineup, the post which started it all way back in 2009. I literally did 87 of these this year. And that doesn't include the dozens I never wrote up because they just weren't good enough. With such a gold mine to choose from, only the best of the best, the hottest, craziest and hardest working women in the SST business made the cut.
Leadoff: Jessie Lorene Goline, Arkansas
There's cliche about leadoff hitters that says they all have to be speedy slap-hitters with plate discipline and bat control instead of talented, powerful guys who can launch the ball. Well I prefer someone at the top of my order who can do both. Think Rickey Henderson or Johnny Damon.  And that, my friends, is Jessie Goline. This natural talent is also ferocious at the plate and will back down from no one. She admitted to investigators she boned four of her students. One told cops he did her in her apartment. Another said she picked him up, drove him back to her place where they did it twice, and that another kid was also there that same night. Jessie's preferred method of seduction is the text, with underwear shots and at least one telling a kid she'd like to have sex but he's too young. Her excuse was that she assumed all of her partners were 18, but that some lied about their age. I can't imagine why.
No. 2 Hitter: Virginia Houston Hinckley, Florida
Virginia is another gifted talent who can't be intimidated, overpowered or forced to give an inch of the plate to anyone.  She was accused of giving the Hot Hinckley to three different students, which she blamed on her "bubbly" personality and that pupils "misconstrued" as flirting. Some of that "bubbly" flirting included sending texts of her "breasts and other body parts." And, by her on admission, having oral and unprotected sex in the back seat of her SUV in a park. Police did a DNA test on the backseat, probably to determine if the pregnancy she was out on leave with was caused by her husband or the student. We may never know the results. But what we do know is she plead guilty to one of the charges. I admire that kind of hustle and it deserves a spot high in this order.
The 3-Spot: Hunter Day, Oklahoma
Here's where this lineup turns into a nightmare. Just power upon power. Hunter Day is the 22-year-old monument to the American teacher who was found by police waiting for the kid to show up to her apartment while her husband was away. "Deputies arrived at the residence and reportedly texted the teacher from the boy's phone, saying he'd arrived. Day responded to the message saying, "The doors [sic] unlocked as usual," the report said. When investigators entered the home, Day was sitting on the floor of her living room with candles lit and all the lights off, authorities said. The teacher confessed to sending the boy illicit "bra and panty" pictures and said he'd also sent her pictures of his genitals." She had me at that photo which, while it doesn't look all that comfortable, sent the message she wanted to send.
Cleanup: Sarah Fowlkes, Texas
You know, the word "great" gets overused a lot in our society, and it has a tendency to erode the meaning. Well Sarah Fowlkes is more than great. She's one of THE greats. An instant legend. From the moment her grinning, unrepentant, all time best mugshot came out (see the link above) to the detail about her being a teacher of Anatomy and Physiology, right through to the follow up reports that police had incriminating texts "of a sexual nature" between her and her (I've never used the term more loosely) victim. There's a reason her school offered counseling to anyone who needed it after Sarah's arrest. It was for all the male students not good enough. On the school website she posted "I want this to be an enjoyable year for all of my students." Mission accomplished.
5 – Hitter: Erin McAuliffe, North Carolina
I've probably never gotten flooded with more emails to grade a SST than I did for Erin McAuliffe. And with good reason. The early ones were scant on details. But the subsequent ones revealed how this math teacher out of Methodist University was working on the proof that 3 goes into 1, with a trio of her students. Whether that was all at once or one- or two-at a time remains a mystery. But here are some samples of the emails: "I went to college with this girl at Methodist University. This is no surprise to any of us that knew her." And "I went to high school with this chick and actually talked with some of my buddy's about 3 months ago about how we wouldn't be surprised if she was smoking her students. Sure enough, NAILED IT! … Anyways, I follow her on Instagram where she posts an array of butt pics. … This donk will absolutely put her on the SST Mount Rushmore." I don't know about Mt. Rushmore, but she's certainly worthy of protecting the power of this order.
No. 6 Hitter: Allison Marchese, Connecticut
Some years, Allison Marchese might be batting cleanup. That's how good this year is, but also how great her SST resume is. She sent these nudes to two different students, aged 15 and 17. She did oral in the classroom on at least one. And one of them said he couldn't concentrate in class because she would always text to say how good he looked. All of which apparently traumatized the lad to the point he said he felt like an outcast and it "burned a hole in my soul." She is currently doing three years in jail for giving him classroom blowjibbers and spank material. So he'll have to forgive most of us if our sympathies lie elsewhere.
7th Spot: Emily Lofing, Nebraska
This is where I get a little self-indulgent, I'll admit. Because it might be a bit of a stretch to put Emily Lofing this high in the order, given the fact that all she did was get accused by two different sets of parents of boinking their sons at roughly the same time. That's not often enough to get you on this list, especially this high up. But there's something about her that just speaks to me. A something commonly referred to as "looks." Emily is what I call a Wheelhouse Chick in that she has that kind of attractiveness I like most. I mean, check out that picture in the graduation cap, above. She's like a young Charisma Carpenter. Plus she has the added bonus of being from the Weeping Water school district, the best expression for crying since "makes my eyes rain." Do we have definitive proof or sworn admissions like most of the others so far? No. But sometimes you just have to make room for pure talent.
8-Hole: Lindsay Banta Jarvis, Kentucky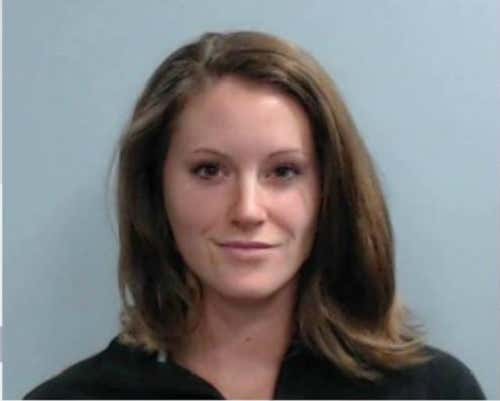 This recently married smoke was charged with having "intercourse" and "sodomy" with a student under the age of 16. We all know what "intercourse" means. But "sodomy" means different things in different jurisdictions. All of which get you on the end of the year All Star team. Police have the messages to confirm what they call "a romantic relationship," which I suppose is a nicer way of saying "anal"? I'll let a reader tell you more: "Here is a good one for you. Baddist Bitch mugshot I've ever seen. I went to school with this girl, she's an absolute fox. Big-time Jesus Freak growing up." That mugshot alone makes her a legend. The fact that she's spreading the gospel along with her lady parts just seals the deal.
Batting 9th: Samantha Fitzpatrick, Wisconsin
I'm a man of my own philosophy who believes that whenever possible, your bottom of the order shouldn't be some automatic out or some fat catcher who's going to clog up the basepaths for the top of your order. The ninth hitter is your leadoff guy the second time through the order and after. Which is why I've got a feisty, gritty, firework like Samantha Fitzpatrick down here. She is relentless. This 28-year-old not only flirted with her 17-year-old BF at her desk, ignoring the whole rest of the class, she used to drive him around, once dropped him off at a party where he told everyone he was late because they had just finished banging, and they used to skip school on the same days. The proof of which is the Facebook messages the cops found where they talked about "role playing, sex acts and more." And the 67 phone calls they made to each other, which might be more than I've made total since I first got a flip phone 12 years ago. She is exactly the kind of second leadoff hitter I love setting the table.
GM: Brigette Trogneaux, France
Brigette was a 40-year-old theater teacher with a husband and kids when she made out with her 15-year-old drama student, Emmanuel Macron. Two years later, they were married. Today, she's 64 and looks like a younger, better preserved Chelsea Handler. He is President of France. I can think of no one better qualified to run this outfit than the First Lady of Sex Scandal Teachers.
Manager: Mary Beth Haglin, Iowa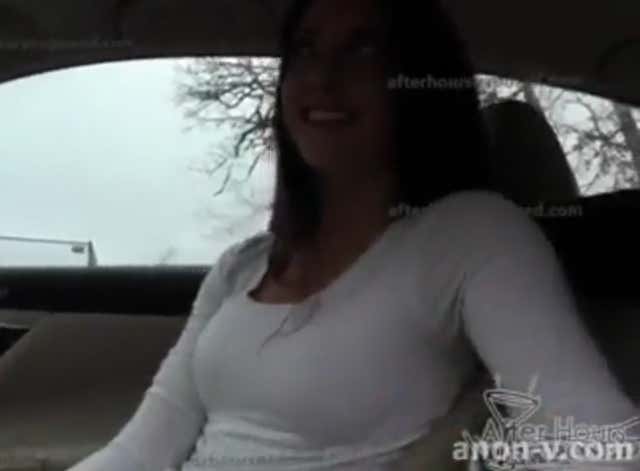 Mary Beth did nothing less this year than break new SST ground by making a full on, amateur, hardcore porn tape in a car while she was being driven to jail for the crime of … being a Sex Scandal Teacher. There is only one reason why that doesn't automatically put her in the Starting Lineup: Because she was in last year's. As the No. 2 hitter. So what do you do with a former player? You put her in charge. Nobody can relate to these ladies like she can. Anyway, to repeat what I said this summer, I do this with a lot of reservation, but the extremely NSFW link to her porn is here. I cannot stress this enough. It's a link to XVideos, which is a reputable porn site. So it's probably free from viruses. But I can't promise you that. All I do know is the link is highly NSFW. If you're at work, do not click that NSFW link. And in case I haven't been clear, you are clicking a porn link that is pure NSFW material. There. My conscience is clear.
Starting Pitchers, Lefty and Righty: Shelly Dufresne and Rachel Respess, Louisiana
Shelly and Rachel are a blast from the distant SST past who went to trial this year for having three-ways with one of their students. The downside is that Shelly arranged the hookup through a fake Facebook profile in which she called herself "Madison Mexicano" using a profile pic of the racist Looney Tunes character Speedy Gonzalez and a cover photo that said "I love Mexican boys." Which is doubly bad because the kid they were after is half Columbian, half Caucasian. Maybe that flew in 2014, but I like to think we grew past it. The good news is, the young man in question was able to look beyond it long enough to culturally appropriate both of them at the same time. And when they were asleep, take a video of them in bed with his junk showing to prove to his school buddies – and police – he was telling the truth. Try beating both of them in a short series.
Closer: Jessica Storer, Ohio
Simply put, I prefer my closers a little crazy. Put honestly, I like them a lot crazy. I think the nature of the job is so bizarre and stress-balling, I want someone who can't be driven insane because they're already insane. And that person is Jessica. Working only as a sub, she still managed to find the time to bang one student five times while at school. Then she and her husband Derrick threw a booze party for a bunch of students, after which the kid stayed over and she did him again. In my post I connected some dots and speculated that maybe the husband got cuckolded and sure enough, I got emails from guys who know them and said that is exactly what the Storers are into. And to prove they weren't just rumor-mongering, here is the link to Jessica's very NSFW web cam porns. Because I can't be too careful looking out for you, let me once again reemphasize the EXTREME NSFW-ishness of that link. Don't click it if you do not wish to lose your job against my warnings. And enjoy Jessica while she comes out of the bullpen throwing heat in her cucked husband's pathetic face.
Platoon: Eleanor Wilson and Jill Meldrum-Jones, UK
Eleanor and Jill never met and have very little in common. Apart from they are both blond, reasonably attractive teachers from the UK who were traveling overseas with students, got drunk on the flight and joined the Mile High Club. But that is where the similarities end. Eleanor gave her kid a blowie in the airplane toilet and then had intercourse. Jill, on the other hand eschewed the blumpkin and instead gave the kid three handjibbers and blew him three times in the seat on a 10-hour flight from South Africa. But I don't know, maybe they can overcome their differences and find some common ground on the bench.
Rookie of the Year: Katherine Ross Ridenhour, North Carolina
Married in 2015. Graduated from college in 2016. Hired in 2017. A cheerleader coach in her first year. And laid by a student on campus of Cox Hill (you heard me) High School by the age of 23. Some teachers spend their whole careers striving to achieve that much. Katherine did it in her rookie season. In this business, it's never too soon for your Ridenhour.
Pump Up Video: Volveras by Madame Recamier:
Toughest Omission I: Fatima Grupico, New Jersey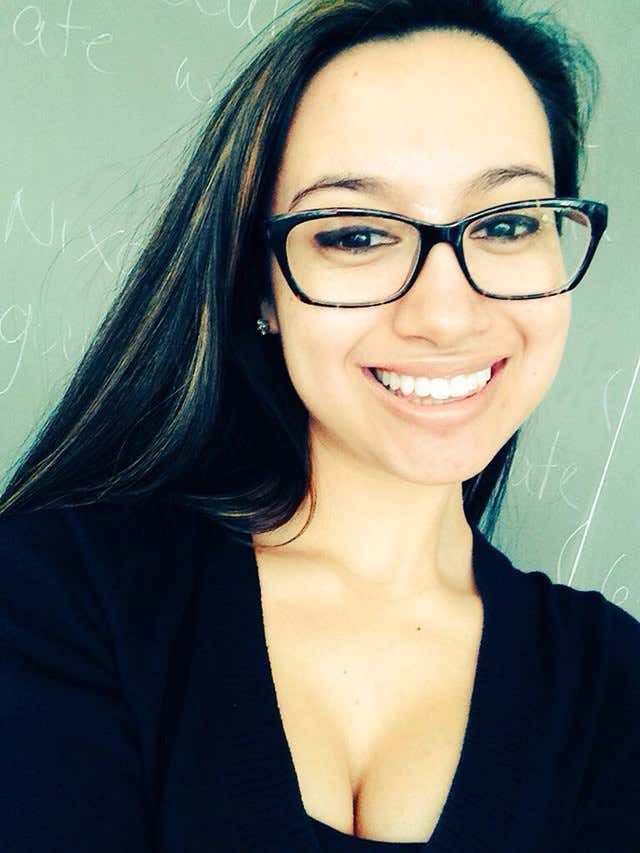 I fell in love with Fatima's classroom selfie game. But her story was from two years ago, I'd just missed it. I didn't mind bringing her back for just a post. But in good conscience I can't include her here and maintain the integrity of a fictional All Star team of grown women who seduce their teenaged students.
Toughest Omission II: Debbie Fletcher, California
Debbie had to be eliminated on a technicality. She gets the asterisk for not being a teacher, but for being a photographer who took portraits of the Mount Shasta football team and ended up having sex with three of the players. There's so much to admire about her story. And her photos. But if you have to find a way to eliminate somebody, keeping a non-teacher off a list of teacher's seems the most fair. Still, I'm sorry because her brand of want-to deserves to be rewarded somehow.
Toughest Omission III: Jennifer Caswell, Oklahoma
Jennifer went on Dr. Phil and openly admitted that her 15-year-old student put moves on her in the classroom after school, she didn't resist and willingly boinked him right there for "10 to 15 minutes." She's now facing 10 years in jail and the kid was paid $125K by the school district for his troubles. I like her. I really do. But it's a testament to how tough a lineup this was to crack that she's the final cut. And there's no shame in that. Unlike what she and everyone else here did to make the team. There's a fuck ton of shame in that.
And there we have it. Another year in the books. Another lineup of legends immortalized. And to all who didn't make it, all who never got a grade, those in my inbox I am still about to get to and all aspiring Sex Scandal Teacher greats everywhere, this is a brand new year. And there's no reason 2018 can't be better than '17 was. I'll be right here.