Knee Jerk Reactions to Week 3: Patriots vs. Ravens
Things to consider while wondering if the Tyquan Thornton jersey I got for my birthday is responsible for Mac Jones ankle injury like it was Thornton's collarbone. That maybe it's just the Officially Licensed NFL Shop version of the tiki necklace that The Brady Bunch found in Hawaii that almost killed Greg in a surfing wipeout and caused  a tarantula to crawl on Peter in bed. And must be destroyed:
--Anything I Knee Jerkily React to here is going to be in the context of putting aside Jones' injury status, because we just don't know at this point. As bad as it looked in the immediate aftermath, Ian Rapoport has Ian Rapreported that x-rays were negative, so who knows? He was in a tremendous amount of pain, obviously: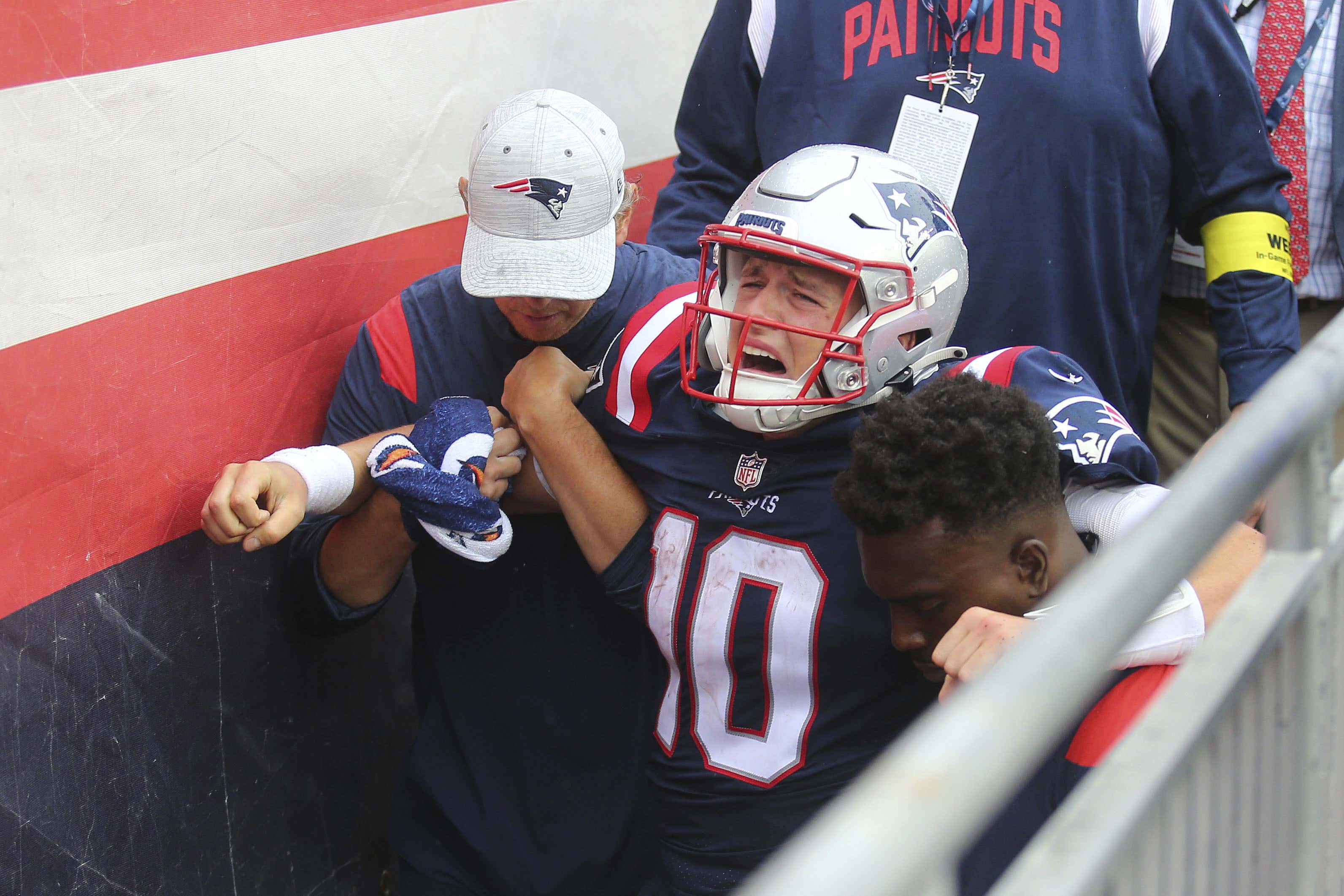 Stew Milne. Shutterstock Images.
… so the idea of the sort of miracle we got that time Paul Pierce left the floor in a wheelchair because he sharted himself only to return to the game seems pretty remote at the moment. So stay tuned. And maybe hold off on investing 160 bucks in a Brian Hoyer jersey just yet. 
--In fact, this is one of those moments when I'd prefer to not be writing about the Patriots at all. Where I'd rather just put my focus on videos of hilarious drunken fights in the stands, some aspect of nerd culture I'm worked up about, or some famous person's embarrassing sexual hijinks. Or, better yet, fall off the grid altogether and go on a spiritual walkabout where I consider the life choices that led me to having a full-body panic attack over the ankle of a 24 year old athlete. But no. No, I say. I'm going to stand up and face this, bravely. I'm going to soldier on and finish this. Because it's my duty. The path I've chosen. And because Mac Jones would want me to.
--So with that as preamble, we can talk freely about how Jones and his team played. And I'll argue that it was in the worst way possible. And by that I mean they play frustratingly well at times. They tease you with moments of brilliance, followed by utter incompetence. They give you hope and then they crush it. In so many ways, it would be easier if they were just non-competitive failures, instead of leading you on like this. If they just simply threw a drink in your face, turned on their heels and walked away, while the rest of the bar laughs at your complete humiliation. They don't do that. They get you excited, get your number, make you think you've got an excellent shot, spend money on the bathroom vending machine mouthwash, only to leave with her girlfriends and block your calls, as the rest of the bar laughing at your complete humiliation.
--In the Pats case, the let downs come in the form of unforced errors, negative plays, careless ball-handling, breakdowns, and inexcusably pisspoor decision making. In all three phases of the game. At the height of their powers, the Patriots conducted themselves like they knew that if they just played error-free long enough, their opponent would hand them a gift sooner or later. And they were practically always right. Now they're Santa Claus. Here's an Isaiah Wynn illegal formation to negate a 1st down in this stocking. That one gets a Nelson Agholor fumble. A field-flipping punt return goes in the next. A few uncovered tight ends go under the tree. And the triplets each get a Jones interception. All a quality team like Baltimore has to do is wait for their generosity. And it's been a long time since they haven't been in a giving mood. These mistakes are now a feature, not a bug.
--Let's just take the most regrettable play, since it's a holiday fun pack of blown assignments and bad decisions. For starters, with the score 31-26, the seeds of failure where already planted when a pass to Damien Harris in the flat turned a 1st & goal from Baltimore's 10 to a 2nd & goal from the 14. Which is less than ideal. On 3rd & goal, the Ravens showed blitz, only to drop both Patrick Queen and Odafe Oweh into the middle zone and instead bring corner Demarion Williams off the edge, who came in unblocked. On the other end, Brandon Copeland was only slightly more blocked, before shedding Trent Brown as both he and Williams arrived together at their appointed meeting place, Jones' facemask:
Granted, the troublesome presence of two defenders in front of him and the 3rd & goal from the 10 limited Jones' options quite a bit. (Rhamondre Stevenson was open in the flat underneath off coverage, but he wasn't making it into the end zone.) And he chose the worst one. DeVante Parker seemed unaware the ball was coming out so fast, begging the question of whether the Pats were even in a blitz/hot route call. And he was in no position to play defender as Marlon Humphrey took on the receiver role. But the entire holocaust of wrong with this play and its result could've been prevented by simply taking the sack and bringing out Nick Folk to make it a 2-point game. That total lack of situational awareness by this team as a whole is the most distressing part of all this. Besides, you know, that whole losing thing. 
--The shocking thing is that decision-making was Jones' No. 1 strength as a rookie. Now it's the area where he's regressed the most. Anti-Patriots extremists on the internet always rip him for having no arm strength. I disagree. Media types are frustrated that the coaches are keeping him in check and not letting him take shots upfield. I'll get to that in a second. What's so unnerving is that he's making mistakes that he either rarely did last year, or quickly corrected once he did. (Consider the Pick-6 he threw to Trevon Diggs in the Dallas game, then came right back to hit Kendrick Bourne on a 75-yard TD on the very next play.) As this organization has always stressed, it's OK to make errors; what they won't tolerate is error repeaters. But that's what we're seeing with last season's best rookie quarterback in his second year. Underneath defenders are dropping back into his passing windows and he's simply not seeing them. I mean, that ball he threw to Josh Bynes would've been picked off by Amanda Bynes.  I know that's a lame and obvious joke, but I'm so disturbed by this development is the best I can do right now and you'll just have bear with me. 
--I have no doubt that a lot of this will be blamed on the Hand of the King. In fact I know it is by the fact "Matt Patricia" has been trending on my Twitter feed since yesterday at about 4pm. And there's plenty to pick him apart for. That 2-point conversion try that, after the officials figured out how Stevenson pulled off his magic trick ultimately resulted in a two yard loss was designed with all the precision of the mosh pit at Woodstock '99. And while this pass that Queen should've taken 99 yards the other way didn't cost them anything:
… it did extend the franchise's Consecutive Failed Rub Route Streak to 1,000 straight. Hunter Henry barely engaged Queen at the line of scrimmage before releasing into the end zone, looking to pick up the Offensive Pass Interference penalty. But between the lousy play calls or the craptastic execution, this team's only short yardage/goal line offense right now is running powers and dives between the tackles. Nothing else they do works. 
--A quick aside since I made a Game of Thrones reference: One of the key elements that has made those series great is how they combine fantasy with actual history. The Red Wedding, for example. So until someone says it's not, I'm going to assume the queen on House of the Dragons catching her son and future king naked and jacking it out his window is based on Elizabeth and King Charles. He seems like the type. Your move, Buckingham Palace. Convince us otherwise.
--I said I'd mention Jones' "aggressiveness," and as they say in radio, let me pay off the tease. He's been anything but passive. According to Next Gen Stats at least, he's been taking almost as many deep shots at any quarterback in the league through three games. His Average Intended Air Yards  is fourth highest in the league, at 10.0 YPA. His Average Completed Air Yards is also fourth, at 7.5 YPA. His Aggressiveness %, which measures how many throws he puts into tight windows is seventh, at 19.6%. Despite ranking 19th in Time to Throw, at just 2.74 seconds per. His training wheels are off. He's simply experiencing wipe outs as he's still learning to ride. 
--Which again brings us back to the frustration from how good they looked when they weren't repeatedly turning the ball over. Holy jeebers, did Jones and Parker look like they'd finally formed that special chemistry that is only found between great quarterback-receiver combos and 1980s cop buddy duos who work so great together because they're so different. Right out of the locker room, Patricia was determined to have Jones feed Parker and both men delivered. Bigly. Beginning with a 31-yard catch and run (a curl off a delayed release after chipping Williams). Five receptions of 20+ yards in all. Including this Go route off an outside release, which is not supposed to be his strength, in which Jones looked off the safety just long enough for the ball to get there before the deep help:
And no connection between the two was nicer than this sweet sumbitch Fade route off of play action:
And while I'm on a roll of positivity that is surprising even me, here's the analytics on Parker's toe-tap back shoulder catch that set up Damien Harris' touchdown:
--All wasted because they couldn't protect the football to save their fricking lives. Think of how different your week would be if they finished this drive instead of Nelson Agholor getting it stripped like an old lady letting Seinfeld steal her marble rye:
--Turning finally to the other side of the ball, there's nothing I've said about the offense that can't also be said about them. Flashes of brilliance, both in scheme and execution, followed by major, system-wide breakdowns. If Lamar Jackson had ripped off one more run of 10+ yards, FEMA was going to be pulled off Hurricane Duty and assigned to deliver food and medicine to New England's defense.
--We're always being reminded that halftime adjustments only exist in movies. A plot device designed to give someone a Big Speech for their Academy Awards nomination tape. That 12 minutes is barely enough time to get your girdle pads undone and take a leak, much less devise a new game plan. So John Harbaugh didn't wait until JB and Terry were giving us scores from around the league to switch things up. He course-corrected in the middle of the 2nd quarter.
--In the first 24 minutes of the game clock, Steve Belichick had his guys containing Jackson. Keeping with their institutional philosophy to never sell out against a running QB to the point you've gotten behind him, but simply to stay at his level, bottle him up and keep him from escaping. Which not only limited Baltimore to one drive of more than six plays in their first four possessions, it created a sustained pass rush. 
--I have to admit I was among the leading - and distinguished - Deatrich Wise, Jr. skeptics. I never thought he was bad per se. (Note that you can get away with saying anything you want about someone as long as you deny it and add "per se." As in, "I'm not saying you're a stupid, ugly pig, per se." It's the insult for the Sophisticated Man.) I simply did not get it when they re-signed him. He seemed like the perfect candidate to go get overpaid somewhere else. I'm happy to say I could not have been more wrong about him. Faced with the bottom of the Ravens' tackle depth chart, he basically gave a TED Talk on how to employ a Wide-9 stance and use your speed advantage to get into the backfield:
--More to the point, he finished plays against Jackson, which is not easy. For example, on the Ravens first possession, Jackson looked like he was wrapped up by Josh Uche, but appeared to walk right through him like Nearly Headless Nick passing through Harry Potter. Again, if the offense had simply taken what the Ravens were giving them instead of barfing up the ball every other drive, Wise would be a hero today.
--As would Jonathan Jones, who not only ripped the ball away from Rashod Bateman, he was able to read Jackson's eyes, come off his seam/flat/curl responsibilities on the outside and drop inside the numbers for this pick:
Another winning play canceled out by losing plays. 
--Essentially the adjustments the Ravens made was to start taking advantage of the size advantage provided by the Patriots base Nickel scheme, by using Jackson as the primary ball carrier. With now 10 blockers on 11 defenders, and the use of run options/RPOs to neutralize the unblocked 11th defender, they opened up space for Jackson to run. In addition, they got ball carriers out on the edge against Wise and Judon with Pull & Pin blocks, like this one Justice Hill ripped off:
--We can admit not having Kyle Dugger - who had been this team's best defender through two games - didn't help. But that's no excuse. (Per se.) Safety is as deep a position as they have on the roster. And yesterday it was their biggest area of weakness. They were no match for Jackson once he'd get to the second level. And no answer whatsoever for Mark Andrews. In 20 years of doing these KJRs, I've never put in so much analytics from a single source as much as I am this one. But this stat is mind-boggling:
--Every night this week, Adrian Phillips is going to sit up in bed screaming himself awake in the middle of a dream where he's facing Jackson with a full head of steam an 20 yards of ground to defend. And Devin McCourty would be well served to just forget he's ever met Andrews.
--In the future, professors at Football War Colleges will teach classes on why Belichick the Younger decided to blitz Jackson half the time after he ate Miami's blitz for lunch last week. I thought their best plays came with a four man rush. But what do I know?
--This Week's Applicable Movie Quote: "Courage, Merry. Courage, for our friends." Eowyn, Lord of the Rings: The Return of the King
--As we await word on Mac Jones leg, don't worry about me. I carry a fake tooth with a cyanide pill for occasions just like this.