Steven Cheah's 2022 NFL Mock Draft 4.0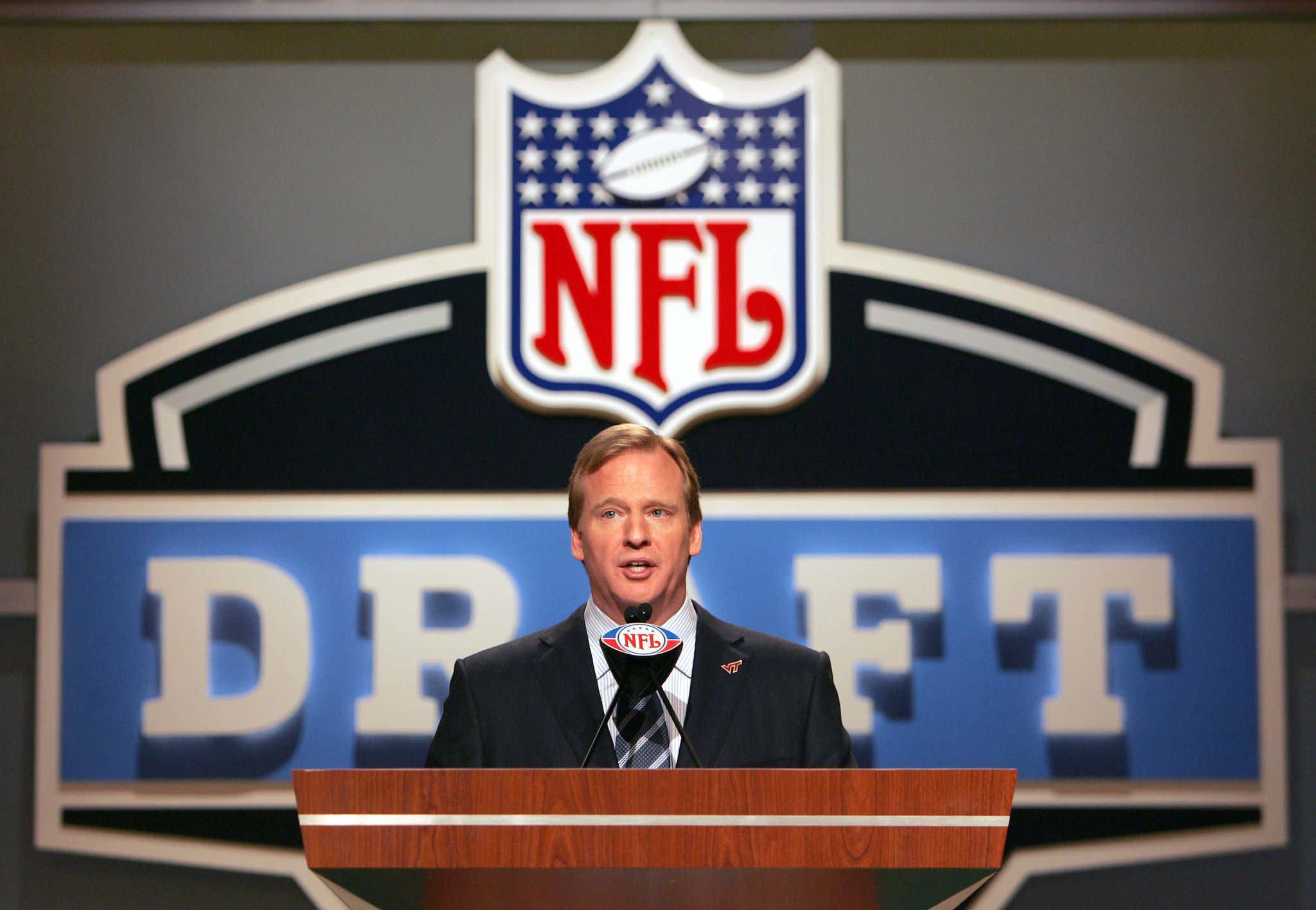 Richard Schultz. Getty Images.
We're less than two weeks away from the 2022 NFL Draft. Here's where I see things shaking out as of right now:
1) Jacksonville Jaguars - EDGE Aidan Hutchinson (Michigan)
There is some mystery at the top of the Draft. First it was thought to be an Offensive Tackle, then they franchised Cam Robinson and seemed like they'd be going Hutchinson, which is viewed as the safe play even though he missed almost his whole junior season. He'll form a dynamite tandem with Josh Allen to heat up the lackluster AFC South QBs like Ryan Tannehill, Matt Ryan, & Davis Mills.
2) Detroit Lions - EDGE Travon Walker (Georgia)
There is a TON of buzz with Walker who tested like an absolute freak at 6'5" 272 lbs. running a 4.51 40. He's at +175 to go #1 overall, but I can't see the Jags passing on Hutchinson in favor of him. Walker was a one-year starter and played on a LOADED Georgia defense.
3) Houston Texans - OT Ikem "Ickey" Ekwonu (NC State)
Here me out - Davis Mills actually wasn't bad. He threw 16 TDs to 10 INTs as a rookie throwing to Brandin Cooks and Danny Amendola's corpse. Get this guy some weapons, but more importantly, give him some time to stand and deliver. He was a medical red flag last year for a lot of teams, so I have them investing in their O-Line to keep Mills healthy so they can really see what they have.
4) New York Jets - OT Evan Neal (Alabama)
Jets GM Joe Douglas was a former Offensive Lineman in his day and believes in big guys up front. They're running the Shanahan Offense built around a really good Line up front and this would give them three blue chippers up front with Mekhi Becton, Alija Vera-Tucker, and Neal. He's 6'7" 337 lbs. and an absolute mauler in the run game. At that size, he's very nimble and can give Zach Wilson some time to chuck it downfield.
5) TRADE: New Orleans Saints (via New York Giants) - QB Malik Willis (Liberty)
I do not buy for a second that the Saints traded up 3-4 weeks before the Draft looking for an Offensive Tackle and a Wide Receiver. They've met with multiple QBs expected to go in the 1st and 2nd round in the Draft during this off-season and I expect they'll favor Willis. Jumping ahead of Carolina in this scenario with all the QBs on the board gives them their pick of the litter. They'll give up both #16 & #19 to move up with a Giants team that has a bunch of holes. Stay tuned for more busy Giants…
6) Carolina Panthers - OT Charles Cross (Mississippi State)
Matt Rhule does have the connection to Pitt QB Kenny Pickett having recruited him at Temple, but at #6 I'm saying they had eyes for Willis who is now off the board. They've got several needs and Offensive Tackle is absolutely one of them. They can't feel good about any QB taking snaps with Cam Erving at Left Tackle, so they take Cross here who is an excellent pass protector and plays with a nasty streak.
7) New York Giants - CB Ahmad "Sauce" Gardner (Cincinnati)
James Bradberry's future is very much in doubt in the Big Apple, so I have them going with the top Corner here. At 6'3" 190 lbs. he ran a 4.41 40-yard dash and impressed in interviews. He's cited he's never smoked or drank and never will. The guy is all ball which you have to love. Per PFF he gave up 0 TDs in his collegiate career. He can step into that #1 CB role immediately or play with Bradberry to form a dynamite pair on the outside.
8) Atlanta Falcons - WR Garrett Wilson (Ohio State)
Calvin Ridley is suspended for the season and Russell Gage is now on a team with a real future in the NFC South. Even with Marcus Mariota at QB, he'll need guys to throw to and right now it's really just Kyle Pitts. Garrett Wilson can go get it despite just average height (6'0" 183 lbs.). He bolstered his stock at the Combine with a 4.38 40-yard dash and should be a top 10 pick in late April.
9) Seattle Seahawks (via Denver Broncos) - CB Derek Stingley Jr. (LSU)
Pete Carroll has a Defensive Backs background and the Seahawks have always bet on talent over everything. So on paper, this makes a ton of sense. Stingley hasn't showed he's still the player he was in 2019, but that guy was incredible. So the ability is there and Carroll is just the guy to help him regain it.
10) New York Jets (via Seattle Seahawks) - WR Jameson Williams (Alabama)
Yes, Williams did just tear his ACL, but he's expected to make a full recovery and would give the Jets an element they don't necessarily have in their Wide Receiver room which is game breaking speed. Corey Davis is a nice player, Elijah Moore is more of a slot guy, and Denzel Mims isn't who they thought he'd be and not a field stretcher. Williams presence can help keep the Safeties on their heels which will help them in the running game in addition to the passing game.
11) Washington Commanders - S Kyle Hamilton (Notre Dame)
Hamilton has one of the widest ranges you'll see for a blue chip prospect. He could go as high as #2 to Detroit, but he could also very well fall out of the top 10 merely due to the perceived positional value (or lack thereof) of the Safety position. The Commanders are parting ways with S/LB Landon Collins, so a move to a younger prospect with similar scheme versatility makes sense at #11.
12) Minnesota Vikings - EDGE Kayvon Thibodeaux (Oregon)
The projected #1 pick earlier in the year takes a tumble here. There are concerns about his effort and if he actually loves the game, which are both major red flags. The Vikings have two guys in Za'Darious Smith and Danielle Hunter at the EDGE that both didn't really play last year, so Thibodeaux is both insurance and can be brought along slowly. Smith also can kick inside on passing downs which could be a nice way to start his career, just focusing on rushing on 3rd downs.
13) Houston Texans (via Cleveland Browns) - EDGE Jermaine Johnson II (Florida State)
New Texans HC Lovie Smith needs an EDGE rushing presence for his defense to really click and Johnson was one of the biggest risers from his week in Mobile, AL at the Senior Bowl. He confirmed what coaches saw on the field with a terrific workout at the Combine featuring a 4.59 40-yard dash. He's one of my favorite players in the Draft because in addition to his outstanding size/speed combo, his motor just does not stop.
14) Baltimore Ravens - WR Treylon Burks (Arkansas)
Burks could be a fit for a bigger Offensive Weapon that is more in that Deebo Samuel role. The Ravens never really settled on a Runningback last year after JK Dobbins went down and Burks has the ability to run it in addition make plays in the passing game. That would certainly be an interesting wrinkle in a Lamar Jackson-based offense.
15) Philadelphia Eagles (via Miami Dolphins) - WR Drake London (USC)
The Eagles have had mixed success taking Receivers early in the Draft the past few years with the likes of J.J. Arcega-Whiteside, Jalen Reagor, and finally DeVonta Smith. Smith is the only one to really get excited about, but they would do well pairing him with a big, physical target like Drake London out of USC. At 6'4" 219 lbs., London is physical in every aspect of his route running and giving Jalen Hurts a bigger target would be a savvy move. Look at this freakshow athlete the Eagles could just line up outside.
16) TRADE: Pittsburgh Steelers (via New York Giants via New Orleans Saints via Philadelphia Eagles via Indianapolis Colts) - QB Kenny Pickett (Pitt)
This pick is like the town bicycle, everybody gets a turn, right? The Giants traded down with the Saints for this spot (along with the 19th pick and some late picks), but Steelers GM Kevin Colbert is stepping down after the Draft and wants to leave the team in a good spot. Pickett played locally and this team has a history of drafting guys they've seen tear it up at Heinz Field in James Conner, Mason Rudolph and James Washington (who both had a huge game there for Oklahoma State). Most Scouts agree that Pickett is the most ready-to-go QB and hand size shouldn't be an issue here as he played collegiately in the same stadium. Pickett drawing Tony Romo comparisons seem apt and he would challenge to start immediately.
17) TRADE: Tampa Bay Buccaneers (via Los Angeles Chargers) - DT Jordan Davis (Georgia)
The Chargers don't have a 2nd round pick and the Bucs don't have a 5th rounder, so this trade makes a lot of sense, in which the Bucs give up their 1st (#27 overall), their 2nd (60 overall) for #17 and the Chargers 5th (#160 overall). Jason Licht and co. have gravitated early towards athletic freaks who have good production in college (2017 - OJ Howard, 2018 - Vita Vea, 2019 - Devin White, 2020 - Tristan Wirfs, 2021 - Joe Tryon-Shoyinka) which has really worked out for them outside of Howard. Defensive Tackle is a huge need with Ndamukong Suh not re-signed at the time of writing this. Davis, at 6'6" 341 lbs. running a 4.78 is nutty. Pairing him with Vita Vea would make it damn near impossible to run on the Bucs and let White and Lavonte David run free. 
18) Philadelphia Eagles (via New Orleans Saints) - EDGE George Karlaftis (Purdue)
The Eagles are depending on 34-year old Brandon Graham to start and that's probably not the best idea after he missed all but two games last year. Karlaftis would be a youth injection this line needs to hurry up mistake-prone QBs in their division like Daniel Jones and Carson Wentz.
19) TRADE: New York Giants (via New Orleans Saints via Philadelphia Eagles) - LB Devin Lloyd (Utah)
The Giants are using the second 1st rounder from the Saints to upgrade their pathetic LB corps. Lloyd is a top-5 player in the Draft for me, so this will shore up a currently weak unit. He is everywhere on tape and consistently gets hands on balls, but his disappointing 40-yard dash drops him to the late teens in this scenario.
20) TRADE: New York Giants (via Pittsburgh Steelers) - OT Trevor Penning (Northern Iowa)
The Giants?! Again?! Yes! With their third 1st round pick (via trading down with the QB-needy Steelers), they address the O-Line with Trevor Penning who plays NASTY. This is exactly the time of attitude the Giants want to play with and he'll form a good bookend with LT Andrew Thomas.
21) New England Patriots - CB Trent McDuffie (Washington)
J.C. Jackson is off in sunny California with the Chargers and the Pats got rid of Stephon Gilmore earlier in mid-season. McDuffie is almost flawless on tape production wise, but he's undersized at 5'11" 193 lbs. and 29 3/4" inch arms. So can he really line up on the outside in the NFL or will he be limited to that Nickel Corner role?
22) Green Bay Packers (via Las Vegas Raiders) - WR Chris Olave (Ohio State)
The Packers need to replace Davante Adams and that will be no easy task even after the selection fo Chris Olave here. Olave is a smooth route runner who burned up the Combine in what turned out to be a 4.39 official 40-yard dash. He can play inside or out and give Aaron Rodgers a legitimate pass catcher.
23) Arizona Cardinals - OG Zion Johnson (Boston College)
Kyler Murray is slight of stature and he cannot be getting pressure up the middle if they want to move the ball down the field consistently. Johnson is the top Guard in the class and could help Murray, DeAndre Hopkins and others out a lot, but it won't be a sexy pick.
24) Dallas Cowboys - WR Jahan Dotson (Penn State)
The Cowboys traded Amari Cooper to the Browns and a once strong Receiver room, now has some more question marks. Can Michael Gallup be a legit #2 WR? Is Cedric Wilson primed for a bigger role? Dotson is a speedster who can really take the top off a defense. He'll help open up a lot more underneath and I think he may be the best WR in the Draft.
25) Buffalo Bills - CB Kaiir Elam (Florida)
Tre'Davious White got hurt last year and the Bills could certainly use some insurance on that front. Elam is a lights out press Corner who could step in right away and help Buffalo add to their playmakers on their already loaded back end.
26) Tennessee Titans - LB Nakobe Dean (Georgia)
In a cruel twist of fate, the Titans take another Linebacker with Will Compton on during our Draft stream! And while Will played with the Raiders towards the end of last year, he'll be associated with the Titans forever. Dean was the leader of a very impressive Georgia defense, but he's a bit undersized. Titans GM Jon Robinson has drafted unafraid in prior years, so I have him betting on the talent here, no matter what the size.
27) TRADE: Los Angeles Chargers (via Tampa Bay Buccaneers) - DT Devonte Wyatt (Georgia)
The Chargers have some legit firepower on the outside with Joey Bosa and Khalil Mack, however the inside of their Defensive Line leaves a lot to be desired. Wyatt was another guy who tore up the Combine
28) Green Bay Packers - C Tyler Linderbaum (Iowa)
The last memories of the Packers on the field were the 49ers just heating Aaron Rodgers up left and right. Linderbaum is a blue chipper at a position of less value, but could certainly help Aaron Rodgers regularly get a little more time.
29) Kansas City Chiefs (via Miami Dolphins via San Francisco 49ers) - WR Skyy Moore (Western Michigan)
It's going to be impossible to replace everything Tyreek Hill brought, but the Chiefs try here with Skyy Moore who is similar stature to Hill and also plays with a ton of juice. Chiefs GM Brett Veach brings in some of the cavalry after that major deal.
30) Kansas City Chiefs - EDGE Boye Mafe (Minnesota)
Playing in the AFC West, you've got to heat up the Quarterbacks. Frank Clark had a big down year last season and Chris Jones plays inside. Mafe had a big off-season circuit and has worked himself into back end of the 1st round discussion.
31) Cincinnati Bengals - CB Andrew Booth Jr. (Clemson)
Eli Apple is still a starter, that should tell you all you need to know about the positional need I'm talking about here. Booth could slot right in there. He's a nice young Press Corner with outstanding ball skills.
32) Detroit Lions (via Los Angeles Rams) - QB Desmond Ridder (Cincinnati)
The Lions had the #2 overall pick in a draft where you may not want the 2nd pick without a defined QB heirarchy. Everyone can see Jared Goff is not the answer, but Ridder has a mobile QB who has a lot of great traits for an NFL QB. Running a 4.52 he definitely is an athlete. But he can chuck it around the yard too.