Steven Cheah's NFL 2022 Mock Draft 2.0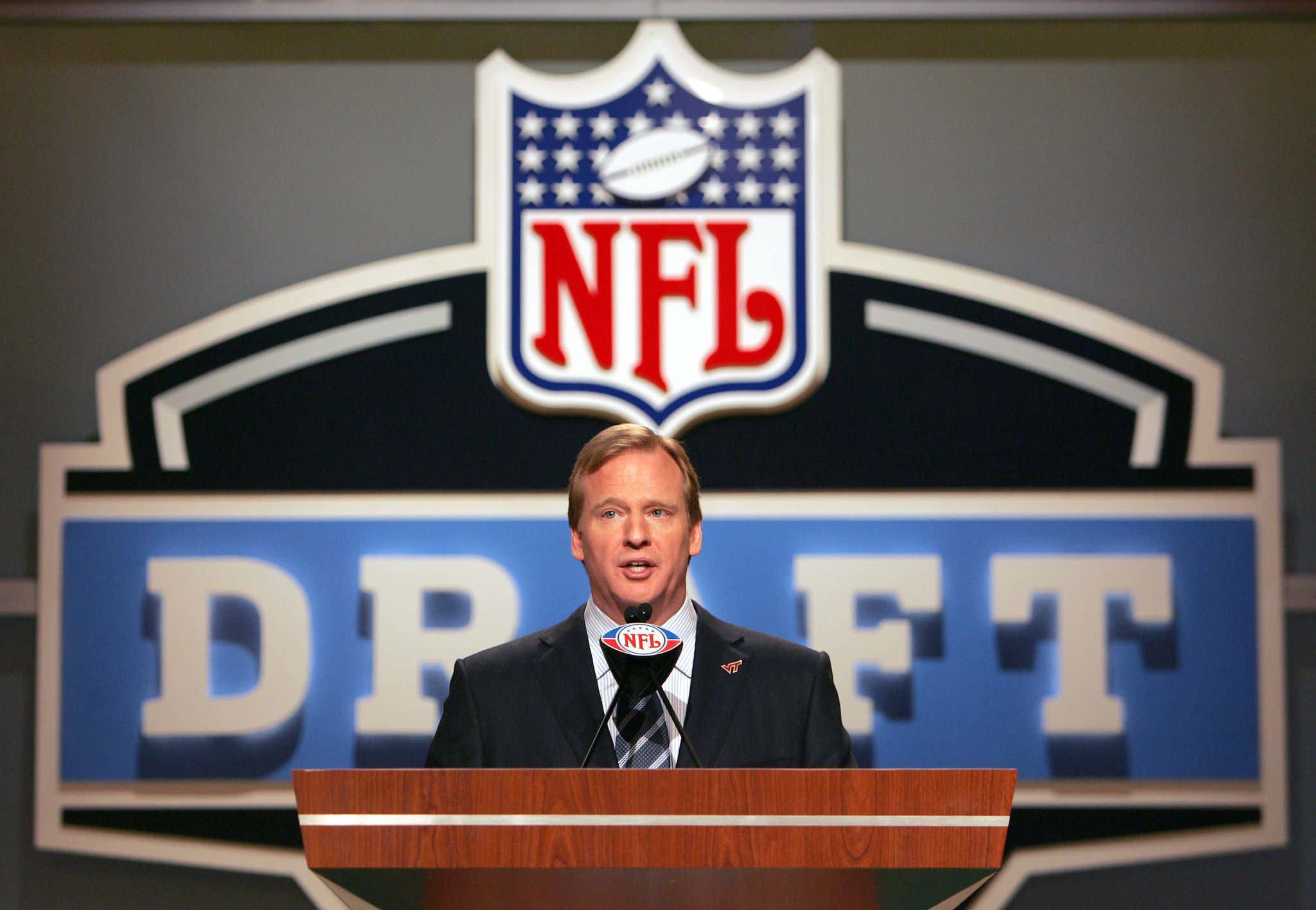 Richard Schultz. Getty Images.
With the Combine coming to a close, I had to update my latest projections and release NFL Mock Draft 2.0.
For reference: 1.0
1) Jacksonville Jaguars - OT Ikem Ekwonu (NC State)
The mission is clear - the Jags have to protect Trevor Lawrence. This is a fairly weak draft class with no slam dunk guys at the top, so I'll go with the Jags drafting for need with Ekwonu. Ekwonu is a nasty people mover that can give Lawrence a little more time to get through his reads or blow a hole for a Travis Ettiene/James Robinson. He also impressed at the Combine running a 4.93 40-yard dash at 6'4" 310 lbs.
2) Detroit Lions - EDGE Aidan Hutchinson (Michigan)
How great would this be? Keep the hometown kid in the great state of Michigan. After a Junior season in which he was limited to just two games after fracturing his ankle, he came back better than ever and set the single season sack record for the Wolverines. At 6'6" 265 lbs. he's got ideal size and he is expected and his strength coach at Michigan also worked with J.J. Watt at Wisconsin and expects similar testing numbers which could boost him up even higher than #2.
3) Houston Texans - EDGE Kayvon Thibodeaux (Oregon)
The Texans hired Lovie Smith to be their Head Coach. Lovie likes to run a lot of Cover 2 defense which is predicated on getting home with four guys. Thibodeaux can help make that happen. There are some whispers about his motor that will need to be addressed, but he's got a sky high ceiling. At 6'4" 250 lbs., he'll need to bulk up a bit, but he's got an outstanding get-off that can help put Tackles on their heels from Day 1.
4) New York Jets - OT/OG Evan Neal (Alabama)
Jets GM Joe Douglas was a former Offensive Lineman in his day and believes in big guys up front. How about 6'7" 350 lbs?! Imagine Neal on one side and Mekhi Becton on the other?! Sheesh! Neal did not work out at the Combine, but a with his stock firmly in the top 5, he didn't really need to.
5) New York Giants - EDGE Travon Walker (Georgia)
One of the biggest risers from the Combine, Travon Walker is a freakshow. He's 6'5" 272 lbs., played all over the defensive line, dropped in coverage a bunch at Georgia, and ran a 4.51 40-yard dash. He'll need to get coached up, but the draft is about traits over production and this guy is dripping with traits.
6) Carolina Panthers - QB Malik Willis (Liberty)
The Panthers will have a new Quarterback taking snaps next year. Their owner has made it clear they are able to spend at the position until they get the right guy. Willis was impressive at the Senior Bowl and Combine. He seems like a great guy too as he was seen giving his workout gear to a homeless man in Indy.
7) New York Giants (via Chicago Bears) - S/LB Kyle Hamilton (Notre Dame)
The Giants need help all over, but on Defense specifically Hamilton could be a culture changer. The speed and ferocity he plays with is unmatched for his size and he'd start from Day 1. There is argument amongst NFL people how high a Safety should really be drafted, but at #7, the value is right for him.
8) Atlanta Falcons - WR Garrett Wilson (Ohio State)
Calvin Ridley wants out and you can't earnestly trot Matt Ryan out there with Russell Gage as his #1 WR for a full season. Wilson can go get it despite just average height (6'0" 183 lbs.). He bolstered his stock at the Combine with a 4.38 40-yard dash and should be a top 10 pick in late April.
9) Denver Broncos - LB Devin Lloyd (Utah)
The Broncos are reportedly all-in on getting Aaron Rodgers and if that happens, they'll need to focus on their Defense in the Draft. Lloyd measured in at 6'3" 237 lbs. which is great size, but also clocked in a disappointing 4.71 40-yard dash. In my mind he's the top Linebacker in the Draft, but will his 40 tank his stock?
10) New York Jets (via Seattle Seahawks) - CB Ahmad "Sauce" Gardner (Cincinnati)
A long, twitchy, press Corner that goes by the nickname Sauce? Sign me up! He also isn't afraid to hit as you can see here. At 6'3" 190 lbs. he ran a 4.41 40-yard dash and impressed in interviews. He's cited he's never smoked or drank and never will. The guy is all ball which you have to love. Pick #10 may be too low for a guy who gave up 0 TDs last year per PFF.
11) Washington Commanders - OT Charles Cross (Mississippi State)
Washington isn't sure of their Quarterback for next year and at this point, but with Charles Cross, they'd be getting a very good pass protector who can play nasty in the run game.
12) Minnesota Vikings - EDGE Jermaine Johnson II (Florida State)
Johnson was one of the biggest risers from his week in Mobile, AL at the Senior Bowl. He confirmed what coaches saw on the field with a terrific workout at the Combine featuring a 4.59 40-yard dash. Johnson can help heat up the QBs in a potentially (if Aaron Rodgers leaves) weak QB division in the NFC North.
13) Cleveland Browns - DT Jordan Davis (Georgia)
Coley wrote a great blog saying to not overthink the Draft and just pick Jordan Davis. This guy is 6'6" 341 lbs. and ran a 4.80 40-yard dash. That's basically impossible. A knock on him would he'd be a two-down player at the NFL level, but with this type of athleticism, why couldn't he play on 3rd downs?
14) Baltimore Ravens - OT Trevor Penning (Northern Iowa)
The Ravens had protection issues last year without Ronnie Stanley and Orlando Brown Jr. Penning plays like a Raven and is a nasty sumbitch that can help keep Lamar Jackson upright.
15) Philadelphia Eagles (via Miami Dolpins) - C Tyler Linderbaum (Iowa)
Jason Kelce is likely to retire and while Linderbaum is one of the best players in the class, the Center position has always been devalued in the draft. This may just be the perfect intersection of opportunity and value when it comes to the grade of player Linderbaum is. This big man is nasty and can move! Landon Dickerson, who played Center in college could stick at Guard and they'd form a dynamite inside pairing.
16) Philadelphia Eagles (via Indianapolis Colts) - EDGE David Ojabo (Michigan)
With both Brandon Graham and Derek Barnett being free agents this off-season, don't be surprised if Howie Roseman dips into Graham's alma mater for another edge rusher. Ojabo played opposite Aidan Hutchinson, but was no slouch himself. He'd form a nice young pass rushing duo with Josh Sweat.
17) Los Angeles Chargers - WR Chris Olave (Ohio State)
Olave made headlines with a wildly incorrect unofficial 4.26 40-yard dash which officially was a 4.39 40. With Mike Williams being a free agent, drafting Olave could really open things up for Keenan Allen underneath.
18) New Orleans Saints - QB Matt Corral (Ole Miss)
If this actually happens, you'll hear about six new Mintzy noises as it'd be his favorite QB from his school on his favorite football team. On the field, it's a good match and Corral can move, but he can really sling it. He'd be a great fit in the Big Easy.
19) Philadelphia Eagles - CB Kaiir Elam (Florida)
Elam has been a stud since his freshman year and with his hitting and ball skills, would make a great addition to the Eagles secondary. Elam getting paired with and able to learn from Darius Slay would be smart planning.
20) Pittsburgh Steelers - QB Kenny Pickett (Pitt)
GM Kevin Colbert is stepping down after the Draft. He's been with the Steelers since 2000 and I've got a hunch he's not going to want to leave Pittsburgh with a cupboard of Mason Rudolph and Dwayne Haskins at Quarterback. Pickett drew some criticism during the Combine for his hand size, which measured 8.5" inches. While hand size 9.5"+ is the ideal, Ross Tucker said it best when he openly questioned whether with that hand size Pickett could play in a cold weather city like Pittsburgh (where he went to college).
21) New England Patriots - CB Andrew Booth Jr. (Clemson)
J.C. Jackson is going to get PAID and the Pats just got rid of Stephon Gilmore. Booth could line up opposite Jackson if he returns or attempt to replace him if he leaves via Free Agency.
22) Las Vegas Raiders - WR Treylon Burks (Arkansas)
Treylon Burks is another freakshow athlete. At WR he's 6'3" 225 lbs and ran a 4.50 40-yard dash. He describes himself as A.J. Brown with a little more wiggle. The Raiders are in need of help at WR and Burks could open things up more for Hunter Renfrow and Darren Waller.
23) Arizona Cardinals - EDGE George Karlaftis (Purdue)
Karlaftis is big enough to put his hand in the dirt at 6'4" 275 lbs. But he's also athletic enough to stand up and rush. The Cardinals are in dire need of some youth at EDGE and Karlaftis is good enough to crack the rotation early.
24) Dallas Cowboys - DT Devonte Wyatt (Georgia)
I'd look at either Defensive Tackle or Linebacker here for the Cowboys, but after an incredible Combine featuring a 4.77 40-yard dash, he'll likely find a home Day 1 of the Draft. Dallas could be better against the run and are always looking to upgrade their interior rush and Wyatt could help improve those areas early.
25) Buffalo Bills - RB Isaiah Spiller (Texas A&M)
Could the Bills be taking another Runningback with the surname Spiller 13 years after taking C.J. in the 1st round? Both are dynamic and Isaiah could help give Buffalo a steady option in the backfield. Zack Moss hasn't worked out and while Devin Singletary did come on towards the end of the season, he's a ticking time bomb with his fumble issues. If this team wants to hoist a Lombardi they'll need to have guys not named Josh Allen being their top rusher consistently.
26) Tennessee Titans - WR Jameson Williams (Alabama)
Williams is absolutely lightning in a bottle, but unfortunately he tore his ACL in the National Championship game. The Titans though have taken injury fliers on talented guys two years in a row. It has certainly worked out for Jeffery Simmons. Caleb Farley only played in three games last year, so we'll see how that works out. But with GM Jon Robinson getting an extension, they've got time to let blue chippers get right and Williams is expected to make a full recovery. A healthy Williams opposite A.J. Brown would be scary.
27) Tampa Bay Buccaneers - CB Derek Stingley Jr. (LSU)
This would be quite the fall for Stingley who was projected to be a Top 10 pick when he came out just weeks into his true freshman season. He hasn't been quite the same since 2019 when there would be regular battles against Ja'Marr Chase in practice. He's dealt with injury issues and subsequent inconsistent play. But the potential is still there to be an elite level Corner. Can he recapture it? I would not be shocked for the Bucs to look at the Cornerback position early in the Draft. They will likely Franchise CB Carlton Davis and their other top CBs (Jamel Dean and Sean Murphy-Bunting) will also be free agents after this season. So realistically, the team could lose their top three CBs next year which makes this a logical match.
28) Green Bay Packers - WR Drake London (USC)
A lot is dependent on Aaron Rodgers here. If he stays, you can make the case that you want to give him a young, stud WR. If he leaves, you have to think Davante Adams wouldn't be far behind, in which case you'd want to replace him. London is a monster WR out of USC and based on his aerial acrobatics on the hardwood, you'd have to think whoever is throwing passes for the Pack next year would love to have this type of talent on the outside.
29) Miami Dolphins (via San Francisco 49ers) - LB Nakobe Dean (Georgia)
Dean was the leader of an Championship Bulldog Defense, but he's not a guaranteed 1st Rounder due to his size. At 5'11" 229 lbs., he'd be a small Linebacker at the next level where teams tend to be looking for bigger, longer athletes in the middle like Darius Leonard or Fred Warner. But size aside, turn on the tape and this guy can play. Miami would be thrilled if he was there at #29.
30) Kansas City Chiefs - CB Trent McDuffie (Washington)
The Chiefs need some help at CB and Trent McDuffie plays like his hair is on fire. He's a smaller guy at 5'11" 195 lbs. but reminds me a bit of former Husky, Budda Baker with his tenacity and versatility.
31) Cincinnati Bengals - OT Bernhard Raimann (Central Michigan)
Raimann disappointed at the Senior Bowl, but redeemed himself a bit at the Combine. The former Tight End has great athleticism, but needs a bit more polish. The Bengals need to ensure Joe Burrow stays healthy and Raimann would be a nice building block.
32) Detroit Lions (via Los Angeles Rams) - OG Kenyon Green (Texas A&M)
Green could help solve some of the Lions protection issues and give Jared Goff some more time to stand and deliver. And in the run game I think D'Andre Swift would benefit from holes being blown wide open like this.