Steven Cheah's 2022 NFL Mock Draft 3.0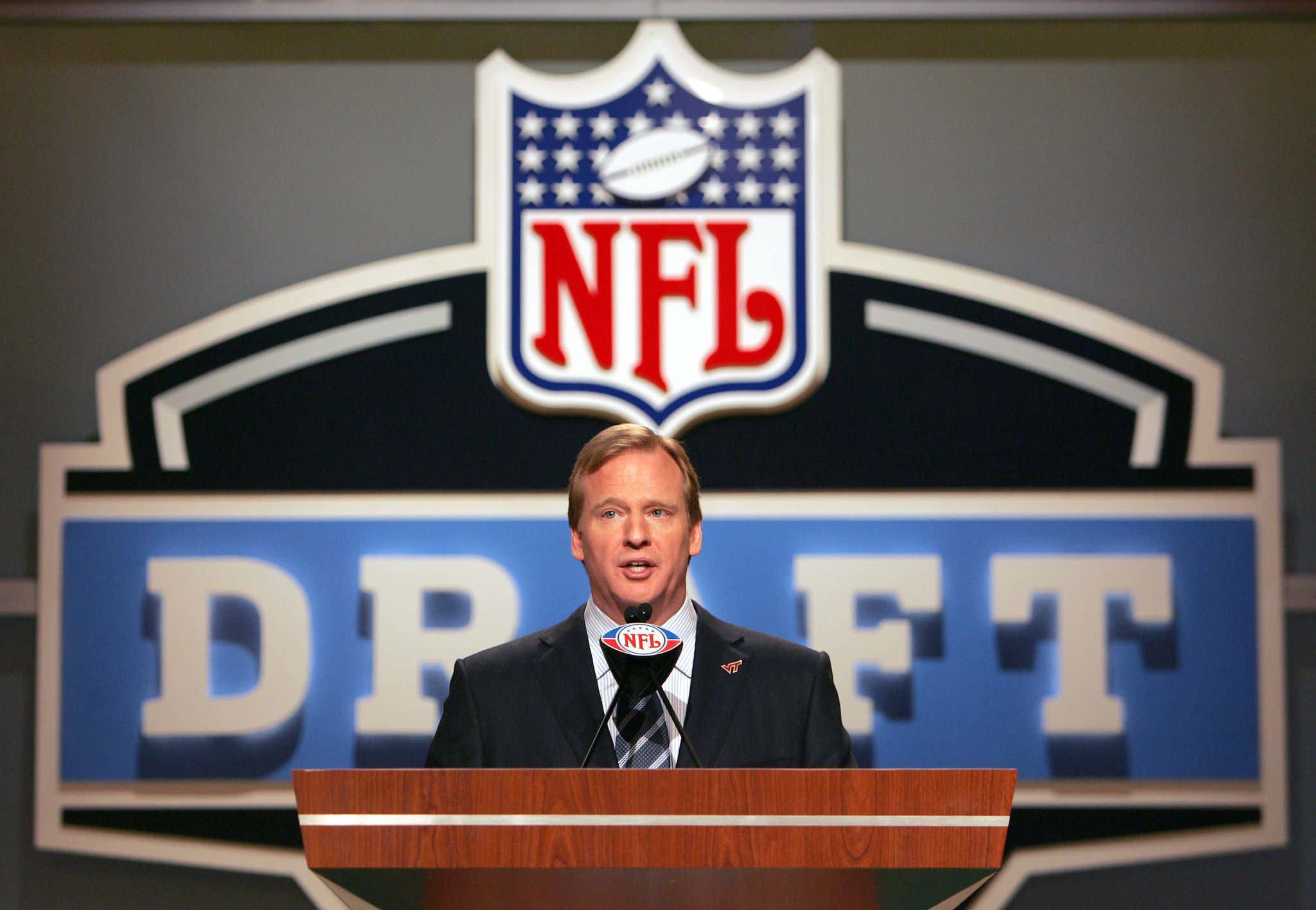 Richard Schultz. Getty Images.
With the dust settling from Free Agency I wanted to put out another Mock Draft to get people more familiar with these names!
1) Jacksonville Jaguars - EDGE Aidan Hutchinson
The Jags are gonna Jag. I'm not saying Hutchinson won't be a great player, because I like him a good deal, but they need to be ALL IN on protecting Trevor Lawrence and making that the top priority. It seems like they're depending on a band-aid approach in Free Agency by Franchising OT Cam Robinson for the 2nd year in a row and repeating history by overspending on a Guard in Brandon Scherff. They'll pair Hutchinson with their other superstar EDGE rusher, Josh Allen to hopefully heat up opposing Quarterbacks and get Lawrence a few more possessions with suspect protection.
2) Detroit Lions - QB Malik Willis (Liberty)
There are a lot of differing opinions on Malik Willis, but Lions GM Brad Holmes knows the price of getting a Quarterback. They're sitting there at #2 overall and a QB with a TON of upside is staring them in the face. Do they take a blue chip prospect at a position of need that might not be a premium position like Kyle Hamilton, a Safety? No way! Go with the QB, let him sit and develop behind the scenes for a year with Jared Goff at QB and you're in a good position next year. This would be smart business. And remember, there are two different drafts: the regular draft and the Quarterback Draft and the Lions can play in both worlds, but at #2 overall, only one of them makes sense.
3) Houston Texans - EDGE Travon Walker (Georgia)
The Texans hired Lovie Smith to be their Head Coach. Lovie likes to run a lot of Cover 2 defense which is predicated on getting home with four guys. Walker is one of the biggest risers from the Combine. He's a freak at 6'5" 272 lbs. and played all over the defensive line, can drop in coverage well, and ran a 4.51 40-yard dash. He'll need to get coached up, but the draft is about traits over production and this guy is dripping with traits. 
4) New York Jets - OT Ikem "Ickey" Ekwonu (NC State)
Jets GM Joe Douglas was a former Offensive Lineman in his day and believes in big guys up front. Ickey has got fans all over the league for his passing blocking, run blocking prowess. They will need Zach Wilson upright to succeed, so they understand the assignment with this selection.
5) New York Giants - CB Ahmad "Sauce" Gardner (Cincinnati)
A long, twitchy, press Corner that goes by the nickname Sauce? Sign me up! He also isn't afraid to hit as you can see here. At 6'3" 190 lbs. he ran a 4.41 40-yard dash and impressed in interviews. He's cited he's never smoked or drank and never will. The guy is all ball which you have to love. Per PFF he gave up 0 TDs in his collegiate career. 
6) Carolina Panthers - QB Kenny Pickett (Pitt)
The Panthers will have a new Quarterback taking snaps next year. Their owner has made it clear they are able to spend at the position until they get the right guy. And their Head Coach Matt Rhule, way back in 2016, he had a commit to Temple, where he was the HC and that guy's name was Kenny Pickett. Obviously Rhule left and Pickett didn't follow through after that news, but now Rhule gets his guy with Pickett going #6 overall to Carolina.
7) New York Giants (via Chicago Bears) - OT/OG Evan Neal (Alabama)
This would be a home run for the G-Men; getting arguably the top Offensive Tackle along with the top Cornerback on the board would fill two pressing needs with blue chip players. Neal is a mammoth of a man at 6'7" 337 lbs. that would pair with Andrew Thomas to help give Daniel Jones more time time to get the ball to his weapons.
8) Atlanta Falcons - WR Garrett Wilson (Ohio State)
Calvin Ridley is suspended for the season and Russell Gage is now on a team with a real future in the NFC South. Even with Marcus Mariota at QB, he'll need guys to throw to and right now it's really just Kyle Pitts. Garrett Wilson can go get it despite just average height (6'0" 183 lbs.). He bolstered his stock at the Combine with a 4.38 40-yard dash and should be a top 10 pick in late April.
9) Seattle Seahawks (via Denver Broncos) - LB Devin Lloyd (Utah)
They've suddenly got a void at Quarterback with Russell Wilson being gone, but the reality of it is, they're not ready to compete for a title next year, so they should focus on roster construction for the future. Bobby Wagner, the lynchpin of the Legion of Boom defense is elsewhere in the NFC West, so they'll look to replace him with a younger, cheaper option in Devin Lloyd. Lloyd measured in at 6'3" 237 lbs. which is great size for the position, but also clocked in a disappointing 4.71 40-yard dash. In my mind he's a top 5 player in the Draft, but will his timed speed tank drop him down?
10) New York Jets (via Seattle Seahawks) - EDGE Kayvon Thibodeaux (Oregon)
Thibodeaux was the projected top pick for a decent portion of the year, but Aidan Hutchinson outperformed him on a consistent basis. KT checked in at 6'4" 252 lbs. but played closer to 240 lbs. throughout the year. Will he be big enough to stand up in the NFL and can he produce week-in and week-out at the next level? At 10th overall, he's too talented of a prospect to pass up at this point.
11) Washington Commanders - S Kyle Hamilton (Notre Dame)
Hamilton has one of the widest ranges you'll see for a blue chip prospect. He could go as high as #2 to Detroit, but he could also very well fall out of the top 10 merely due to the perceived positional value (or lack thereof) of the Safety position. The Commanders are parting ways with S/LB Landon Collins, so a move to a younger prospect with similar scheme versatility makes sense at #11.
12) Minnesota Vikings - EDGE Jermaine Johnson II (Florida State)
Johnson was one of the biggest risers from his week in Mobile, AL at the Senior Bowl. He confirmed what coaches saw on the field with a terrific workout at the Combine featuring a 4.59 40-yard dash. He's one of my favorite players in the Draft because in addition to his outstanding size/speed combo, his motor just does not stop.
13) Houston Texans (via Cleveland Browns) - DT Devonte Wyatt (Georgia)
The Texans defense is predicated on pressure and Lovie Smith especially loves pressure up the middle from the 3-technique position. Wyatt is a prototypical 3-technique with the ability to collapse the pocket from inside. Pairing him with Travon Walker would give the Texans some great building blocks across their Defensive Line.
14) Baltimore Ravens - DT Jordan Davis (Georgia)
The Georgia Bulldog Defensive Tackles go back-to-back in this scenario. Coley wrote a great blog saying to not overthink the Draft and just pick Jordan Davis. This guy is 6'6" 341 lbs. and ran a 4.80 40-yard dash. That's basically impossible. A knock on him would he'd be a two-down player at the NFL level, but with this type of athleticism, why couldn't he play on 3rd downs?
15) Philadelphia Eagles (via Miami Dolphins) - WR Drake London (USC)
The Eagles have had mixed success taking Receivers early in the Draft the past few years with the likes of J.J. Arcega-Whiteside, Jalen Reagor, and finally DeVonta Smith. Smith is the only one to really get excited about, but they would do well pairing him with a big, physical target like Drake London out of USC. At 6'4" 219 lbs., London is physical in every aspect of his route running and giving Jalen Hurts a bigger target would be a savvy move. Look at this freakshow athlete the Eagles could just line up outside.
16) TRADE: Kansas City Chiefs (via Philadelphia Eagles via Indianapolis Colts) - WR Jameson Williams (Alabama)
The Chiefs wouldn't pay Tyreek Hill his market value, but they need to replace his skill set, or at least try to. Williams is lightning in a bottle and an outstanding deep threat, but he also tore his ACL in the National Championship game in January. He'll almost certainly miss at least the start to the season, but could give Patrick Mahomes a legitimate deep threat to help replace the Cheetah.
17) Los Angeles Chargers - OT Charles Cross (Mississippi State)
The Chargers hit it out of the park with Rashawn Slater last year who is a stud at Left Tackle. But the right side is still a work in progress and Cross could likely slot over there and start. If they can keep Justin Herbert upright, he can fling it all over the field.
18) New Orleans Saints - WR Treylon Burks (Arkansas)
Treylon Burks is another freakshow athlete. At WR he's 6'3" 225 lbs and ran a 4.50 40-yard dash. He describes himself as A.J. Brown with a little more wiggle. Last season, the Saints were trotting out guys like Marquez Calloway, Tre'quan Smith, Deonte Harris, and Lil Jordan Humphrey. It doesn't appear like Michael Thomas will suit up in a Saints uniform again, so Burks could represent some competency out wide for Jameis Winston.
19) Philadelphia Eagles - CB Derek Stingley Jr. (LSU)
The Eagles could use a good, young Corner to pair with Darius "Big Play" Slay. Stingley is a stud, but hasn't put out consistent tape since his memorable freshman season in 2019. But this is a perfect marriage of talent matching need and Stingley is too good of a value to pass up at #19.
20) Pittsburgh Steelers - OT Trevor Penning (Northern Iowa)
The Steelers signed Mitchell Trubisky in Free Agency and need to help him out. Their Offensive Line is a big time work in progress, but I do like the James Daniels signing. Penning would represent a big upgrade at Offensive Tackle and could start from Day 1. Don't these clips just scream Steelers tough guy?
21) New England Patriots - CB Trent McDuffie (Washington)
J.C. Jackson is off in sunny California with the Chargers and the Pats got rid of Stephon Gilmore earlier in mid-season. McDuffie is almost flawless on tape production wise, but he's undersized at 5'11" 193 lbs. and 29 3/4" inch arms. So can he really line up on the outside in the NFL or will he be limited to that Nickel Corner role?
22) Green Bay Packers (via Las Vegas Raiders) - WR Chris Olave (Ohio State)
The Packers need to replace Davante Adams and that will be no easy task even after the selection fo Chris Olave here. Olave is a smooth route runner who burned up the Combine in what turned out to be a 4.39 official 40-yard dash. He can play inside or out and give Aaron Rodgers a legitimate pass catcher.
23) Arizona Cardinals - WR Jahan Dotson (Penn State)
Christian Kirk got PAID, but now there is a vacancy opposite De'Andre Hopkins. Olave could give the Cardinals another dynamic weapon on the outside and keep their offense potent. Dotson is a stud who can get deep and free up the underneath for guys like Nuk Hopkins and Zach Ertz.
24) Dallas Cowboys - OT Tyler Smith (Tulsa)
This may classify as a surprise, but the Cowboys had a once promising Offensive Line that has taken a steep tumble. Tyron Smith struggles to stay healthy and is getting up there in age and La'el Collins just left for greener pastures. They take a shot here on Smith who is raw, but has all the tools to be an elite Tackle.
25) Buffalo Bills - RB Breece Hall (Iowa State)
I still like Buffalo going Runningback at #25, but it seems like Hall has taken over the top spot with a tremendous Combine. He looks like he's floating when he runs and his receiving skills put him a notch above the other RBs in this class.
26) Tennessee Titans - OG Zion Johnson (Boston College)
The Titans know what Ryan Tannehill is and what Ryan Tannehill isn't. The same applies to Derrick Henry, and they need to prioritize addressing what King Henry needs in order to win. And that might just be taking a Guard in the 1st Round. Johnson is a mauler who can blow open some bigger holes for King Henry.
27) Tampa Bay Buccaneers - DT Travis Jones (UConn)
It's no secret the Bucs are looking to get younger on the Defensive Line. Ndamukong Suh is still unsigned, so if Jones is the pick, he could slot in right there help fill in Suh's absence. He's an elite run stuffer who can also get after the passer, so he'd fit in very nicely.
28) Green Bay Packers - EDGE George Karlaftis (Purdue)
Karlaftis is big enough to put his hand in the dirt at 6'4" 275 lbs. But he's also athletic enough to stand up and rush. They'll bring him along slowly just like they did with Rashaan Gary, but he has enough size to kick inside on passing downs. So opposing Quarterbacks could be looking at Gary, Preston Smith, and Karlaftis coming after them this season.
29) TRADE: Philadelphia Eagles (via Kansas City Chiefs via Miami Dolphins via San Francisco 49ers) - S Jalen Pitre (Baylor)
Pitre is a dynamic athlete with a lot of explosion and versatility. I see this guy on tape and makes me think the Eagles would like a guy like him.
30) Kansas City Chiefs - EDGE Boye Mafe (Minnesota)
Playing in the AFC West, you've got to heat up the Quarterbacks. Frank Clark had a big down year last season and Chris Jones plays inside. Mafe had a big off-season circuit and has worked himself into back end of the 1st round discussion. 
31) Cincinnati Bengals - CB Andrew Booth Jr. (Clemson)
Eli Apple is still a starter, that should tell you all you need to know about the positional need I'm talking about here. Booth could slot right in there. He's a nice young Press Corner with outstanding ball skills.
32) Detroit Lions (via Los Angeles Rams) - LB Nakobe Dean (Georgia)
Nakobe Dean was the leader of the Championship Georgie Bulldogs defense. Bringing him to Detroit wouldn't just be about scheme fit or personnel need, but almost as much so as leadership. His height (5'11") will knock him, but I still don't ensure him making it out of the 1st Round.