This New 2022 Cincinnati Bengals 7-Round Mock Draft Will Indubitably Fuel DYNASTY Talk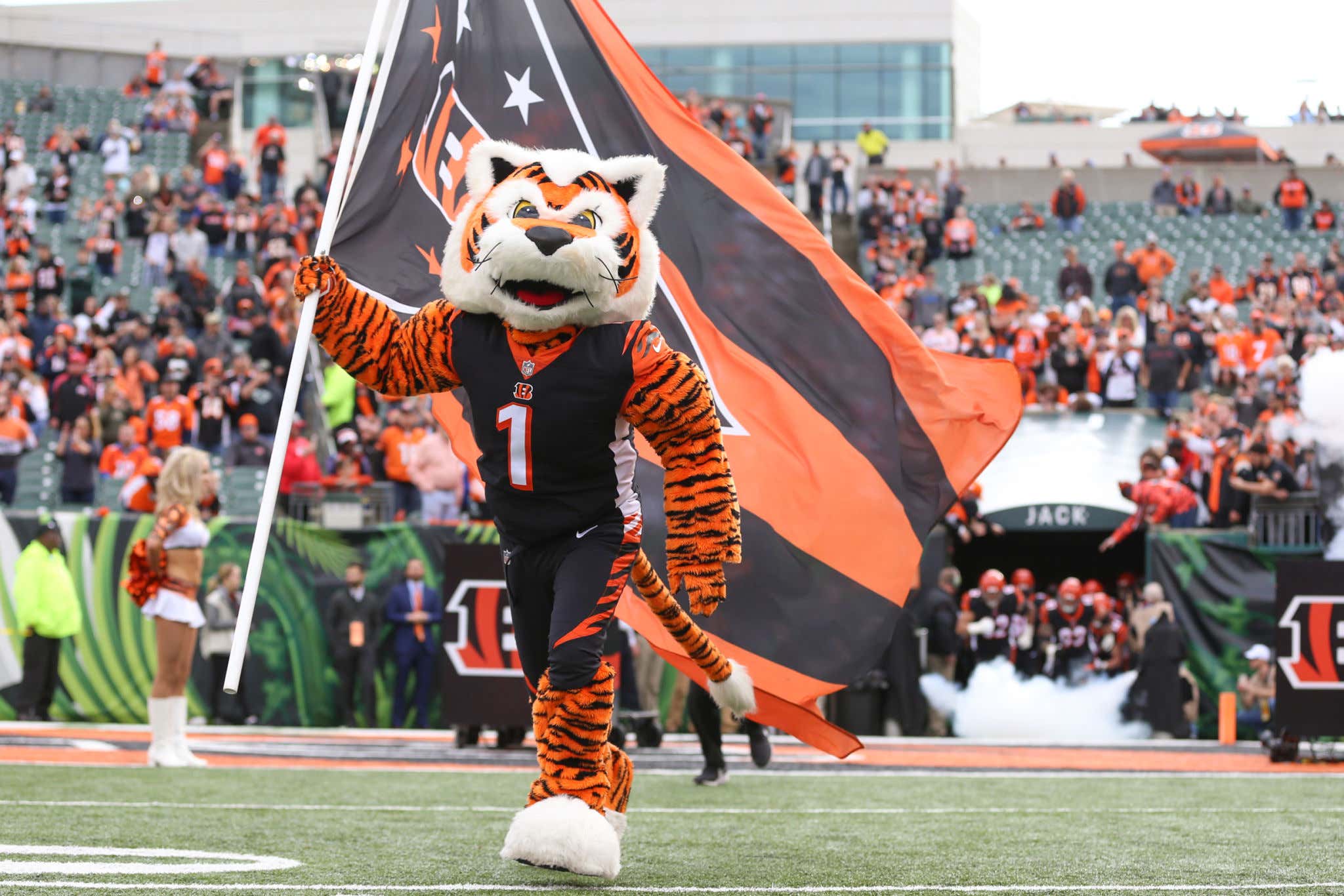 Icon Sportswire. Getty Images.
It's amazing to think that even after an epic run to the Super Bowl and an excellent free agency, the Cincinnati Bengals will have an even better roster by the time the month of April ends.
To change it up in a big way from the first one, I'm going with all new players in each round for this full Bengals mock draft, courtesy of simulations from The Draft Network. Please enjoy, and make 'em say "WHO DEY!" PS: Yeah, I said "DYNASTY" in the headline. That's the type of self-belief and audacity Joe Burrow inspires in all of us.
For your convenience: (2022 NFL Draft Big Board) — (Bengals Mock 1.0) — (Full Mock 1.0) — (Full 2.0)
Round 1, Pick 31: Arnold Ebiketie, EDGE, Penn State
I went back and forth between Ebiketie and Minnesota's Boye Mafe, who's higher on my big board (25 vs. 31). While I still like Mafe's superior size, versatility and overall skill set, I like taking a flier on Ebiketie here. After playing just 16 games across three seasons at Temple, Ebiketie transferred to Penn State in 2021 and absolutely EXPLODED. He racked up 18 tackles for loss and 9.5 sacks. You'd think the step up in competition would've hindered him. Not the case. Also: Ebiketie only began playing football as a high school sophomore. I think he'd be an excellent addition to the Bengals' front. He's already so good and has so much room to improve if this past year was any indication.
Other options: Kenyon Green, OL, Texas A&M / Lewis Cine, S, Georgia
Round 2, Pick 63: Trey McBride, TE, Colorado State
Hayden Hurst is on a one-year deal, Drew Sample is entering a contract year, and C.J. Uzomah (sadly) plays for the Jets now. Some new blood at tight end would be welcomed. At his pro day, Trey McBride reportedly ran a 40 between 4.53 and 4.56 seconds. In other words, that's George Kittle-type speed. And while I'm not going to say McBride is as great now as Kittle is or ever will be, he could have a similar trajectory — at least as a pass-catcher. McBride is a better blocker than you'd think, and racked up 91 receptions in his final collegiate season. Per PFF, he ranked tied for third nationally among tight ends with eight deep receptions and was second with 17 contested catches. Although he only found the end zone once in 2021, that's not as much of a red flag for the Bengals in particular. Imagine how many favorable matchups McBride would have in the red zone with Ja'Marr Chase and Tee Higgins drawing so much attention.
Other options: Travis Jones, DL, UConn / Alontae Taylor, CB, Tennessee
Round 3, Pick 95: Cam Taylor-Britt, CB, Nebraska
I wouldn't be upset if the Bengals addressed this position sooner, but if other areas of the roster are upgraded instead and you have to live with Eli Apple and Tre Flowers (occasionally) taking outside cornerback snaps opposite Chidobe Awuzie, so be it. Then again, Cincinnati could be patient and wait until late in Day 2 of the draft to snag an underrated, potential spot starter in Cam Taylor-Britt. With 22 passes defensed, five INTs and four forced fumbles over the past three years in Lincoln, CTB has proven himself in terms of ball skills, coverage ability and a willingness to tackle. He's technically sound, and is an especially ideal fit for the Cover 3 zone looks Bengals coordinator Lou Anarumo often likes to deploy.
Other options: Khalil Shakir, WR, Boise State / Max Mitchell, OT, Louisiana
Round 4, Pick 136: Luke Fortner, OL, Kentucky
Similar to the situation with Taylor-Britt, this pick is about the Bengals not pressing for an early perceived need and getting excellent value later in the draft. Center is one of the lowest-valued positions in football, so going HAM (or even trading up as I've seen suggested in some corners of the Internet?) for someone like Tyler Linderbaum doesn't really check out, even though I think he'll be a fantastic pro. Luke Fortner has starting experience at all three interior positions. He held his own while playing in the SEC. Good sign there. It's possible he could even step in at center right away, with Ted Karras sliding to left guard in that scenario. In any event, Fortner is a worthy Day 3 choice if he's still on the board this far in.
Round 5, Pick 174: Tyquan Thornton, WR, Baylor 
Sometimes 40-yard dashes at the Combine are fake news. Once times become official after the fact, they're often slower than expected. That was the case for Tyquan Thornton. Guess what, though? He still blazed an OFFICIAL 4.28-second time in Indy (unofficial: 4.21). Sure, he's a bit slight of frame at 6-foot-3 and 182 lbs, but damn, you cannot coach that type of speed. Thornton is an excellent project for the Bengals to tackle. I have a hard time believing he couldn't earn the WR4 spot and immediately contribute as a pure deep threat. For Baylor last season, Thornton had 62 grabs for 941 yards and 10 TDs. He'd bring an explosive element to the Bengals' passing attack that just isn't there with their current No. 3 option Tyler Boyd.
Round 6, Pick 209: Thomas Booker, DL, Stanford
Now, if you just glean his PFF profile, you'd be horrified to see how badly Booker graded out last season. Here's the thing: Booker played at Stanford under David Shaw. Pro-style schemes and intricacies aren't foreign to him. In the sixth round, you're looking for traits and potential, or at least that's what I'd be hunting. Booker's athletic profile is excellent. He doesn't have to come in and START. It's already a crowded group with D.J. Reader, B.J. Hill, Josh Tupou and 2021 draftee Tyler Shelvin. Booker's beginnings would be as a pure interior pass-rushing specialist. The matches of physical tools, niche role and what Cincinnati needs at the bottom of the roster make Booker an intriguing choice.
Round 7, Pick 226: Decobie Durant, CB, South Carolina State
In 37 career games with 30 starts, Durant had 12 interceptions. Despite checking in at 5-foot-11 and 180 lbs, he has the tenacity and functional strength to hold his own on the outside. Given how well Durant can anticipate routes, attack the ball in the air and lay fools out, I don't think he'll have as steep of a leap to the NFL as others who come from FCS programs. Durant also flashes impressive recovery/closing speed, and is a strong developmental cornerback who could be drafted a full round before this.
Round 7, Pick 252: Aaron Hansford, LB, Texas A&M
I don't put a ton of weight into, "How much can you bench, bro?" analytics in any sort of evaluation of a prospect. Nevertheless, 24 bench reps at the Combine isn't nothing. That's what Hansford did. He's a big dude who can MOVE, and who packs a punch at the point of attack. It's been a long, winding road for Hansford to the NFL. After taking a medical redshirt in 2016, and missing 2018 due to injury, he converted from tight end to linebacker in 2019. Only this year did Hansford start to really put it all together at his new position for the Aggies, amassing 89 tackles (8.5 for loss), two sacks and four PBUs. You could do a lot worse this late in the draft than him.
Aaaaaand that's all for this edition!
I may have ONE more Bengals mock before the draft officially begins, but I gotta say…