The PGA Tour Heads To Mexico For The World Wide Technology Championship At Mayakoba
Cliff Hawkins. Getty Images.
Meh Hee Co baby!!! We're south of the border this week for the tournament formerly known as the Mayakoba Golf Classic. I don't know what World Wide Technology is but it sounds fancy.
This is a traditional fall event that brings out a small handful of big names, but won't really give you a knockout field. Last year's event was bumped to December due to COVID reschedulings, but has returned to its typical November spot in the schedule.
Viktor Hovland came out victorious last year, edging out Aaron Wise with a birdie on the 72nd hole. It was a hectic Sunday that featured a ton of guys within a couple of strokes on the back 9, but Hovland was able to pull thru with a revamped short game that typically isn't his forte.
2020 Leaderboard
Recent Winners
The Course
El Camaleon Golf Club is a Greg Norman hog Par 71 design measuring about 7,000 yards. One thing that's clear is that this course favors accuracy off the tee over distance. None of those names on the recent winners list nor last year's leaderboard are notorious for bombing and gouging courses. Statistics show that this is a top-5 course with regards to rewarding driving accuracy. Most of the holes are tree-lined, especially on the back 9 as evidenced by the course map:
As you can see, the course is not overly narrow, but it's just tight enough to test your nerve if you're shaky off the tee. All 3 of the par 5's should be reachable with an accurate tee shot, and three of the four par 3's are surprisingly short and should only require a short iron or wedge to hit. Some quick research shows that that 4th hole is the 2nd shortest hole on Tour, behind the legendary 106 yard 7th at Pebble. One thing that stinks about this course is that it's one of the few courses where the PGA Tour does not provide shotlink data, so you won't be able to track hole-by-hole on their website. Anyway, here's your scorecard.
Ignore that rating and slope number because it's simply incorrect.
Best Hole - 7th Hole, 554 yard Par 5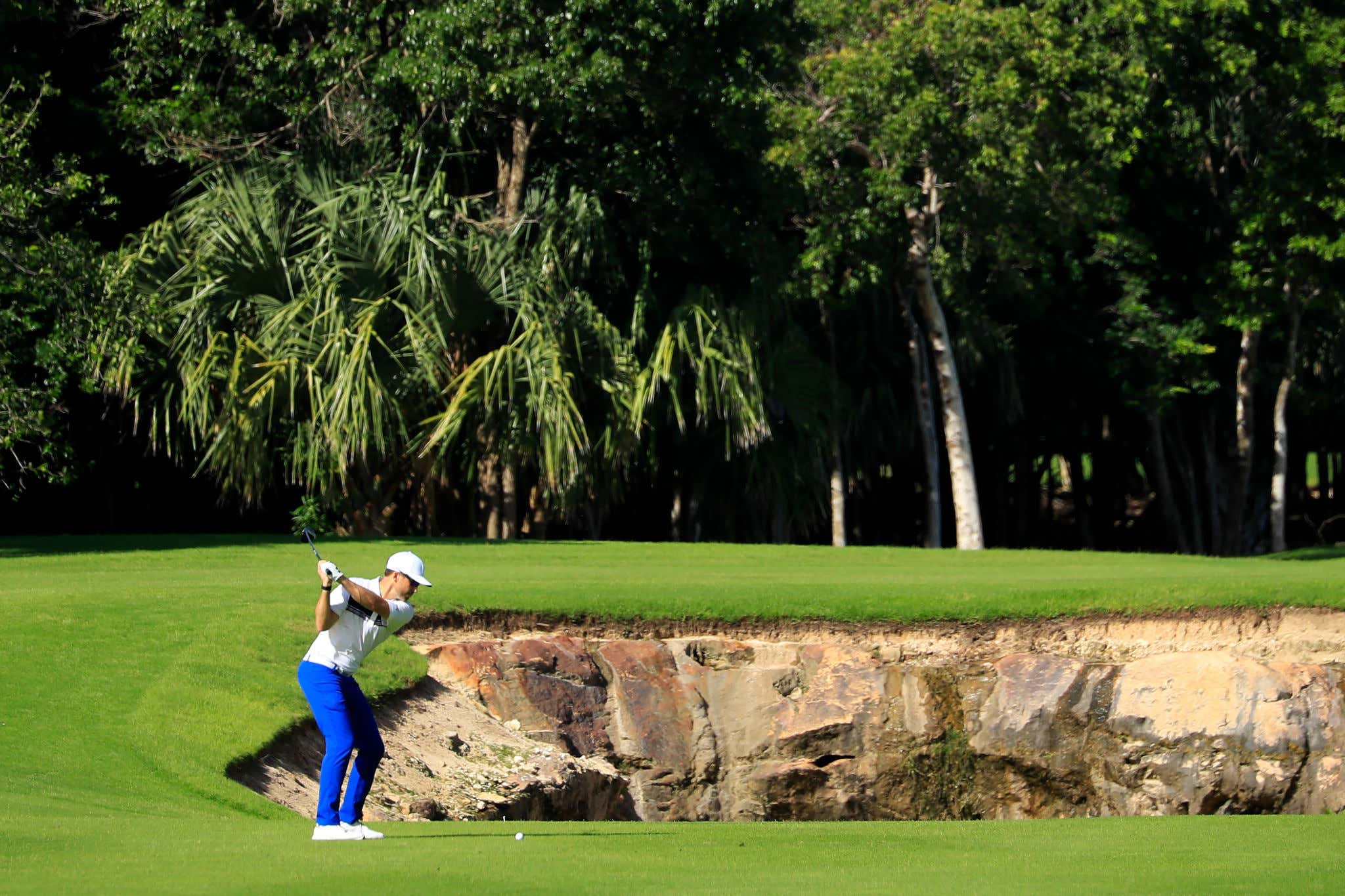 Cliff Hawkins. Getty Images.
Another fabulous google maps 3D job by ya boy
This course is well known for having a wide variety of different terrains. Cavernous sink holes, oceanside holes, tropical features… you name it, this course has it. For best hole I gotta take the 7th simply because of how preposterous this fairway bunker is.
That's just a ridiculous trap and it could not be more directly in the center of that fairway. Will be fun to see how some of these guys navigate it throughout the week.
The Weather
El Camaleon is more or less Cancun, so you know there's gonna be some good weather. Chance of rain in the mix there, but this isn't the fall golf most of us are experiencing up here in the States. Last year's conditions were a bit wetter which made the course softer, so you might want to consider that if you're looking at any lowest score props.
TV Coverage
Thursday: Golf Channel 3-6 PM ET
Friday: Golf Channel 3-6 PM ET
Saturday: Golf Channel 2-5 PM ET
Sunday: Golf Channel 2-5 PM ET
The Trophy
Hector Vivas. Getty Images.
That's what I'm talking about right there! If you're not a prestigious Tour event, you can miss me with that generic garbage we see at most Tour stops. You want something that captures the local flavor and this does that in spades. What better prize at a golf club called El Camaleon than a big fucking chameleon? Forget the $1.2M, gimme this big hunk of stone on my mantle all day every day. 
Firm 8.2/10.
The Board
Justin Thomas is the favorite at the Barstool Sportsbook at +1400. JT was the favorite here last year as well and finished T-12. A first round 72 put him in too deep of a hole in a low-scoring tournament, but he did fire a Saturday 62. 
Might be chalk, but he's my pick this week. He's clearly the biggest name and the best player in this field and that's why he's the favorite again, but his gap between Ancer +1600 and Hovland +1600 should be a bit bigger. It's not often you get odds as long as +1400 where the favorite is the only Top 10 player in the field. T-12 was not a bad result by any means and there's virtually no other evidence (a T-23 in 2015, before he was the JT we know now) to suggest this course isn't one that fits him. JT tends to thrive on accuracy-based courses (see Sawgrass last year) and birdiefests (6 of his 14 PGA Tour wins have been -20 or better) and this week should be no different.
Other Plays
Billy Horschel To Win +2200 - Trending better every year at this course (T-21, 8th, 5th the last 3 years) and had a great year last year. This is his season debut.
Billy Horschel Top 5 +500 - See above
Tony Finau To Win +2500 - He's hit or miss on this course (8th, MC, 16th, MC, 7th) but 25/1 is too long to lay off. Plus he's my guy.
Tony Finau Top 10 +275 - See above
Danny Lee To Win +12500 - Finished T-2 last week and has a pair of Top 3 finishes here in his career
Pat Perez Top 10 +750 - Former winner here, think he can find some magic
Scottie Scheffler FOMO Pick To Win +3300 - Scottie is my new Tony Finau. With Tony breaking out at Liberty National a couple months ago, it's time to blindly ride somebody else that's wildly overdue to get a win. We're still in the infancy stages here relative to Tony's run, but once this pick was in my head there was no going back. I simply must be there when Scottie gets his. Let's go Scottie.