Steven Cheah's NFL Top 100 Players in 2021: #20 - #11
These are my Top 100 Players for this upcoming season based on last season's performance and potential. For reference, here is every one up until this point: 
We're getting to the conclusion and I've got some special stuff planned for those, so here are my guys #20 - #11. The next batch will come out THIS THURSDAY at 11am eastern.
Note - This list is exempt of any Rookies and other Players that played zero games in 2020 due to either injury or opt outs.
20) TE George Kittle - San Francisco 49ers (2020 Rank: 4)
At this point, even casual fans know Greg George Kittle is a monster in the run game.
But he's also a big time pass catching weapon who can make contested catches or burn you after the catch. I'm looking forward to seeing a healthy Kittle this year terrorize the league.
19) WR DeAndre Hopkins - Arizona Cardinals (2020 Rank: 15)
Is he the biggest guy? No. Does he run the best routes? No. All DeAndre Hopkins does is catch EVERYTHING. The guy had 154 targets and only 1 drop in 2020 after being dealt from Houston for pennies on the dollar.
These are GAMECHANGING catches. And who could forget the Hail Murray?
18) EDGE Myles Garrett - Cleveland Browns (2020 Rank: 37)
Garrett not only has an outstanding size profile at 6'4" 272 lbs. He's one of the only professional athletes that looks crazy jacked wearing a suit!
And those aren't just popcorn muscles, the dude can really play, which is why the Browns signed him to a 5-year $125M extension last summer. He's good vs. the run, but makes his money rushing the passer where he's racked up 35.5 sacks in his last three seasons.
In addition to all those moves to go with his size and strength, his effort is also outstanding.
17) RB Dalvin Cook - Minnesota Vikings (2020 Rank: 36)
Dalvin Cook put the team on his back last year and was a candidate early on for MVP. Through his first seven games, he had 1,031 total yards and 13 TDs. 
Matt Waldman is a guy who does a great job breaking down the intricacies of the game and has a bunch of clips highlighting how Dalvin Cook's footwork is just different from everyone else's. It helps paint a picture of a truly unique RB that if he stays healthy for a full 16 17 games, certainly could take home an MVP trophy.
16) CB Jalen Ramsey - Los Angeles Rams (2020 Rank: 72)
If you built the perfect Cornerback in Madden, it would look a whole lot like Jalen Ramsey. He has the ideal physical profile and length for a Cornerback at 6'1" 208 lbs. with arms as long as most Offensive Tackles. He also has a dog mentality, great instincts, and is can stick his face into a guy's numbers and tackle.
But like my co-worker/Coach Deion Sanders said, you get paid to cover and Ramsey is exceptional at that. He's physical at the line of scrimmage with those Dhalsim-like arms and is almost always in-phase with WRs. That makes it pretty tough to complete balls his way, so Ramsey is the cream of the crop at CB.
15) QB Russell Wilson - Seattle Seahawks (2020 Rank: 5)
Russell Wilson is one of the top Quarterbacks in Football and is a legitimate dual threat at the position. His scrambling ability is maddening to opposing Defensive Coordinators/Coaches and despite having serious wheels, he is almost always scrambling with his eyes down field looking to throw.
And when he gets room to unload it, Wilson's deep ball is second to none.
So will this be the year he gets an MVP vote??
14) WR Tyreek Hill - Kansas City Chiefs (2020 Rank: 19)
If it wasn't obvious before, we found out in Week 12 in Tampa that it is impossible to cover Tyreek Hill 1-on-1 with a single high Safety. He had 7 catches for 203 yards and 2 TDs in those first 15 minutes at Raymond James Stadium and put the league on notice if they weren't already aware.
But aside from being the most lethal deep threat in the game, you simply must pay attention to him all over the field. He can take a short pass and make something happen any time he touches it.
That includes rushes.
If this guy is on the field - beware.
13) QB Deshaun Watson (assuming no suspension) - Houston Texans (2020 Rank: 27)
Watson saw his Coach/GM jettison one of the only playmakers he had for a 2nd round pick and David Johnson's corpse. Watson still put up 4,823 yards through the air on a 70% completion percentage with 33 TDs to just 7 TDs. He has great touch in the short, medium, and deep balls and seems to always find his guys in stride.
He's proven his entire career he has the clutch gene and makes big time throws like they're nothing.
Now this will likely be a controversial ranking based on the speculation of what's happening off the field. But if Watson is playing in 2021, he's a top five Quarterback.
12) WR Stefon Diggs - Buffalo Bills (2020 Rank: 73)
For all Receivers, it starts on the line of scrimmage with your release. Diggs is a master at that and learned from his college position coach, former Super Bowl Champion Keenan McCardell. 
Diggs route running is also on another level. 
He consistently displays incredible body control and finishes catches. Look for another big year as his relationship with stud QB Josh Allen (who hasn't yet been named on this list) continues to blossom.
11) EDGE Khalil Mack - Chicago Bears (2020 Rank: 10)
Khalil Mack is a guy who simply cannot be left singled up. For example, Tristan Wirfs was one of the best Offensive Tackles in football last year (#62, OT #5 on my list), he gave up on sack all year. It was to Mack and watch what Mack does to him after the play.
But it's not just sacks, Mack makes plays all over the field and simply must be accounted for each play.
Recapping this group: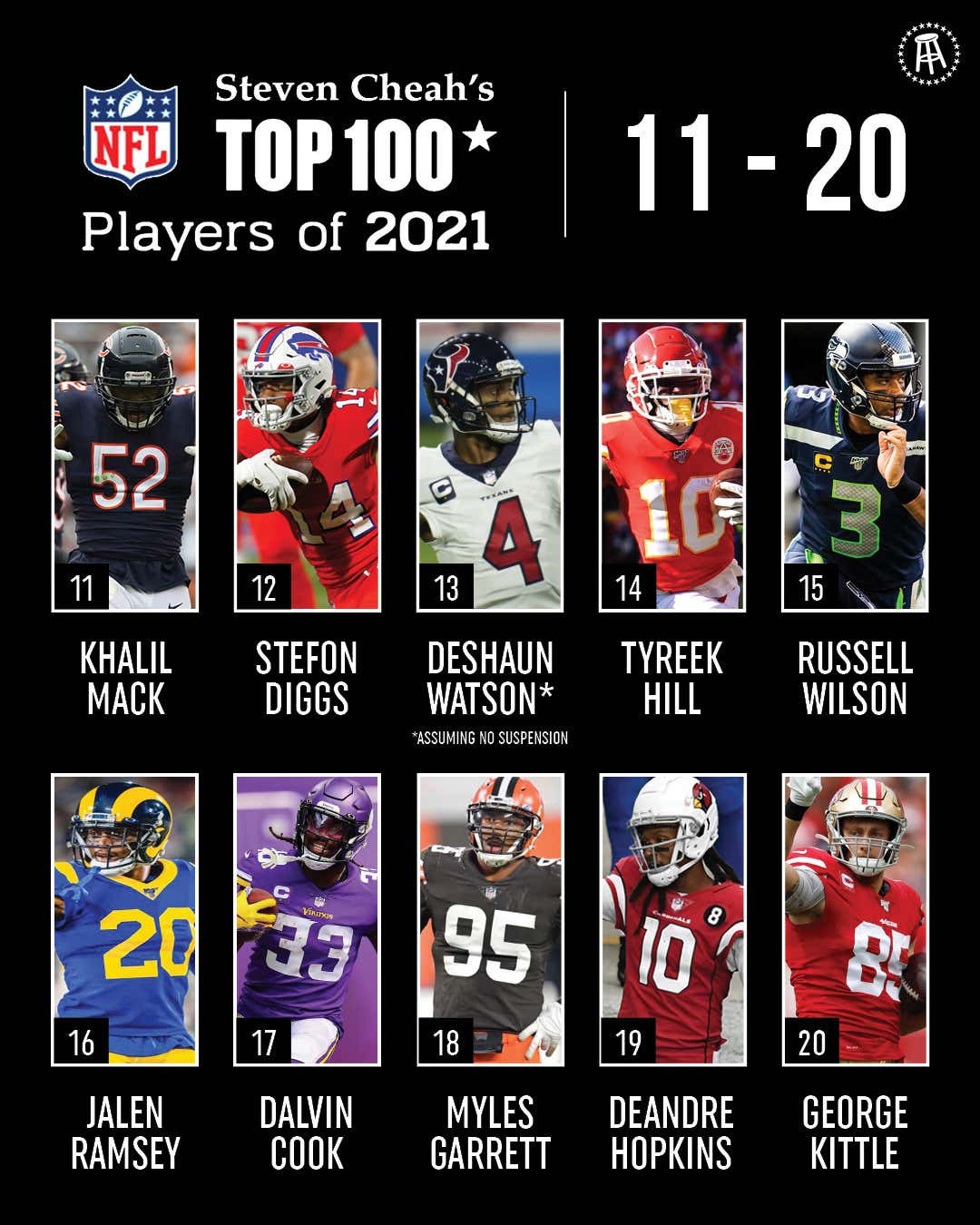 We're going to wrap up the my Top 100 list on THURSDAY! Stay tuned for a fun new wrinkle!