Peak Brandon Roy vs Peak Gilbert Arenas Who Ya Got?
We're back with another NBA Twitter debate and this time we're talking about two elite scoring machines. Now this question is a little weird, mostly because in my opinion we didn't get to see Brandon Roy in his true peak seeing as how he retired when he was 26 after the 2010-11 season and then came back for just 5 games in 2012 before walking away for good. With Gilbert, we definitely witnessed his peak, which for me came in 2005-2007.
If you compare their entire careers things look similar, but Arenas played nearly twice as long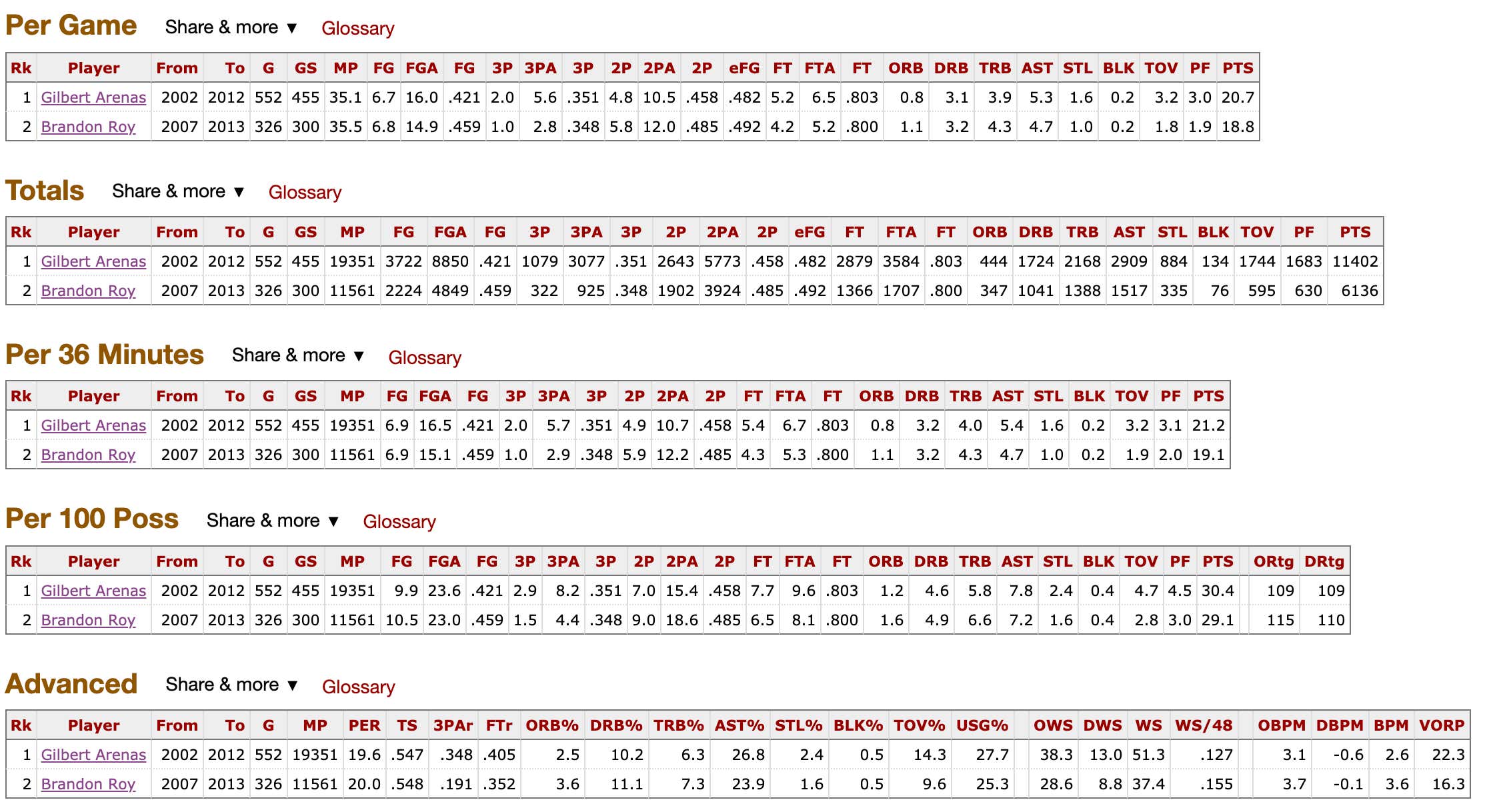 I think a lot of people sleep on what a monster Brandon Roy was before his knees went to shit. He was basically Dame before Dame for the Blazers. So for the sake of this debate, let's compare their best two seasons
Gilbert Arenas 2005-7: 28.9 points / 4.0 rebounds / 6.0 assists / 1.9 steals / 43% FG% / 35% 3P%  with 2.6 3PM / 20.9 FGA / 115 Ortg / 109 Drtg
Brandon Roy 2008-10: 22.1 points / 4.6 rebounds / 4.9 assists / 1.0 steals / 47% FG% / 35% 3P% with 1.1 3PM / 16.5 FGA / 120 Ortg / 109 Drtg
Now, the highlights
I think your gut reaction to this question is probably to lean Agent 0. There's no shame in that decision, I mean the dude averaged nearly 30 a night and was for sure the better passer. But the closer you look at the best prime years of Roy, I think that's where I'm leaning. Way more efficient, better offensive rating, better defensive win shares over his two seasons, clutch as hell, he certainly has a convincing case. I also think if he was taking over 20 shots a game his points would be closer to what Arenas averaged.
So that's my answer. I'm going to Brandon Roy's "peak" even if it was really his best two years since his career was cut short. One of the best NBA "what ifs" when it comes to his knee health because that dude was legit as hell.
Do you agree? Or are you rolling with peak Arenas and all the chaos he brings?