There Are 450 Million Reasons Why It's Good To Be A Token CEO Today
Four years ago I met the Barstool guys for the first time. I interviewed with Dave, Kevin, Keith and Dan. After I joined, we went to dinner at Buddakan because it was near Dave's apartment. I wore white jeans and a white blazer. None of them drank — I ordered red wine and listened to them bicker. I told them about Slack. Then listened to them bicker about Slack. 
I remember every detail like it was yesterday. It feels like yesterday.
I remember sitting in Times Square waiting to shoot the announcement video, not sure exactly what I was getting into, but knowing I would never look back. A part of it felt lonely — I left a relatively secure safety net, I didn't really know anyone, and they didn't really know me — but I was happy to be here, and knew this was the chance of a lifetime. None of us knew where we were going or what was next. But we got to work.
You read about companies raising hundreds of millions to build/buy growth: In 2016, we had $2M in the bank. I worried about payroll. My first board meeting we had $1.25M in revenue and four advertisers. Our office manager lived in my spare bedroom.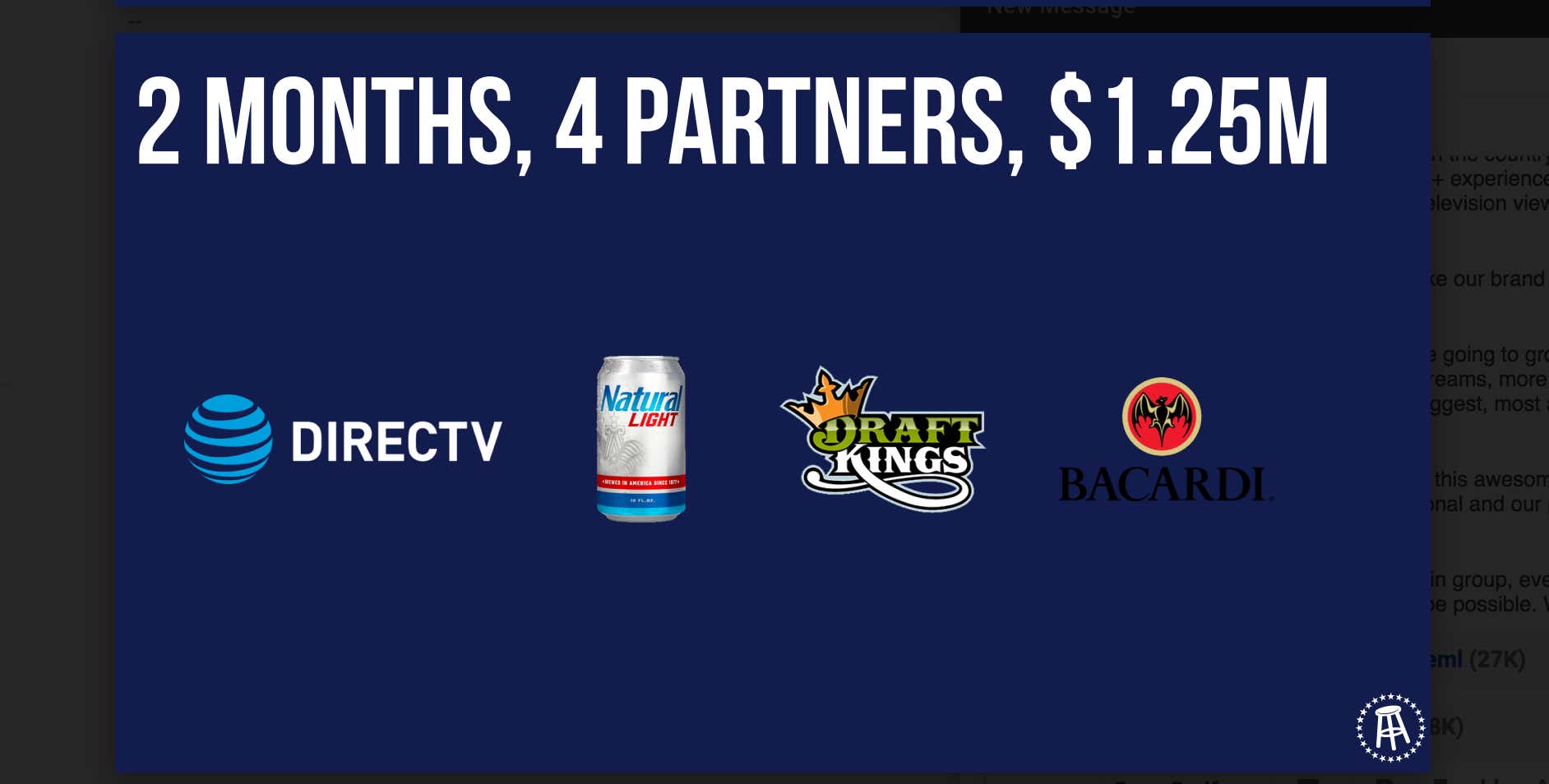 By the end of 2017, we had beat Chernin's 2022 goals.
Three plus years later, we have over 200 people and we are closing in on $100M in revenue. We've grown profitably from 15 FTEs to 210. We are the only major media or major internet company with a female CEO, CRO, CFO and Head of Production. I'd be psyched if you can prove me wrong - but you can't, yet.  
A lot of things have changed — a lot hasn't. We shoved 120 people into an office made for 50. Everyone was sick all the time. The guys were working so hard they often slept there. We started to find paparazzi outside. 
We had a new office made for us but nothing works. 
I still worry about payroll. I can't find a single measurement company who can track the millions of pieces of content that we are growing, engaging, and converting across every type of media known to man. For the first year, our "data" was Keith trying to teach himself how to use Google Analytics. 
We've inhaled the internet. There have been 100 lifetimes in these four years, on top of the thousand lifetimes before that. It would be impossible to count the hours, the personal sacrifice, the things lost and gained.
I remember in our interview, after all the small talk, Keith asked me what I would change about the site if I became CEO. He asked it like he expected me to see them as bad or "wrong." I said: nothing. Absolutely nothing. What we need to do is evolve. Evolving is different than changing and this thing is only going to work as long as you are exactly who you are. He said I was the 17th candidate he'd talked to, and the first one to give the correct answer. 
It was true then, and it's true now. 
I wouldn't change a thing - the ups, the perceived downs, the actual downs.  It all helped us get to where we are. I'm not sure I will ever love or believe in a group of people the way I do about everyone at Barstool Sports.  This group of people has propelled us from a $15 million valuation to a $450 million valuation in three years. Only this company could make that happen. 
See, the thing is — and the reason we don't need as much money as everyone else, or as many resources, or any prodding at all really (ask Chernin) — is that we hired smart, funny people, and people who believed. Believed in "the brand," because to them, it wasn't a brand, it was their way of life. Believed in Dave, believed this was their chance, believed in the Stoolies, believed in fighting for a chance to be funny, blunt, and real in a world that wants everything to fall in line or not exist in the first place. This is a company that has tried everything. That will break its competitors just by virtue of hunger, grit, pace, and loyalty to itself and its fans. We have no intention of slowing down. Everyone here has always believed in getting to the moon on our terms, in our way. Now we can.
On May 14th, 2018 — the day the Supreme Court struck down PASPA — Dave walked into my office (that I was sharing with Coley) and said "this is it." And, like most gut calls by Dave, it 100% was. 
So we got after it. 
Over the following 18 months, Dave and I were approached by most everybody in media and sports betting. The gaming guys are different than the media guys: ROI driven, cautious, sharp, wary of bullshit, unfamiliar with content and brand marketing, understanding of the privilege of their license, their properties and their guests.
Most wanted the same thing - to get our audience, but not invest in or commit to the rest. Sometimes I think people think Dave and I are dumb. To think we would willingly cut a hole in this bucket and let everything spill out.
Others said that a bunch of SEO jockeys could compete with a 15 year story and a loyalty that is off the fucking charts. Said the only ones worthwhile are the sharp bettors. They could just get them smarter than we could. That funny will only get you so far. 
Others still cited every failing, every headline, every trip and fall. The ones who said because of where we've been, there were places we could never go. That's like saying the only way a woman can be the CEO of a company is as a Token.  Who would do that?
There was one company who was thoughtful enough to dig in on us, and with us. One company more focused on building their business than on what everyone else said or thought about them. One company a lot of others wrote off. One company that's been aggressive and disruptive and full of grit for a really long time now. 
One company who wanted a partnership for the long run. Who thought enough about their future and the future of retail, hospitality, gaming and media to know we were the right fit. A company who saw that the combination of the largest casino operator and the fastest growing/ highest engaged sports media brand in the country made a lot of sense. To see that the future is digital + physical, content + experience. To know that the median (I think that means average) age of a television viewer (56) is not a future proofed strategy.
And there was one company who wanted to take our brand, evolve it and bring it someplace new. And to do it for the long haul.
We are going to be bigger than gaming. We are going to do sports betting differently, led by Dave and Dan, who are the real deal, plain and simple. They have been doing this forever — and, unlike most of their bets, it paid off. 
We are going to grow more personalities, more brands, more sports, more pods, more streams, more shows.  We are going to make Barstool the biggest, most authentic, most creative, highest loyalty brand in the space. 
I couldn't be more fired up. About Barstool and this awesome and dynamic media powerhouse we are creating. About Penn National and our partnership. About sports betting and the future casino. 
I'm so grateful to the Stoolies. Dave, the Chernin Group (shout out Mike Kerns and our 9:30 AM calls), everyone at Barstool… and most of all, to everyone who said this wasn't possible. You fueled me. We've proven you wrong every step of the way. And we will keep proving you wrong. 
Don't bet the under on Barstool Sports.