Recapping and Rating Boston Pride 2019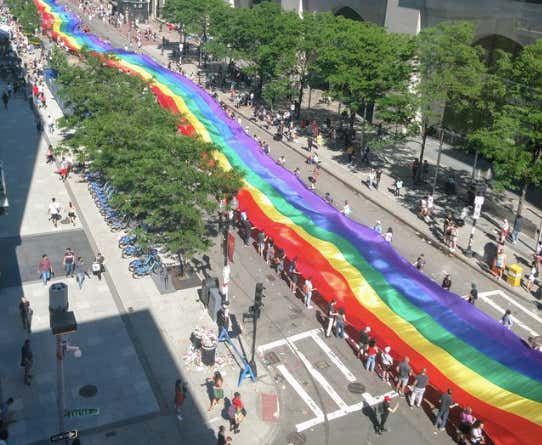 First of all, shout out to Dave for sending me up to Boston to cover the parade. He probably doesn't even remember saying yes, but it's pretty cool being able to work for a company that makes you feel so supported. Anyway, I've been to a few Prides now and I can confidently say that each year, no matter the location, they're becoming more mainstream. If you haven't been to one yet, I highly recommend it. They no longer feel like gay-exclusive events. It's more of a family oriented atmosphere. Just ask Pete Blackburn, who I ran into at the Trophy Room block party.
(This image was not photoshopped) 
He's not gay and he was still out mixing it up with his buddies. That's because people of every shape, size, color and orientation are encouraged to go and have a good time. And it doesn't matter who you are or what you look like, when you're at Pride you feel like you belong. Granted, that's not to say there aren't judgy little cunts because there are, but the vast majority of people who go are aweseme and just want to have fun.
Here's the parade route:
I know it's tough to follow, but it started in Copley Square, looped down towards Tremont, then cut across the Common ending in Government Center. I walked most of it which was wild because I could. There was literally zero security. Maybe I'm just used to the insanity and paranoia that comes with New York Pride, but the whole thing was uncomfortably relaxed. You could hop on the parade route basically wherever you wanted without being stopped. There were only a few spots I noticed that had barriers and they were towards the end. Even so, there was a shockingly high level of trust amongst police and civilians. Something you don't see in New York. I remember walking and thinking this is what a utopian society would feel like.
Regardless, being able to actually march was awesome. I took some footage of when I first joined in.
Kind of weird being surrounded by children, but beggars can't be choosers. I made it two hours before I went for beer and waited for my friends. I mentioned it earlier, but the thing that I was most taken aback by was the number of families lining the road. Everywhere I looked there were little kids with flags. They didn't know or care why they were there, they just knew they were having fun and that's all that mattered. There were also a ton of gay dogs which was great. It's nice to see animals in an environment that made them comfortable enough to be themselves. I don't want to out them, so here are some pictures I creepily took from behind.
Over three-hundred different organizations and thousands of individuals marched. The theme was "Looking Back, Loving Forward" which was chosen to commemorate the 50th anniversary of the Stonewall Riots. Without getting too serious, I feel like there's a major lack of appreciation amongst younger LGBT people for what older generations of LGBT people went through and how it directly correlates to the privileges we enjoy today. So it was nice to see that highlighted, especially considering how much of a catalyst Stonewall was for the Pride movement. A few of the dudes who were there actually showed up and marched.
Shout out to them. There was a concert at City Hall which wasn't that great. I didn't know the singer, but the lady doing sign language tore the house down. She also had a fade that would make Jeff D. Lowe blush.
I hung around for a while before heading back to the South End for a series of block parties. I initially landed at the Chandler Street party called "Trophy Room' due to its proximity to the bar.  It was essentially a city avenue long packed with a bunch of happy, liquored up gays. In other words, my dream. They had a DJ, multiple beer tents, people handing out merch etc.. They also had hundreds of shirtless twenty-somethings that distracted me to the point where I didn't get a good picture of the venue despite having been there for four hours. Here's the view looking north.
You get the idea. As the alcohol began to flow, the gayness ratcheted up, mine included.
I had a baker's dozen worth of beers, got guilted into taking my shirt off, and ended up chatting with several guys I used to "hang out with" back in the day. All of whom are wildly out of my league now. The good news is, I was dehydrated from the night before, so at least my body looked decent. I also saw a few guys who I occasionally Snap with, but have never met in person. I was surprised to learn a lot of them had boyfriends. Not sure what that says about me, but they didn't seem to mind. I often wonder if the straight community is as casual about sending nudes as the gay community. With the exception of Jetski, I can't imagine that's the case.
Anyway, the party ended at six and we went back to some kid's apartment for a pregame. After a few hours it was time for House Of Blues, THE party of the weekend. I wasn't sure what to expect, but the second I walked in I  knew what I was in for. It was Boston's version of Horse Meat Disco minus the pretentious judgmental douchebags that seem to be a staple of the New York scene as of late. It was more or less a shirtless rave with dancing, drinking, drag queens and gogo boys. Here's a photo from the back.
And another to help those of you questioning your sexuality.
Overall it was a great time. Wildly expensive, but very fun. The party let out around 2:30 AM and the cool kids went on to after party. (do cocaine). I Ubered back to Somerville and slept on my brother's couch. I was supposed to go to brunch the next morning but when I woke up it felt like I was withdrawing from heroin so I decided to skip.
Long story short, Boston Pride was awesome. Well organized and fantastically put together. Completely different from New York in all the right ways. The people were great. The set up was great. The vibe was great. The weather was great. Everything was great. I'd give it five Glenny Balls.  I'll be back every year from here on out until they tell me I'm not allowed. Also, a special shout out to all the gay Stoolies who came up and said hello. It made me feel awesome knowing that Barstool has such a strong LGBT following. Until next year! Happy Pride.
PS: My pride shirt got delivered to the house today and it's AWESOME. I'm wearing it year round. Grab one if you haven't already.