No. Kendall Jenner Would Not "Risk It All For LeBron". In Fact, She's The Biggest Sixers Fan In America
So yesterday the Philadelphia 76ers completely humiliated the Los Angeles Lakers by a score of 143-120. Kyle Kuzma had damn near 40 points yesterday and the Lakers still lost by 23. The same Los Angeles Lakers team that just beat the Boston Celtics earlier in the week. Things were getting so easy for the Sixers offense out there yesterday that Ben Simmons actually decided to attempt a real life 3-pointer. But in the midst of all the madness, this screenshot was grabbed during the game which shows Kendall Jenner staring at LeBron James.
Now I love our social media team, don't get me wrong. But let's not pretend like the majority of them aren't Boston folk. Which would make them Celtics fans. Which would cause them to do anything in their power to try to fuck with the Philadelphia 76ers. That includes depicting this screengrab with the caption, "Kendall Jenner ready to risk it all @chicksintheoffice".
It is a wild accusation that is simply not true. In fact, it's quite the opposite. I mean look at this face on Kendall Jenner.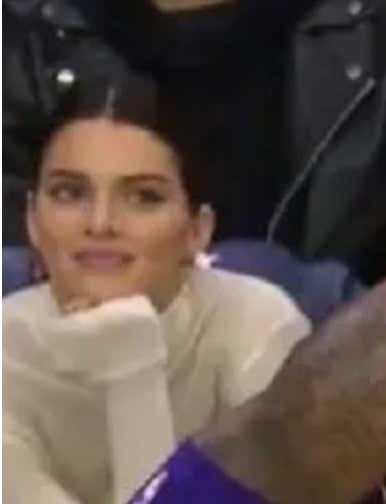 That is a face of pure disgust and disdain. That's the face you make when the best basketball player of a generation makes quite possibly the worst basketball decision of all time and decides to sign with the Lakers in free agency instead of joining the team of the future, the Philadelphia 76ers. I mean LeBron could have easily been in Philly right now instead of dealing with that dumpster fire in LA. But no. He's a selfish dumbass who was blinded by his own greed and now he's stuck playing with a bunch of dudes who hate his guts while the Sixers are about to go on a run to the Finals.
But who will be with the Sixers throughout that entire run? Kendall. Fucking. Jenner. Because she is the most important Sixers fan in the world right now.
Counting last night's game, the Philadelphia 76ers are now 14-2 in games which Kendall is in the building for. Fourteen and Two. You do realize what that means, correct? Once the playoffs start, all you need to do is figure out how to win 16 games out of your next 28 and you're an NBA Champion. Considering the Sixers are winning 7 games for every one loss that Kendall is sitting courtside for, I really like the Sixers' chances of not only winning the Finals this year but having a couple of sweeps in the process. I don't care about the Celtics. I don't care about the Raptors. I don't care about the Bucks. I don't care about the Warriors. All that matters is that the Sixers have the power of Kendall Jenner and the numbers speak for themselves.
So I'll ask you this question one more time. Do you REALLY think that Kendall Jenner would be willing to risk all of that just for LeBron? Or do you think that maybe a certain Boston fan just wants to try to cause a disturbance in the Bendall force? Seems like a pretty simple answer to me.
P.S. – If they have a separate award for post-trade deadline MVP, JJ Redick already has that shit locked up and it's still February.
P.P.S. – Sure seems like Carson and Alshon get along to me.