If Don Sweeney Can Go Get A Top-6 Forward For The Bruins, Boston Will Have Another Championship To Celebrate This Summer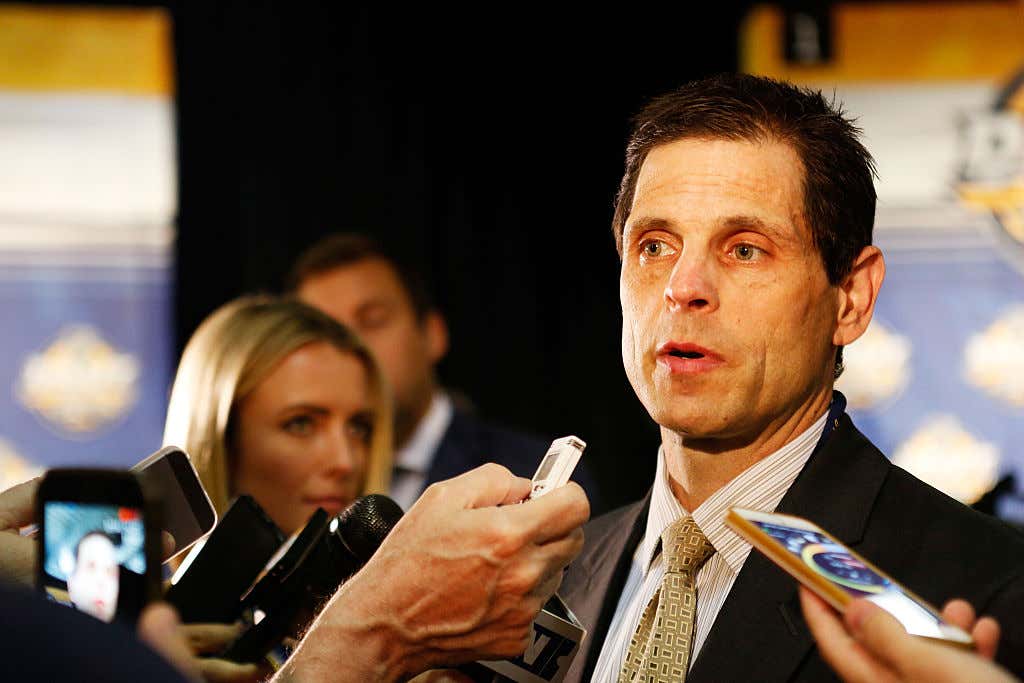 Football season is over and as a Bostonian, you can't sit here and live in the past of the Super Bowl victory, it's time to move on to the next championship. The 3-month championship drought was tough, almost unbearable, just waking up every morning wondering when the next championship will be. It's basically like crack at this point. You win so much you just need to keep on winning.
So who will give us our championship fix next? If Don Sweeney can make a move for a top-6 forward to play alongside David Krejci, then we will be celebrating another parade come June. The Bruins have a really good hockey team this year. They could win the cup even if they don't add anyone, but holy shit they would be scary if they added someone up front.
David Krejci is having one of the best years of his career and doesn't have the supporting cast he deserves. In 52 games this season, Krejci has 41 points (11g, 30a). Imagine what those numbers would look like the final few games if you actually gave the guy someone to play with? Jake DeBrusk is a good hockey player, don't get me wrong. But they need to add some scoring to play alongside the two of them.
So who are some options?
Artemi Panarin
Panarin is the obvious choice #1. Would cost an arm and a leg to get him and who knows if he'll want to resign here in Boston. If Uncle Donny goes out and gets the Bread Man, the Bruins are winning the Cup…that is a fact, no an opinion. Imagine adding Panarin to the B's already unbelieveable PP? Or having two lines that can rival any top line in the league? Teams dream of that.
Michael Ferland
The 26-year-old is a UFA at the end of the season and it doesn't look like Carolina is going to pay the man, so they might as well deal him. 27 points (13g, 14a) on the year and pairing him alongside Krejci would be a great fit. Who knows, maybe the B's could lock him up too.
Wayne Simmonds
Simmonds is a guy Bruins fans have wanted for years. Well, they can finally have him. He's clearly not the player he used to be, but he'd be a great addition to the top-6 for the Bruins. With 16 goals on the year he would add some much-needed scoring to the 2nd line and would probably work great with #46. The price is the biggest question.
Mark Stone
Stone's name isn't one that is being thrown around aton just yet. But the Ottawa forward is a UFA at the end of the season and the Sens could probably get a decent prospect/pick for him. I mean, the guy has 22 goals this season, the B's would kill to add that.
Tyler Toffoli
Toffoli is a long way from 2016 when he put up 31 for the Kings. But the 26-year-old would be a great fit to add some secondary scoring for the B's and it looks like his time in LA is coming to an end. Can't imagine he'd cost too much either. Who knows too, a change of scenery may do him wonders.
Brayden Schenn
Brayden Schenn welcomed me into his home this summer in Kelowna, so it is only right I welcome him into my city. The 27-year-old has 30 points (9g, 21a) in 46 games this season and would likely be a 3rd line center for the team, as opposed to a top line winger. But I'd love to see him in the Black and Gold come playoff time.
Kevin Hayes
Would LOVE to see Haysie in a Bruins jersey. Would be a perfect fit, the B's could use some depth up the middle. Having one hell of a year, too. Imagine the #ChicletsBump he'd get playing in Boston?