RnR 10 Tale Of The Tapes Have Arrived... Vote On Winners Now And Watch PPV At 8 PM Friday Night
We're nearly 24 hours away from the greatest night in sports entertainment history returning. RnR 10 is bringing our old fashioned brawls back in a big way with NO HEADGEAR and adding rivalries across every matchup. There's 4 title fights on the line with Heavyweight, Lightweight, New England, and Women's belts all up for grabs.
Get familiar with some of the top fighters below and get excited for the PPV tonight. Show starts at 8 pm and my 1st of 2 National Anthems will come at 8:10… CAN'T WAIT!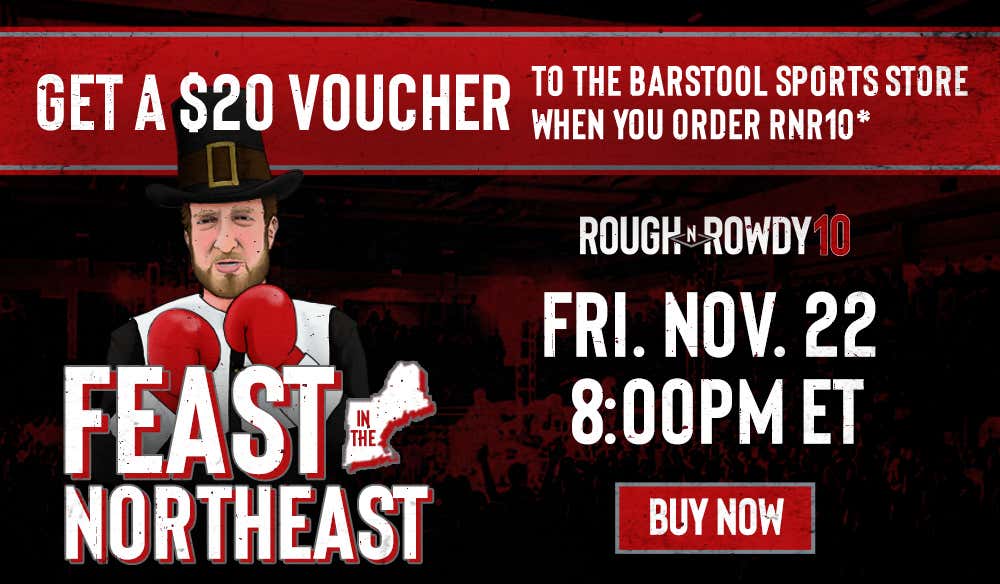 Order RnR 10 PPV now and get $20 to the Barstool Store!
1. Can also get it for FREE/UNLIMITED REPLAY with Barstool Gold Hardcore Membership. As an added bonus you can get immediate access to all things Barstool Gold – including the Barstool Sports Documentary.
Join for less than $2/week >>
2. Or get just the pay-per-view event for only $19.99. Buy one-time pass >>
*Store Voucher / Online Promo Code Will Expire 12/31/2020. Customer Must Spend $50 in the Store to Apply Promo Code. Offer Not Valid on Gift Cards. Offer will be delivered via order confirmation email. Please check your junk mail / spam filter for your email.