The Delay In The Red Sox Officially Announcing The Signing Of JD Martinez Is Over A "Medical Matter"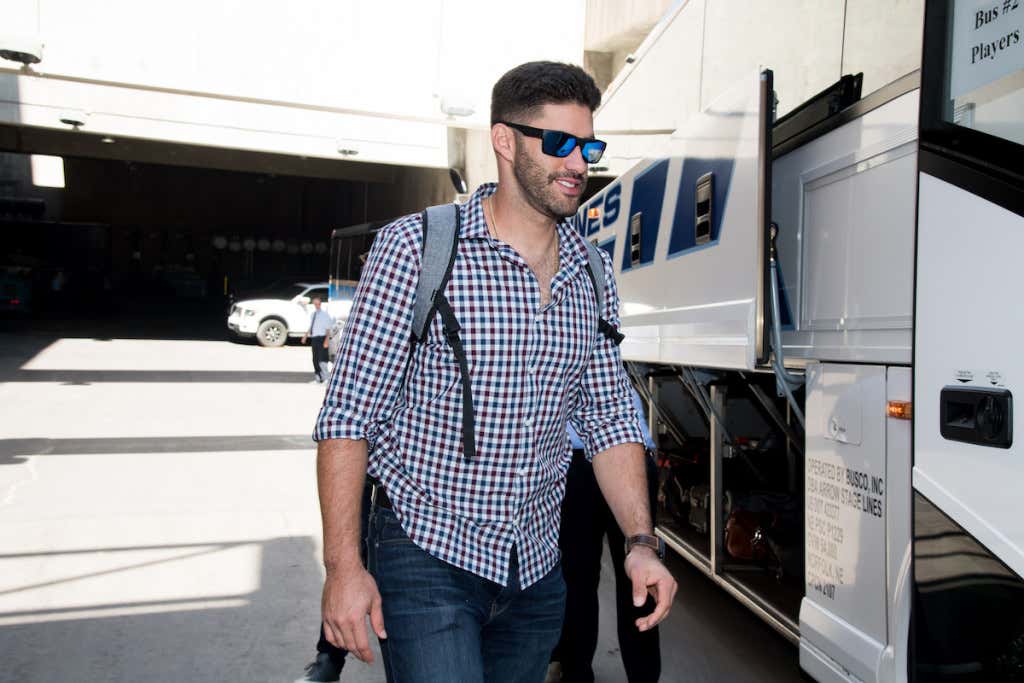 This isn't a big deal, and everybody needs to calm the fuck down. I've got that balding rat Hubbs tweeting about JD Martinez nonstop. Can't even contain his three-inch micro penis erection because the Red Sox haven't announced the signing yet, like that's somehow a precursor to the deal falling apart or something. That's how scared Yankee fans are of this guy. They're just praying the deal falls through.
You're right. I am not worried about it. Not in the slightest bit. I texted someone within the Red Sox organization yesterday and simply asked, "Should I be worried about JD?" The response? "I'm not." Okay. All I needed to hear. If you're good, I'm good. As you were.
This morning, Evan Drellich had a report that shed some light on what exactly is going on and provided even more reassurance if you think I'm making up sources like Ron Borges and Jon Heyman.
J.D. Martinez and the Red Sox are indeed sorting through a medical matter, but one that a baseball source with knowledge of the situation said would not have any effect on Martinez in the immediate future. It's unclear what the specific issue is, but a better understanding between the parties could come as early as Saturday.

"I imagine that today is a day that we could have some definition," the source said.
There's also this note from MLBTradeRumors:
It doesn't seem as though the contract itself is in any real jeopardy. The process of ironing out the issue is reportedly "thorough and cooperative". Yesterday, in a more speculative piece on the subject, Drellich suggested that a collapse of the contract at this point would be a "wildly unexpected scenario". It's entirely possible that the agreement will proceed untouched or be revised in only a slight way. Nevertheless, whatever snag the two camps have hit regarding Martinez' physical only serves to delay the slugger's spring training debut.
Cool. Nothing to see here. Both side are being cooperative and playing nice. They're more than likely adding language to the contract that would protect the Red Sox in the event of a catastrophic injury somewhere down the line, similar to what they did with John Lackey's contract when he signed with Boston.
Prior to signing with the Red Sox, Lackey had an elbow issue, and that protective contract language later came in handy for the Red Sox when he underwent Tommy John surgery and missed the entire 2012 season. Because of the surgery and time spent on the sidelines, the Red Sox only had to pay Lackey the league minimum salary for the final year of his deal, a season that he spent with the St. Louis Cardinals, because he was sent in the trade that brought Joe Kelly and Allen "Cooperstown" Craig to Boston.
Again, this does not appear to be an injury-related issue that would have to be dealt with immediately. Sounds like something the Red Sox are looking to protect themselves against in the future, and let me just remind you that the Red Sox medical staff isn't exactly sporting a phenomenal track record in that department.
Remember the shit they pulled with Mike Napoli? They originally had a three-year, $39 million deal in place, pulled that off the table, and then signed him to a one-year, $5 million deal with incentives that brought it up to $13 million, then re-signed him to a two-year, $32 million deal. In the end, he actually ended up making out by earning $45 million over three years instead of the original $39 million that the two sides had first agreed to.
The Red Sox did the same thing with Jason Bay after the 2009 season. They had a four-year deal in place with him and then reduced the contract to two years after they didn't like what they saw on an MRI of his knee. Understandably so, Bay told the Red Sox to fuck themselves, because he thought his knee was perfectly fine, and then signed with the Mets. His career deteriorated after that, but it was because of concussion issues, rib injuries and hamstring pulls. No knee problems. Same goes for Napoli. To this day, he's never missed a game because of a hip injury.
So, whatever it is that's holding up the JD Martinez to Boston signing from becoming official, if history has taught us anything, it probably won't even come to a head at any point. Sure, there's the Lackey example, but a pitcher with an elbow history is the most likely scenario that you'll have to deal with in the future compared to any other player at any other position with any other type of injury.