The 2017 Notre Dame Undefeated Blog Is Here And It's Really Gonna Happen This Time
Today is the day where the Irish faithful come out of hiding and rejoice because after 28 years of wandering the college football desert this is finally the year. THIS is the year Notre Dame football regains its place on top of the mountain and finishes the regular season undefeated. Its become a bit of a tradition at Barstool at this point for Notre Dame stoolies.  Days get shorter and dreams get bigger as Notre Dame gets set to kick off the season.
As Barstool ascends to the moon, and the comment section is literally filled with a high school auditorium, I feel the need to give a quick backstory on the ND Undefeated Blogs. Back in 2012, I wrote a blog predicting that Notre Dame would go undefeated and play for the National Championship. The blog was heiled as "the worst blog in the history of Barstool". It actually may have led to me being fired. And by may, I mean that it did. A little known guy named Neal said that since that ND blog was so bad and that the NHL had a lockout going on my services weren't needed. Well then Neal wrote many more blogs that surpassed my blog as the worst in Barstool history, Dan brought me back and Notre Dame actually did go undefeated.
Now this blog is written because it's what we do here. It
Back in 2012 Notre Dame entered the season unranked
(2017 Notre Dame Preseason rankings: Unranked)
(Coach Tom Rees with starter, Brandon Wimbush)
Notre Dame's defense was youthful with the exception of a star upper classman mike linebacker wearing No.5
Carl Jung was this super smart philospher/psychoanalyst guy. He was like Freud, but not a creep ass coke head who just told everyone they wanted to fuck their mom. Anyways, Carl Jung said that modern people can't find god(or positivity) because they won't look low enough. Well 4-8 is pretty fucking low, but in that 4-8 team and on this 2017 schedule there's still plenty of reason for optimism. Time to shake down the thunder and wake up the echos because the Irish are back.
Reason #1: The Irish O-Line is gonna pound on people like they are their worst enemny
Look at that bad mamma jamma Quenton Nelson pancake TWO USC defenders on the same play. Ate them up. Nelson is widely considered the best Left Guard in the country. To Nelson's left, Mike McGlinchey. 6-7 310 pounds and another likely first round pick. The Irish also have a returning starter at center and right guard. Four seniors, four returning starters, and sophomore who was an ESPN Top 300 recruit.
Reason 2: Weapons Everywhere
Bye, idiot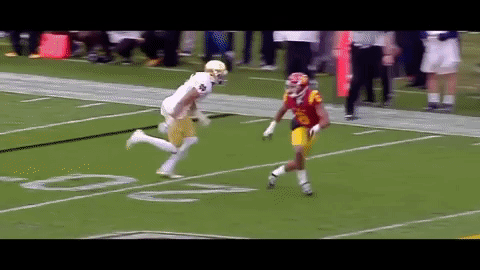 Dusted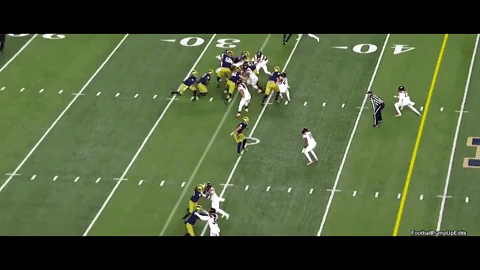 In addition to ND having their O-line returning, their leading rushers returning, their leading receiver returning, they're also getting the former no.1 ranked Tightend back from academic exile. Return of the Mack, if you will. Alize Mack is 6'7 245 and can do everything on the football field. Notre Dame also has two other receivers checking in at over 6'4. If Wimbush gets in trouble he can just chuck it up and let his boys go get it…and they will more times than not. Or…he can pull it down and do some of this
Wimbush isn't a freshman either. He got some reps as a backup in 2015 and this will be his 3rd season in the program. He was one of the highest rated QBs in his class. Big arm, fast, strong. Perfect video game type quarterback. The offense is going to score a shit ton of points. Which they pretty much did last year too with the exception of a game in a monsoon vs NC State.
Reason #3: This dude is gone
Brian VanGorder was fired during last season after giving up about a billion points per game and everyone on the field looking lost all the time. Honestly, this one is on Brian Kelly. Probably shouldn't be looking to pluck guys from the New York Jets. Lesson learned
Enter: Mike Elko from Wake Forest as D-Coordinator
You might look at the ND roster and say "oh wow…zero D-linemen on the roster recorded a sack last year. That sounds bad". You know who didn't have zero sacks…Mike Elko. Somehow he took a bunch of nobodies at Wake Forest and turned them into a pretty good defense(ranked as high as 28th by stats nerds). And that's with an active spy selling secrets plays and signals to Louisville and others. Elko brings that 4-2-5 look which means more athletes on the field and the front 6 shooting gaps aggresively. Aggressive up front, and safe in the back. Backwards mullet defense. Also…no matter who you are playing it doesn't really require any personnel changes. If teams want to run down hill you simply slide Drue Tranquill into the box. In case you couldn't tell…I love the 4-2-5 scheme.
Reason 4: Good ole luck being reversed
The 2016 Notre Dame team was the best bad team maybe ever(or the worst good team). That's not being a homer, that's legit numbers. Now I don't really understand numbers/sabremetrics, but there's something called the S&P+ rankings. Notre Dame finished 2016 ranked 28th in S&P+ and still only got 4 wins. That's remarkable(I'm told this is remarkable).
Furthermore, of Notre Dame's 8 losses seven of them were by one score or less. Any Given Sunday will tell you that football is a game of inches and last year it seems like all of those inches went against Notre Dame. Too young, too inexperienced, not tough enough, bad coaching, bad luck, probably all of that. Law of averages says that some of those things have to swing back in Notre Dame's favor.
You know what I love even more than the Law of Averages though…ghosts. RIP Ara Parseghian. Ara Parseghian LOVED Notre Dame. So now in addition to God and Jesus, Notre Dame has angel football coach on their side up in heaven. HUGE advantage
The Schedule
9/2 vs Temple: Temple lost their coach and everything that made them somewhat good recently. They're back to being Temple. Notre Dame huge. Win
9/9 vs Georgia: This is week 2 for Georgia so I would expect most of their guys to be hurt and or suspended. If they aren't well just remember that Jacob Eason has a fat face and it's tough for fat faces to be great QBs even if Stafford did just get paid. Win
9/16 @ Boston College: BC Stinks. Win
9/23 @ Michigan State: Glad to have a BigTen team back on the schedule Especially this one since MSU stinks. They went 3-9 last year and their legendary coach that died will only impact basketball season. Tough break. Win.
9/30 Miami(the bad one): Sucks to have to play a MAC school, but every other power 5 team plays a few freebees and this is ND's. Win
10/7 @ North Carolina: Trubisky is on the Bears now. Win
10/21 USC: I am praying that USC is still undefeated heading into this game. This should be the college game day game. Night game, big rival, Heisman type qb on the other side. The type of game the Ghost of Ara will impact. Notre Dame wins at home just the way God intended. Win in a shootout.
10/28 NCST: Would be a classic let-down/trap game BUT, the Irish will have revenge on their mind. I'm a big revenge guy. The NCST game is what officially derailed their season last year. Not again. Not this time. Not in Notre Dame Stadium and NOT in a monsoon.
11/4: Wake Forest: Another one of the ACC games that Notre Dame plays now because everyone cried because they weren't in a conference. Well…WF's only positive was their defense and Elko took that with him to South Bend. Notre Dame by 30. Win
11/11: @ Miami: The Hurricanes are a soft ass team. They have been since like 2001. Always hear that the Canes are back. They win a few games and the hype machine gets started. They're perpetually overrated because people long for the glory days of like 30 years ago. It's nauseating. Win
11/18: Navy: Notre Dame doesn't lose on Senior Day and they definitely won't lose to Navy on senior day. Win
11/25: @ Stanford. These games are always close. Stanford has won the last two meetings by a combined 9 points. In fact, every game going back to 2012 has been decided by a TD or less. Notre Dame's offense should be a well oiled machine at this point and they'll have to score just about every possession because they are a team that is well equipped to play against a 4-2-5 defense with multiple tightends and fullbacks and big boy football. BUT…Notre Dame's offense will score every time. That'll be the difference. Elko's D is historically great in the redzone. Stanford field goals lose to ND touchdowns and just like that Notre Dame is undefeated. Bring me Bama(but preferably Penn State).