Barstool's Gold Cup FINAL Preview – USA vs Mexico para todos los Norte Americano marbles
Hi haters,
Has the Gold Cup been magical? No. Has the Gold Cup been beautiful? Nah. Has it been entertaining? Meh, here and there. Okay, well, what about a useful learning experience? Yes, I will give it that.
But despite all its faults and foibles, there is always one saving grace of the Gold Cup that will make it worth the struggle watching games involving French Guiana and Matinique: the inevitable matchup pitting USA versus Mexico… OG Dos versus OG Cero… facing off for all the– wait, wuuttttt? They lost? Mexico fucking lost? To Jamaica????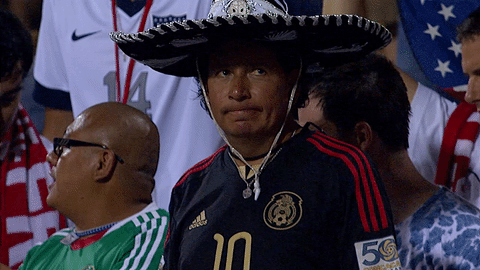 Unbelievable. Some people will say there is a silver lining since beating the Reggae Boyz should, on paper anyway, be an easier task. But eff that noise. I want Mexico. I don't even care that it's their B-team, which sorta puts the US in a lose-lose situation where a win is not impressive and a loss is extremely embarrassing. I don't even care about any of that. Anytime you have a chance to play Mexico and hang a crooked number on their ass YOU DO IT
Alas, El Triste went and ruined all the fun.
Well played, Mexico. Well played.
Now onto tonight's partido…
***********************************
GOLD CUP
Reminder of how we got here:
***
USA vs Costa Rica
Quick and dirty recap: easily best game of the tournament for the USMNT. Controlled the game but couldn't find a breakthrough and honestly didn't look particularly dangerous until Clint Dempsey came on and put a MASSIVE mushroom stamp on the proceedings, finding Altidore on a nicely threaded through ball for #1 and embarrassing the Costa Rican wall (slash GK) on a free kick from ~30 yards out for #2.
USMNT before and after Dempsey's insertion in 65th minute:

Player grades:
Tim Howard – B+ (asked to make one world class save [and another important one] and did just that)
Jorge Villafaña – B- (solid overall but needs to be more dangerous on the occasions when he gets forward)
Omar Gonzalez – C- (not to sound like a broken record, but two important goals aside Gonzo has not been good this tournament and was again the case here as he was beaten or out of position on Costa Rica's only two real chances)
Matt Besler – B+ (best defender on the field on Saturday)
Graham Zusi – C (this is not really Zusi's fault because he is not a defender by trade, and he did okay other than conceding some dumb fouls in large part because CRC generated little offense down their left flank, but the "Zusi at RB" experiment [at the international level anyway] needs to be killed with fire)
Paul Arriola – C+ (more of the same: works his danglies off on both sides of the ball and puts himself in good spots… but final touch/pass remains an issue)
Kellyn Acosta – C+ (lively, especially early, but faded a bit in second half… still much better than earlier in tourney)
Michael Bradley – B+ (added some much-needed experience and cohesiveness to our midfield since joining after the group stage… best tourney from him in a US jersey in a long while, which is good to see and will hush the haters – a little bit… maybe… but probably not)
Darlington Nagbe – B+ (as with Bradley, Nagbe has some in and done exactly what we wanted and needed him to do by pushing the pace and running at defenders)
Jozy Altidore – B (last blog I suggested there was no reason why Jozy couldn't make more runs in behind rather than just playing with his back to goal, and what does Jozy do? Makes a nice run in behind and – thanks to a testicle-tingling pass from Deuce – finishes calmly to break the ice. Having said that, he still did that thing where he disappeared for long stretches here and there.)
Jordan Morris – C+ (my oh my how different his performance would have looked had he managed to put that shot away 15 seconds into the game… perhaps deserves a B- but I'm going lower because we need him to be more of a difference-maker than he is being right now)
Sub:
Clint Dempsey – A++ (came on late and did exactly what needed doing, including giving me all manner of feels)
Pre-Dempsey sub
Post-Dempsey sub
***
USA vs Jamaica


Kickoff: 8:45 pm CT
TV: FS1 (and Univision)
Location: Santa Clara, California

***

Jamaica – Scouting Report

2-0 win over Curaçao; 0-0 draw with Mexico and 1-1 draw with El Salvador in group stage followed by 2-1 win over Canadia and 1-0 win over El Triste. Against the only common opponent (El Salvador), the US looked a lot better and picked up a 2-0 win.

GK Andre Blake (Philadelphia Union) has been the team's best player by far, which is fine and dandy and everything except for the small qualification that anytime your goalkeeper is your MVP that is

Counterattacks and – as Mexico learned the hard way – set pieces are Jamaica's best offensive options, with Darren Mattocks (Portland Timbers) being the Boyz's most dangerous weapon. Avoiding unnecessary fouls (aka "Zusis") and not letting crosses drop in the box (aka "Gonzos") will be absolutely critical.
To be honest though, this ain't even about them.
***
USTMNT
Including the Ghana friendly, pre-knockout glorified friendlies and official Gold Cup matches, we have now seen this group (in its various forms) play six games. Gotta assume Bruce is not looking to throw any major monkey wrenches into the operation now that the team has actually looked like they are starting to gel a bit, so don't expect too many changes from the Costa Rica game – though if he sticks with Zusi at RB, let's just say I'll be extremely disappointed.
And yes, I realize Kelyn Rowe is not technically available anymore, but keeping him in the XI is my little way of protesting Arena's ridiculous decision to send him home. I assume Paul Arriola (or possibly Gyasi Zardes) will likely get the start again in his stead.
***
THINGS TO WATCH FOR:
– Does Gonzo start? If so add a(nother) goal for Jamaica to my prediction. Arena's guy has had at least one major brainfart per game so far, yet no opponent has made him/us pay. Only a matter of time til somebody converts. Timmy can only bail us out so many times.
– Part and parcel to the point above, but avoid stupid mistakes – and especially stupid fouls in and around the box. This is what KILLED the US when we found a way to lose to Jamaica in the 2015 edition of the Gold Cup (and why I'd prefer Gonzo and RB-Zusi watch the game from front row seats). Making the easy play and not fucking up is one of Besler's best attributes, and why I'd like to see him and Miazga in the XI, though that seems highly unlikely given Arena's warm and fuzzies for Mr Fruity Pebble.
– Bradley has been a force so far, and has largely avoided the tendency to make nothing but backwards or five-foot square passes for 90 straight minute. Here's hoping this is a trend.
– Altidore, Morris (assuming Arena doesn't drop Agudelo in from the clouds) and eventually Dempsey will get some good looks. Nobody would accuse any of our strikers of being deadly so far this tournament, but with Blake in fine form it will be up to them to convert. An early goal for the US would force Jamaica to press a bit, which could turn this into a four- or five-goal whuppin.
***
PREDICTION:
USA [-210]
Jamaica [+700]
Draw [+285]
USMNT to win DOS a CERO (Shouts to our amigos down south. Wish you were here, blud familia… Alas, you sucked too much in the semis. Sad!)
*****************************************
And there we have it. Last meaningful game of the "summer break". Only two choices at this point: lift the trophy or duck our heads in shame. No such thing as moral victories tonight. And yes, as anyone who follows me on the twitter machine knows I'm not a big fan of the ICC but if you are in need of some pre-USMNT sportsboner fluffing then United and Barcelona are "playing" one another at 6:30pm CT (on espn2).
Postscript: perhaps most importantly of all, after tonight the countdown officially begins. Get pumped, Bs & Gs, cause real soccer is right around the corner…
Holler,
Samuel Army