Consultant Considers Kid Rock The Favorite To Win His Senate Race As Long As He Doesn't Beat Up A Woman First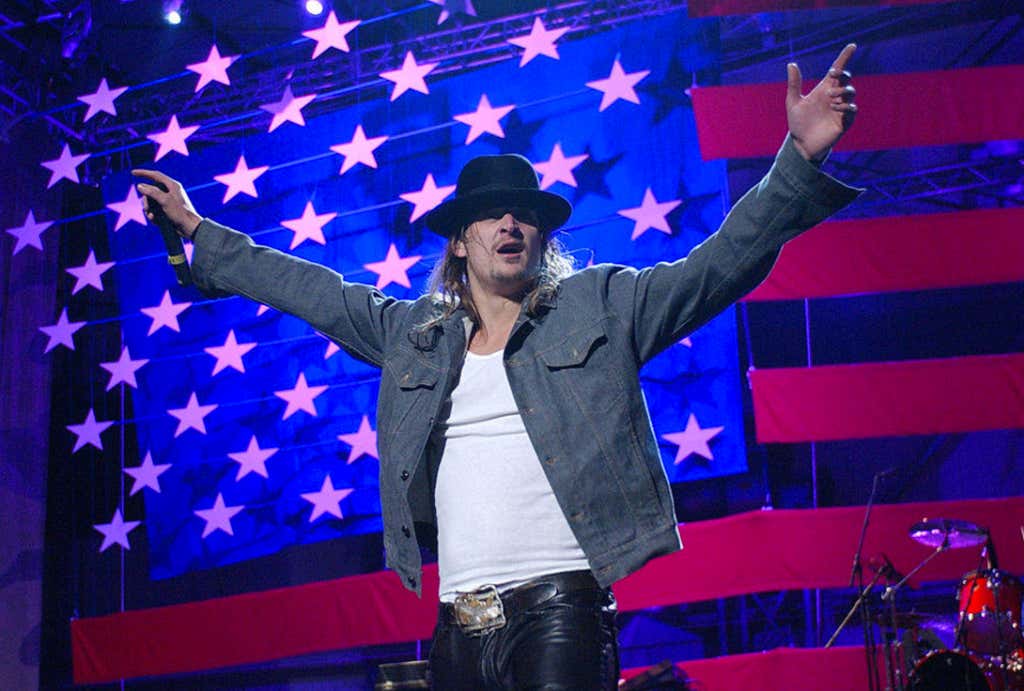 NewsWeek - The singer Kid Rock would be a favorite to win a U.S. Senate seat if he enters the race in Michigan, a GOP consultant said.
Kid, real name Robert Ritchie, announced in a tweet last week that he was considering a Senate bid, sharing the website kidrockforsenate.com.
And in a land where a reality TV star is the president, the foul-mouthed singer stands a decent chance of winning, according to a Republican political consultant based in Michigan.
"Presuming Kid Rock doesn't get caught in bed with a little boy, or beat up a woman between now and August 2018, he's going to win the nomination if he gets in," Dennis Lennox told Politico.
"I think there's no question about that. I think he's the prohibitive favorite if he gets in," he added.
Kid Rock's website poses the question "Are you scared?" on its home page, where the star is selling merchandise including shirts that read: "Kid Rock for U.S. Senate."
——————-
I mean, we should just put it in the books now, right? There's no way Kid Rock is losing his Senate race in Michigan. There's just no way. I remember growing up, every time they would talk about "who will challenge the incumbent for president", there would be light hearted jokes about "if Oprah ran, she would win easily" and everyone would have a laugh because why in the world would Oprah run for president? She has no political background. She wouldn't last a day! But my oh my, how the tides have turned. Just a decade or so later, reality TV star Donald Trump has the nuclear codes, and Kid Rock is the early favorite to win a Senate seat. We're living in an episode of Black Mirror and don't even realize it.
I like the caveat "presuming he doesn't get caught in bed with a little boy or beats up a woman". Good ol' fashioned politics talk. Stances on important issues are so 2000 and late. As long as your name is recognizable enough, your voice loud enough, and your insults demeaning enough, you too can win your campaign for elected office.
I don't want to get too serious here, but I'm actually curious if Trump's presidency is going to be the domino that really started this trend. Sure, Reagan was an actor first, but he also served in the military and was in politics for a long while before being president. And yes, Arnold became the governor of California. But neither was anything like we've seen with Trump. Obviously we have no idea if Kid Rock is serious, or if he'd be elected (which are both things we said about Trump early on, funny enough), but if he is both of those things, who will come after him? Impossible to say, but here's to hoping Fred Durst will be rocking the red hat on Capitol Hill.