David Wright To Have Neck Surgery, More Or Less Ending His Season
MLB Trade Rumors - The Mets announced today that third baseman David Wright will undergo surgery to repair a herniated disc in his neck. In a press release announcing the news, the Mets noted that the decision came after weeks of testing, rest and anti-inflammatory injections that were made in an attempt to alleviate Wright's pain and improve his mobility. Wright had reportedly been mulling surgery for some time now, and recent reports indicated that the operation could come with a three-month recovery period, which could potentially bring his season to an end. Today's press release states that a definitive timetable won't be available until after the surgery. Wright issued the following statement on his injury:
"After trying every way to get back on the field, I've come to realize that it's best for me, my teammates and the organization to proceed with surgery at this time.  My neck simply did not respond to any of the treatments of the past few weeks. While incredibly frustrating and disappointing, I am determined to make a full recovery and get back on the field as soon as I can to help the Mets win.  I greatly appreciate the support of my teammates and our fans throughout the last few weeks."
Well. Thats all she wrote. I just dont see how David Wright can continue like this. The neck fusion isnt really a huge deal. Thats not like a career ending type of surgery. I hate to be that sports-radio-caller-guy who compares their own health to a pro athlete, but this is the sort of surgery I had on my neck: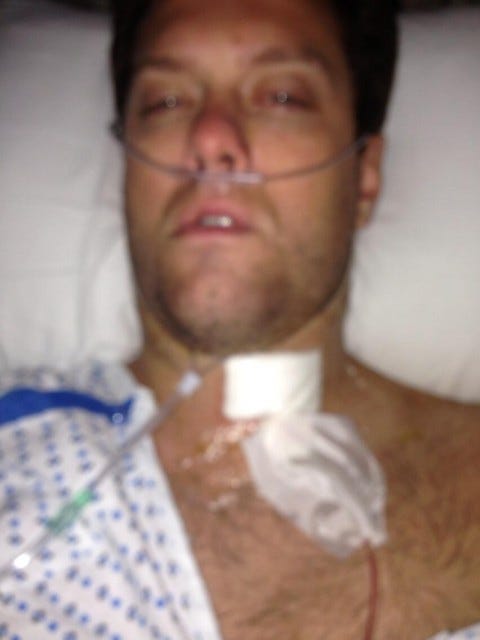 Its minimal recovery and doesnt really affect you long term. Its not like this fusion is the ultimate reason to cuncel David Wright. But its the straw that broke the camel's back. Its a final nail in the coffin sort of situation. The dude just cannot continue this way. The spinal stenosis is just too much of an obstacle to overcome. He spends months and months and months during the offseason trying to be ready for spring training. He spends hours and hours and hours daily to be ready for each game. And even if he works hard enough to get his body where it needs to be for those short bursts of time, the recovery time is too great. The inability to string together effective games is simply killing him. He wants it more than anyone and he'll work his ass off to get there but sometimes you gotta just realize when you're beat. The stenosis and subsequent injuries that are going to stem from it is simply too much. Missing almost another full year. Expecting to be able to bounce back from these issues and inevitable further injuries just aint realistic.
Hes not the type to give up. He's ultra competitive and wants to get back to the post season and try to win a World Series. But the fact of the matter is relying on him at third base is just idiotic. The fact that the Mets didnt head into this season with a real contingency plan for when this inevitable injury came down is preposterous. Everyone in the world knew this was going to happen one way or the other and their plan was some sort of Cabrera/Flores/whoever the fuck else combo. Just dumb. Plain and simple this team has to operate like David will never play again. Thats what they really should have done last year but there was always that glimmer of hope. There was those at bats and those games where he really was effective and you thought "well maybe…" But thats gone now. Its sad to say, but its gone. I have no idea how collecting insurance on his contract will work. The Wilpons will probably just pocket that money anyway. I also could see Wright pulling a Cuddyer. Maybe not immediately. Maybe not even this year. But I could see him just hanging them up when doctors explain to him that he truly, really is done. But at the moment theres still a boatload of money coming his way and really no realistic reason to ever expect him to play ball at a Major League level ever again.
Sad stuff, really. When he reached 10 years with the Mets, I wrote this about him: David Wright – 10 Years A Slave.  And I think it all rings pretty true. The whole tenure will go down as one big "What could have been…" Fucking last year really was their year. It was their fairy tale year to win a title and make everything right with Wright. They squandered the opportunity and now the window is closed for good on DW. Almost makes me want to cry.