The Houston Astros Broadcast Team Outed This Fella For What Is Either The Best Or Worst Toupee Of All Time, I Can't Decide
I am fascinated by people who wear a hair piece. There is no way anyone throws one of those rugs on their dome and thinks it looks natural. It's the most obvious fraud since whatever this most recent scam is the Fyre Fest bro Billy McFarland is pulling. 
But if you are going to go the route of the rug you might as well make it entertaining. I'm talking a hair color that doesn't match the rest of your head, maybe dreadlocks for a middle-aged white guy, an afro, or possibly slicked back blonde hair attached to a blue Houston Astros visor. 
That's the choice this fella here made and was probably getting away with it for the most part. Why would anyone give the love child of Dan Le Batard and Guy Fieri a second look? Nothing to see here. That was until the broadcast team locked in on him and he made one fatal mistake.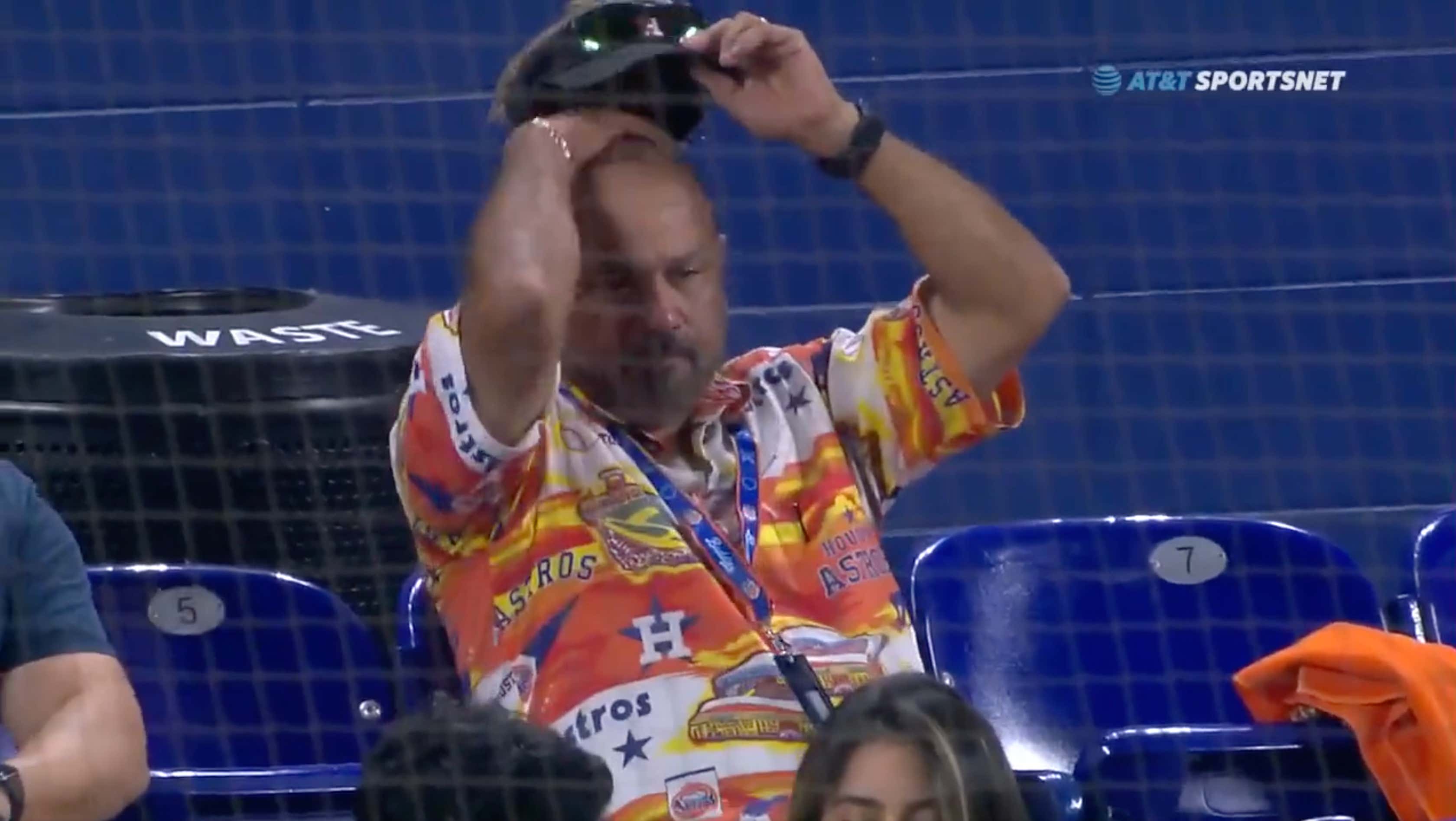 This is one of those scenarios like when someone loses a limb in an accident and their brain can still feel their arm even though all they have left is a stump. That's this guy but with the fake lettuce attached to his visor. He got so lost in running his fingers through that magnificent horse hair that he completely forgot it doesn't actually exist underneath. 
Poor guy was mentally back in his youth with a hand full of hair and the world by the balls. In that moment the universe hadn't dashed all his hopes and dreams just yet and he still recognized the young man in the mirror with the glorious flow. 
Then reality comes crashing down as the next thing you know they have him waxing his bald ass head with the palm of his hand in slow motion live on TV. One might think this is a tough scene but I beg to differ.
It takes some balls to wear a loud ass shirt like that repping your favorite baseball team. I would know…
And if you are going to go all in with the shirt you might as well throw on the toupee visor to really set off the fit. As a guy who has a rapidly receding hairline I completely respect the move. In fact, I am already scouring the internet to find a Guardians visor with some dreadlocks attached. That shit would be fire.
I feel like a visor with dreads attached says, "let's make a million dollar deal on the golf course and then smoke a bowl in the back of my 2004 Honda Civic when we're done." It says, "I want to get irie but have to finish these TPS reports first."
So far I haven't found a Guardians brand one but I did find this and I'm seriously considering making the move. For $85 I feel like this is an absolute steal.
So if in a few weeks you see me pass by in the background of Stool Scenes with this bad boy on mind your business. Let me live out my dreadlocked dreams. That man at the Astros game is an inspiration to all us balding men out there. The man makes the hairstyle, not the other way around. Even if that hairstyle is attached to a golf visor.