New York Rangers State Of The Union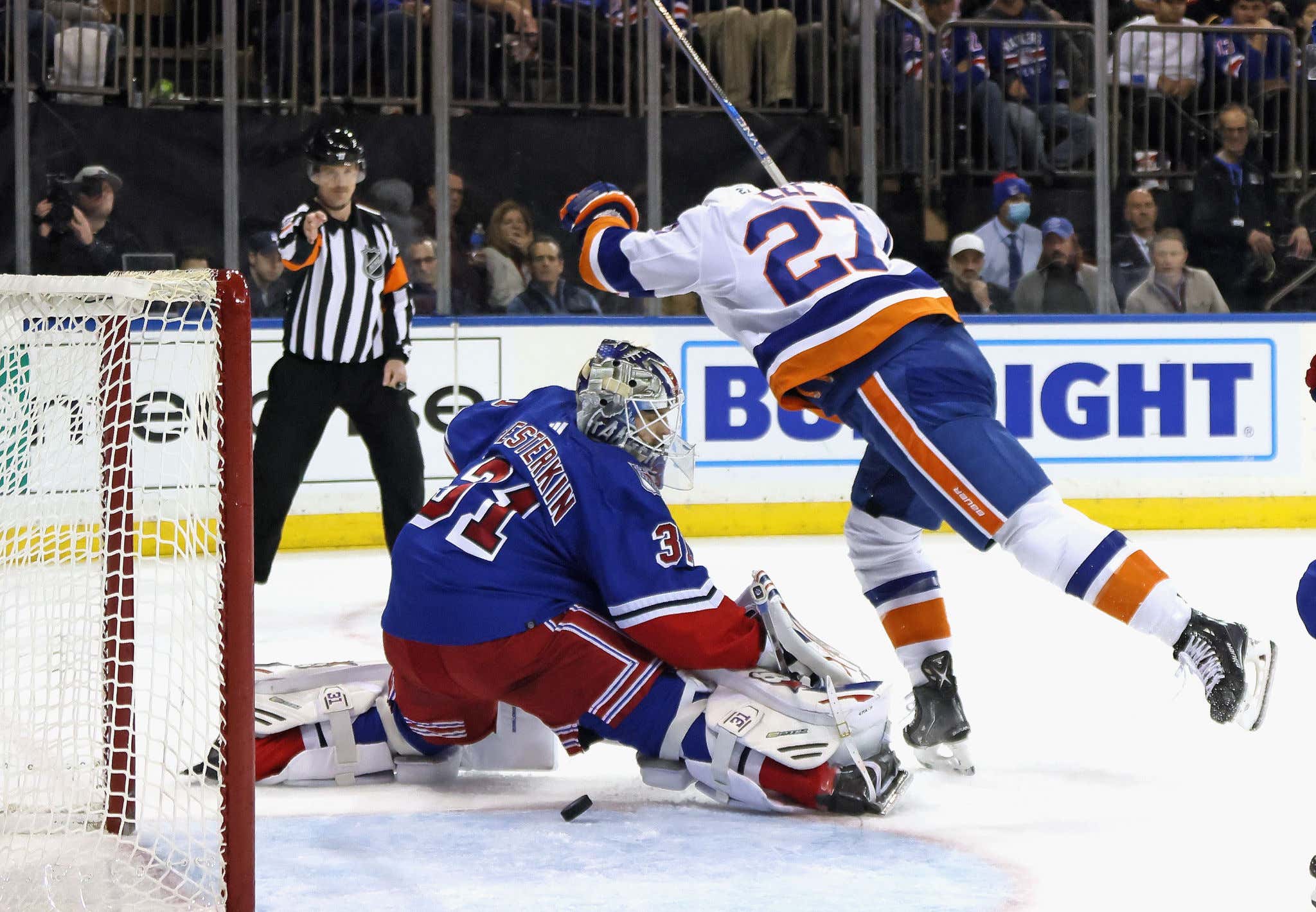 Bruce Bennett. Getty Images.
Perhaps claiming Sunday's meltdown vs the Red Wings as the Rangers rock-bottom was a tad premature…
If you thought flipping a 2-0 first period home lead into a 3-2 OTL with Halak in net against a squad on the tail end of a back-to-back was bad, then last night's collapse against the rival Isles was a catastrophe. For their next trick the Blueshirts spun a 3-1 third period home lead with the reigning Vezina winner between the pipes into a 4-3 regulation loss. Once again, against a team on the tail end of a back-to-back…with their backup tendy to boot. Last year's Eastern Conference finalists now sit at a pedestrian 6-5-3, good for 5th in the Metro and 10th in the conference by points percentage.
Do we have a problem?
Well yeah, it's time to be a bit concerned. The results are the results and the Rangers are flat out not getting it done. Coughing up consecutive 2-goal leads at MSG isn't exactly what teams expecting to contend are supposed to do. In their 5 regulation losses they've been outscored 14-2 in third periods when just a year ago they ceded a league-best 63 over 82 games. Shesterkin hasn't been bad but he's certainly been mortal and their PK - 7th best in '21-22 - currently dwells in the bottom half of the league. Kakko & Lafreniere, despite regular top six minutes and obvious eye-test growth, still have yet to break out in terms of secondary production. Their 30-35 point paces leave a lot to be desired regardless of their lack of quality PP time while a defensive corps that was responsible with the puck has turned into an inexplicably charitable unit. 
I'm not breaking the emergency glass though. Not yet. While I'm not an all-in analytics guy I think they're very helpful when identifying extremes and outliers. The Rangers 5x5 output fits that mold to perfection. It's simply indisputable their offense has been the unluckiest in the league to date. According to NaturalStatTrick they sit 3rd in terms of expected goals yet 25th in actual goals. They're -10 in xGF vs GF differential - worst in the NHL. To put the impossibility of that continuing into perspective, only 3 other teams are worse than -5 right now. Last year only 4 finished worse than -8 (Rangers were +6).
And I'm not talking about unproven scrubs trying to figure out how to finish. I'm not asking anyone to set career highs or do anything they haven't done before. Only 48 skaters have an individual 5x5 xGF better than 2.75. Four of them can be found on the Rangers roster. While Kakko is on par with his expected production, Mika Laf & Trocheck have potted a mere 3 of an expected 10. Throw in Kreider and it's 4 of 11.5. We're talking about veterans here who have 50, 40 & 30-goal seasons under their belts along with a kid in Lafreniere who's produced the same exact 5x5 xGF/60 over the last two years as Nate fucking MacKinnon. They're not gonna be snakebitten forever. Positive regression is on the way and it's gonna lead to an offensive outburst that'll jump start a win streak they desperately need.
It's gotta happen real soon though. Maybe it's the perfect time for their "dad's trip" in Detroit & Nashville. Gotta look for a spark anywhere right? 7 of the Blueshirts next 10 contests are roadies including a west coast swing where they usually struggle. It's not exactly a murderer's row of opponents though, so if they're still puttering around .500 come December then it may be time to sound the alarms. As I alluded to at the start of this blog it's not all about scoring. They gotta clean up the giveaways. They need a little more from their goaltenders. They gotta put teams away. But they're not hemorrhaging chances against. They're not getting bullied at even strength like last year's squad did. They're the bullies now. It's just a matter of that 3-inch rubber disc finding its way past that 2-inch red line like it's supposed to have done a lot more often than it actually has.
And it will. I promise. Look across the league. Wild, Flames, Oilers, Panthers, Lightning, Leafs all quality squads currently off to mediocre-at-best starts along with the Blueshirts. For as bad as things might look right now there's still over EIGHTY PERCENT of the season left to play. The Cup champs started 4-5-1 last year. CBJ kicked off their campaign 7-3 & the Flyers 6-2-2. Plenty of teams don't end up who they were in November & there's just no tangible reason to believe the Rangers won't be a part of that trend by season's end.
When the Rangers strut into December with 13 wins you can thank me.