The Celtics Are Officially Out Of Mulligans And Now Are Fighting For Their Playoff Lives
Ezra Shaw. Getty Images.
Over the course of these NBA Finals, the Celtics have had three separate opportunities to really put the pressure on the Warriors.
- Up 1-0
- Up 2-1
- Tied 2-2
Each and every time, they fumbled that golden opportunity. A brutal 0-3. When you have a single chance to put the Warriors in a tough spot, you have to do it. When you have three separate chances? You cannot go 0-3 and waste each and every one of those opportunities. You only get so many of those things in a Finals on your way to a potential ring, you have to capitalize. It's really as simple as that.
The Celts didn't and now here they sit, fighting for their playoff lives down 2-3. The worst case scenario has come to fruition. It's not over, you win Game 6 at home to get yourself to Game 7, literally anything can happen. Having said that, the same way the Celts falling into this hole required them to lose 2 games in a row for the first time in 5 months and the first time this postseason, if the Celtics are now going to win the NBA title they are going to have to force the Warriors to do something they have not done these entire playoffs. Lose 2 in a row.
This is the reality you have to live with when you can't stop wasting opportunities. As much as the Warriors are "taking" these Finals, and make no mistake they've stepped up and grabbed their opportunities, I can't shake the feeling that this is truly coming down to the Celtics blowing theirs. They are quite literally throwing away an NBA title. We should mention, they have been in this situation before just this postseason against the defending champs. We've seen them respond and win 2 in a row, and we know they have the talent to do it. But until they stop getting out of their own way, we're going to get results like we did in Games 3 & 4 and a title will be lost forever.
It's important to remember, the same way you don't win a series until you get 4 wins, you do not lose a series until you have 4 losses. Until this team is truly dead and buried and the clock hits 0.0 on their 4th loss, I have faith. I believe in the talent. I believe in what I see when this team plays the right way. Well, now they have no choice. They are out of mulligans. They put themselves in this position due to playing like assholes, so now it's up to them to play their way out of it.
While we wait to see how that unfolds on Thursday, let's talk about last night.
The Good
- The only thing I can really think of that would fit for this section was that 3rd quarter. Finally, I saw the Celtics team I remember. Down 12 heading into the break, I think we were all a little nervous about that Warriors 3rd quarter kill shot. Instead, it was the Celts that punched first and they finally looked like a team that was ready to take over the game and control of the series. The trio of Tatum/Brown/Smart were incredible in that frame, controlling the offense, defending, making the right decisions and taking care of the ball, it was everything we were waiting to see all night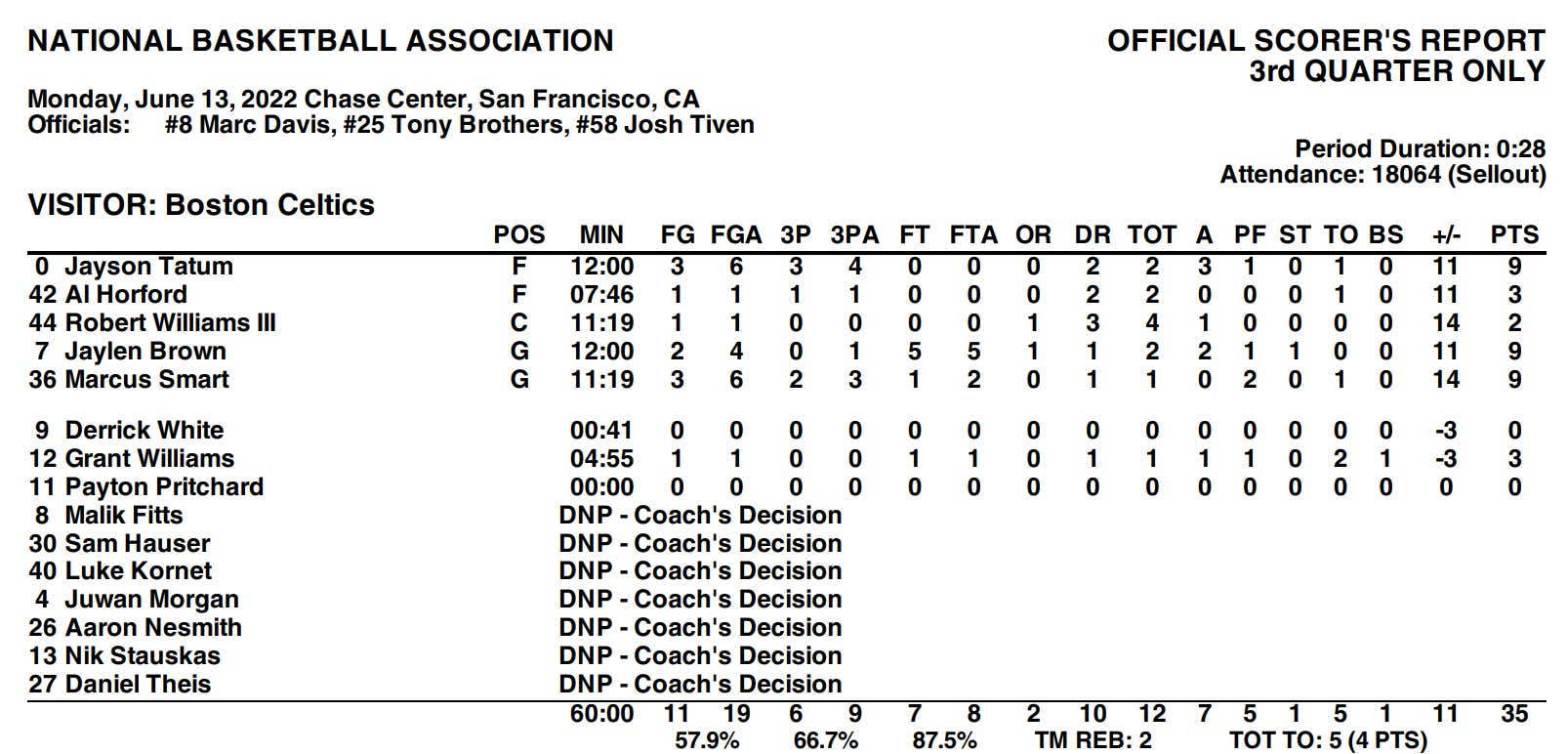 They came out firing with a quick 10-0 run in the first 90 seconds and suddenly their open threes started to fall. They were getting stops and forcing turnovers. They looked like the Celtics we know and love. The ball and players were moving with 7 assists on their 11 FGM. Watching this unfold in real time you couldn't help but think they finally figured it out. 
Unfortunately, they did not figure things out. Instead, this quarter gassed the roster. All this work would be undone in a blink of an eye, and it started with one prayer shot
This is sort of where the Celts lack of situational awareness really hurt. You have to make sure you are taking the last shot of the quarter. You cannot give the Warriors even 3 seconds or they can kill you. That is not a new concept. Instead Tatum had a pretty brutal final possession where he sort of just dribbled and dribbled and welcomed the double, that resulted in a low quality pass to Jaylen who was forced to shoot at the end of the clock. Look at Grant in that final clip, he's thinking the play is over. These are the small plays that can end your season and why you have to play the right way for a FULL 48 minutes.
The Bad
- Let's start with the obvious. In a game Steph Curry shoots 7-22 (0-9), you have to find a way to win. Is it extremely frustrating we couldn't have gotten that type of shooting performance on Friday? Sure is. But that's life. I can say with confidence that we will not get another 7-22 (0-9) Steph performance again in these Finals, which is why it is so incredibly frustrating that you finally got an off night from a guy who has been lights out all series, and you couldn't capitalize. This is what I mean when I talk about blowing golden opportunities. You're on the road, Steph does THAT and you still can't find a way to win? That's pretty fucking pathetic.
The thing is, the defense the Celts have played this entire series hasn't even been that bad! I mean the Warriors scored just 104 points and shot 22% as a team from three. That's enough to win as long as you don't play like complete assholes on the other end of the floor. I just cannot understand how many more times the Celts need to be gift wrapped these type of prayer opportunities in order for them to finally take advantage of one. That underlying issue is everywhere you look in this series and it makes me want to fucking puke.
- Usually, when the Celts have a game like this, you can tell right away. They turn it over, they miss easy looks around the rim, and they miss early FTs. In this game, the Celts had the perfect approach to start. Of their first 15 FGA, 12 of those came in the paint. They started 4-12. On their VERY FIRST possession of the game, they did this
Through the first 9 minutes of this quarter, the Celts were 4-15 with a shot chart that looked like this
everyone from Rob to Tatum to Smart to Jaylen were missing everything at the rim or turning it over. The issue there was on the defensive end, they couldn't stop giving up layups. Over that same 9 minutes, this is what the Warriors were doing
I don't know much, but I know when you play 75% of a quarter and you have the same amount of FGM (4) as TOs (4) against this Warriors team, you're fucked. By the time the dust settled, it was 27-16. To come out that flat and that careless in the biggest game of the season was pretty tough to watch. I don't know if its nerves or what, but in both Games 4 & 5 this team has had big time issues with their layups/bunnies. What's so baffling about that is the Warriors are not playing a true rim protector. Those are battles you have to win.
- Outside of his Game 1, this has been a pretty tough Finals for Al. That breaks my heart to type, but it's the truth. The Celts have lost 3 of 4 since that game, and over that span Al is putting up just 7.5/7.8/3.0 on 47/45% on 2.8 3PM. The three point shooting looks OK, but that's really impacted by the low volume more than anything else. In those 4 games, Al was a -15, +7, -11, and last night a brutal -19 which tied Jaylen for the worst on the team. For such an important player, that's not exactly the type of impact you're hoping for.
Even with the two days rest, Al looked just a tad slow in this game. A half step behind is how I would describe it. On one hand, you can't blame the guy, he's played a shit ton of basketball and is 36 years old. Some regression was to be expected. On the other hand, if this team is going to pull this out, they need a better effort from Al, especially defensively. He really struggled with Wiggins in this game, facing him on 21 possessions (2nd most on the team) and allowing 9 points on 4-6 shooting. That half step really limited his ability to challenge Wiggins' floater, which he was making all night long. That's how they were able to survive the Curry off night. Wiggins won his individual matchup pretty much every single time against a Celtics big. You saw the numbers against Al, well against Rob it was pretty much the same thing. A total of 9 possessions and 5 points on 2-4 shooting. 
That means a total of 14 of his 26 points came when switched onto a big, and they held him to just 6-10 shooting, which is not great.
- They say role players play better at home, and that could not have been more true in Game 5. Of all the problem areas in this game, bench points are near the top. It couldn't have been more opposite for each side.
For the Celts, their bench mustered just 10 points, but that includes some garbage time points so really the rotation bench players finished with 4 points on 1-9 (0-7) shooting. White was 0-4 (0-3) and was a -13 in his 21 minutes. Grant was 1-2 for 3 points, but was a -18 in his 16 minutes. Pritchard went 0-3 (0-3) in his 4:41.
I think you will agree, you aren't beating dick when you get virtually zero production from your three main bench players. What bothered me most was it never felt like any of these guys had an interest in being aggressive. Nobody looked to really score the ball and put pressure on the defense. They looked like JV players who got called up to varsity and just didn't want to fuck anything up, so every time they touched the ball, they just immediately gave the ball back. You can't win with that shit. 
Meanwhile on the other end, Jordan Poole and Gary Payton II combined for 29 points on 10-16 (4-9) shooting. It's hard enough to beat the Warriors in their own building, if you allow a 29-4 difference in main bench player points, forget about it. You have zero shot. 
- Honestly so much of Game 5 looked like the early season Celtics. They got zero bench production, they were turning the ball over, they had to over-rely on Tatum/Brown to do everything that ultimately they would run out of gas by the end of the game. They were great in the 3rd quarter only to then immediately puke on themselves in another brutal 4th quarter. They didn't have mental composure when things didn't go their way. Their offense looked like dogshit. I think that's what bothers me most about these last two games. We've seen this brand of basketball before, and it was during the dark times. To have it pop back up IN THE NBA FINALS is so goddamn annoying.
- Let's talk about the offense for a second. After all, it is the offense that is the reason the Celts find themselves in this 2-3 hole. Specifically the halfcourt offense. 
Part of this is the Warriors defense locking in, so I want to make sure to give them ample credit, but to me this is once again more about what the Celtics are not doing. I'm looking at Ime wondering where his halfcourt offense went. I'm looking at Smart as the floor general wondering where the execution is. I'm looking at Tatum and Brown for their shot selection and decision making. You add all that shit up and that's how you get those numbers these last two games. Not to mention this
So, not only are you not scoring in the halfcourt, but you're turning the ball over at an extreme rate which gives the Warriors an insane amount of points off TOs, and then you're also missing a fuck ton of FTs and running out of gas in the 4th quarter.
Is it fatigue? Is that all this is? Tatum/Brown played 22 of the 24 minutes in the second half last night. Smart played 20 of the 24. I just cannot really understand how you forget how to play basketball in the 4th quarter, but it has cost the Celts these last two games. Where's the P&R? Where is any resemblance of an offense approach? Instead, we get guys driving into traffic or settling for tough fadeaway jumpers because why. Are they tired? 
Again, the defense did its job for the second game in a row. Unfortunately, the offense has been nowhere near good enough.
- A lot will be made about how this game was officiated, but I don't want to hear it. When you play the way the Celts did in this game, you do not get to say a word about the officials costing them this game. Sorry. Where things really started to change is when the Celts started to lose their mental composure at the start of the 4th, due to some Tony Brothers bullshit.
Here's my issue though. They put themselves in that position, which we KNOW you cannot do. It started with Smart trying to draw the offensive foul against Klay
Was there an off arm extension? Maybe. Was there a flop by Smart, most likely. Here's the deal though, you need to understand the situation. The Warriors were on a run at this moment. They had started the quarter hot, Tatum had just turned it over with a travel, there's no need to try and force this foul. You're not going to get it on the road in that spot. Just play the defense straight up. Hoping Tony Brothers bails you out at that moment when he had already blown a charge call earlier in that game against Smart is just not understanding the moment. So what happens next. Smart gets the no call, Klay hits a three and Smart loses his composure. He then gets called for a foul on the next possession and bitches to the officials about it. Tech. Now he has a target on his back and momentum is truly starting to shift. What happens next?
Tony Brothers got baited. But once again, Smart put that target on his back given how he reacted on the previous two possessions. If there's one thing we know, it's that if you call out Tony Brothers for being incompetent, he's going to send a message. That's what that play was. The thing is, you have to know this was going to be the deal. The entire game we saw this team lose their mental focus with the officials, and for the millionth time it cost them. 
So while most people are focusing on the actual calls/no calls, I can't help but focus on the poor decision making given the moment. Smart & Co fed into the bullshit rather than play honest and straight up. That enabled Tony Brothers & Co to do their thing and it came at the worst time. I don't blame them for being bad, they've always been bad. I put blame on the Celts players for even putting themselves in that position in the first place.
- It makes no sense to me after the blueprint of Game 3 clearly showed the advantage in the paint, the Celts somehow have moved away from it these last two games. They lost the points in the paint battle 50-36 in Game 5 and 38-32 in Game 4. 68 points in the paint in two games is embarrassingly low for a team with a size advantage at pretty much every position.
The Ugly
- For this team to be successful, it requires their two best players to carry the load. That's the deal. Unfortunately, at the worst possible time we got Jaylen's worst game of the series. He finished just 5-18 (0-5), and for me it starts with his shot quality. It felt like time after time Jaylen found himself settling for tough, contested looks. Just look at his shot chart
The tracking backs this up. Of Jaylen's 18 FGA, a total of 12 of them were considered against "tight" coverage. He finished 4-12 (0-3). When you play GS, shot quality is so important. Poor looks and decisions may as well be turnovers. With Tatum finishing at 50% and Smart going 7-15, the Jaylen piece really hurt. His 2-10 first half was brutal and then once we got late in this game came the 4th quarter TOs that you cannot have. With the Celts trying to make a run and within 9, we got these possessions back to back
This has been an issue really all playoffs. Jaylen is one of the best players on this team, but I'm not sure he can resist turning the ball over in the fourth quarter. That then puts more pressure on guys like Tatum and Smart to come through offensively. Part of me thinks that 3rd quarter simply took all the juice out of both Tatum and Brown. You look at how their 3rd and 4th quarters went, it's crazy
- Once again the Celtics entered the 4th quarter in a 1 point game. 12 minutes was all it took for a commanding series lead. In Game 4, Tatum and Brown combined to score 9 points on 4-12 shooting with 3 TOs. Last night it was 5 points on 2-9 with 3 TOs. 
That is nowhere near good enough.
For the series, Tatum is averaging just 3.2 points on 23.8/40% shooting in the fourth quarter. Considering he leads the roster with 4.2 FGA a game, that's a bit of an issue. The two closers for this team have not been anywhere close to showing up when they are needed most in this series outside of Game 1. People get mad at Marcus Smart for shooting in the 4th quarter, well he's averaging 46.7/50% splits in that quarter. If Tatum and Brown are going to no show, what choice does he have other than to shoot? 
- The Boston Celtics could very well lose an NBA title because they cannot make FTs. This is my nightmare. In a game they lost by 10 points, the Celts missed 10 FTs. 10. The best FT shooting team in the NBA choking like that is going to haunt me forever. Tatum missing 4 by himself doesn't even make sense to me.
- Taking a step back, the Celts won the 3P shooting battle, the rebounding battle, had 2x the FTA, made 8 more FTM and still lost by double digits. What the fuck even is that. How is that possible? I'll tell you how. 
The kiss of death. Turning the ball over.
- What more needs to be said. It's the same shit with every one of these playoff losses. The Celtics turn the ball over, they die, If they don't, they win. It's truly as simple as that
When I say the Celtics are quite literally throwing away an NBA title, I am not kidding. It's the most maddening shit I have ever seen in my life. Just play smart. Take care of the ball and you can win an NBA title, yet the Celtics refuse to do it. The Warriors defense deserves some credit for forcing a few of these, but not all 18. These self inflicted wounds are how you blow a series. Turnovers and missed FTs happening at the rate in which we are witnessing is truly baffling. That's why the Celts have no one to blame but themselves for their current situation. That's why they cannot blame the officials for last night. When you are this careless and play this type of losing basketball, it's nobody's fault but your own.
So now this is it. The season is on the line on Thursday. I don't think it's unrealistic to think this Celts team can force a Game 7. They're resilient. They've been in this spot before. Just get to a Game 7 and who knows what can happen. But nothing matters if they continue to play like assholes and turn the ball over like this. In a series where they haven't been able to take advantage of their golden opportunities, they now don't have a choice. Either win, or your season is over and we'll all spend the rest of our lives wondering what could have been.
If loving and trusting were easy, everyone would do it. Celts in 7.