Am I The Greatest NBA Talent Evaluator Of Our Generation?
During my senior year of high school, I came across the Twitter of an incredibly funny, young NBA player: Giannis Antetokounmpo. He was a 19-year-old Greek kid learning about American culture for the first time and his tweets were must see. Let us not forget the greatest tweet in the history of the website. 
I also saw incredible potential in his game on the court. Fourteen GMs passed on this man in the NBA Draft, but he would've had him at 1.1. It was at this point that I convinced myself I needed to be friends with this man. You see, before it ended up being that I sat next to Dave Portnoy as college basketball players hit shots, I was convinced my ticket to fame was having a viral, unexpected friendship with an athlete. 
Imagine the 30 For 30: "What if I told you a 7-foot young NBA star from Greece and a dorky, awkward 18-year-old somehow became best friends?" I'd be in his entourage. Courtside at his games. Hitting the clubs together as we popped bottles and women threw themselves at us. It could've been an incredible story. The more I type it out, the more I want to write one of my fake movie scripts about it. Actually on the second thought, I basically did exactly that with A-Rod in "Boyz Trip."
So I took to Twitter DMs to try sparking this friendship. 
I started with a very nice compliment. Look at how I identified his talent after only his rookie season. He played just 24 MPG and put up a 7/4/2 season average, yet I still saw something in this young man. My eye for talent is undeniable. 
No luck with this so I circled back a couple weeks later. 
July 3rd is NOT my birthday. But I decided to lie in hopes of a response. All great friendships are built on falsehoods. 
At the time, DM sliding memes were hot in the streets. Now I should clarify that I was not trying to fuck Giannis, just be his friend. Thought maybe he'd laugh at the meme. Nope. 
Took a few months off then came back around for his birthday. He didn't wish me a happy birthday, but would he thank me for the birthday wishes?
No. 
At this point, my patience is wearing thin.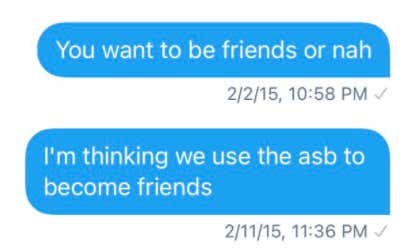 The All-Star break was the perfect opportunity to strike up this friendship. He had a few days off. I figured this was my chance. But alas, I was wrong again. 
Defeated, I took almost a full year off. But I threw up one last Hail Mary. 
And just like that, the dream was dead. Now I'm not blocked so I think he just closed his DMs, but still a funny visual. 
Anyway, congratulations to Giannis on his first NBA title and winning Finals MVP. And congratulations to me for recognizing his talent at such a young age. I could have picked any NBA rookie to send weird DMs to, but I chose the 15th overall draft pick knowing he'd one day be the best player in the NBA. FIFTEENTH! Not even a top-10 pick! Just an incredible eye for talent that I have. 
PS:
I am getting a LOT of responses from people calling this "creepy" and "weird" saying that I'm a "freak" for DMing an 18-year-old yada yada yada. But I'd like it on the record that 1. this was clearly done in a funny, non-threatening way and basically just to make myself laugh. And 2. Giannis is quite literally older than me so throw that age thing out the window. Once again, the main storyline here is me being the greatest talent evaluator of our generation. 
Being normal is boring anyway. Odd duck gang for life.