The Official Barstool 2021 Open Championship Preview
Chris Trotman. Getty Images.
We're back across the pond baby! After a year off, the Open Championship is back in a big way at Royal St. George's in a little town on the southeast coast of England they call Sandwich. 
It's one of the best events of the year - we don't get that much links golf throughout the year. It's virtually a different sport. The Tour plays so much parkland golf in the States where it's all about carries. Fly it here, land it there, etc etc etc. Links golf brings all sort of imagination into play. More often than not around the greens, the ground is the path more traveled. Plus the wind is always a factor. It's always a great change of pace and I actually wish the Tour would ditch Detroit and the John Deere and find a way to team up with the European Tour for the Irish and Scottish Opens in the lead-up to then Open. Better fields play those two events as a tune-up to the Open anyway, why not create a little UK swing? But that's a blog for another day.
Shane Lowry remains your defending Champion Golfer of the Year after his resounding 6-shot victory at Royal Portrush in 2019. The last time this tournament was at Royal St. George's was in 2011, when Darren Clarke came out victorious. Leaderboards for both below, along with other recent winners.
2019 Leaderboard
2011 Leaderboard
Recent Winners
All Winners At Royal St. George's
The Course
Royal St George's was founded in 1887 by surgeon Laidlaw Purves. What makes it (and a handful of other Open rota courses) royal? Well I'm glad you asked. A course becomes "royal" when that title is bestowed upon it by a reigning monarch. That's right, the golf course basically gets knighted. Best way to do that is invite a member of the Royal family to become an honorary member. This is a custom followed in numerous countries. As it pertains to the UK, the title of "Royal" officially was restricted to "institutions of eminence, long standing and secure financial position, and devoted to national, charitable and scientific objects" by the British monarchy. Pretty neat.
This is Royal St. George's 15th Open Championship. Only the Old Course, Prestwick (which has been out of the rota since 1925 due to its inability to support galleries), and Muirfield have hosted more Opens. It's a par 70 layout measuring about 7,200 yards on the scorecard. It embodies everything you think of when you think Open Championship golf. Winds blowing off the coast, rolling dune hills, gnarly fescue, and most of all…. hellacious pot bunkers. Seriously. These things are a real bitch. Avoiding them entirely is a pipe dream, but those who can keep the rakes out of their caddie's hands will be at a massive advantage here because more often than not, they're essentially a stroke penalty at a minimum.
In true links fashion, this course will also reward creativity. Tons of mounds and hills on both the fairway and around the greens are at the players' disposal to feed balls to ideal locations. At 7,200 yards, the course isn't particularly long, which opens the door for some of the craftier players to make hay. It's worth noting that the last two winners (Clarke and Ben Curtis) at RSG were longshots. It's also worth noting only one edition of this Championship at RSG has ever had a winner at double digit under par (Greg Norman at -13). So this course should serve as a pretty tough challenge for these guys.
Best Hole - 4th hole, 496 yard par 4
Did somebody say pot bunker? The 4th at RSG has the deepest pot bunker in the entire Open Championship rota. This thing is ridiculous. Seriously. Look at this fucking thing.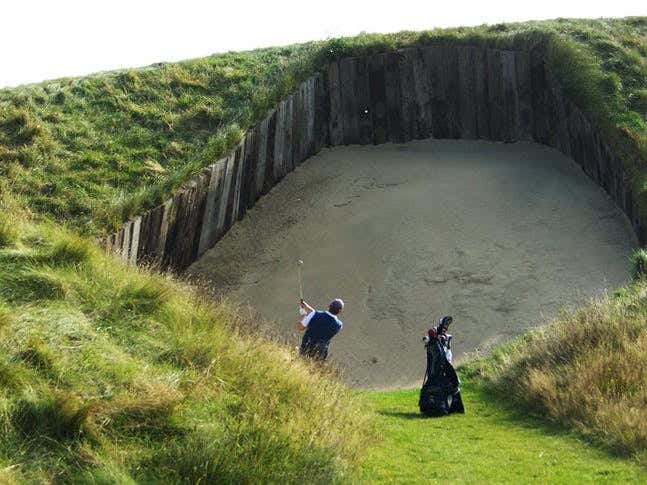 They call these bad boys the Himalayas. The number to carry them (270 yards) doesn't seem that daunting, but these bitches are so dang high that any decent headwind can bring them into play. The hole plays 491 yards as it is, so it's not just a matter of avoiding the fairway bunkers. You're gonna have some work to do to post a good score here.
TV Coverage
Thursday: Peacock 1:30-4 AM ET, Golf Channel 4 AM-3 PM ET, Peacock 3-4 PM ET
Friday: Peacock 1:30-4 AM ET, Golf Channel 4 AM-3 PM ET, Peacock 3-4 PM ET 
Saturday: Golf Channel 5-7 AM ET, NBC 7 AM-3 PM ET
Sunday: Golf Channel 4-7 AM ET, NBC 7 AM-2 PM ET
Tee Times are here. Be aware that Sandwich, England is 5 hours ahead of New York City:
The Weather
We've got wind baby! That much was inevitable. But all things considered, these are pretty benign conditions for this venue. The weather can change here in an instant. Darren Clarke fought through some nasty rain and tough conditions to get his W in 2011. There doesn't seem to be an advantage yet in terms of early/late tee splits, but time will tell. Here's hoping mother nature comes calling.
The Trophy
Andrew Redington. Getty Images.
It's one of the most iconic trophies in all of sports. One of the oldest too. Most simply call it the Claret Jug, but it's actual name is "The Golf Champion Trophy". How's that for a name? It's got some of the greatest players to ever play engraved on it. You can drink out of it too. That's a huge prerequisite for any great trophy. This is a surefire 10/10 trophy.
The Fore Play guys also dug out that way back when, they used to give out a championship BELT. Pretty sick.
The Field
Jon Rahm is a RESOUNDING favorite at the Barstool Sportsbook at +750. The next closest players (Koepka and X) are more than twice as long at +1600. That's the type of respect you get when you go T-8, WD (but really a W), US Open W, and solo 7th last week at the Scottish Open. His Open Championship record, however, is not as impressive. In 4 career starts, he's gone T-59, T-44, MC, and T-11 at Royal Portrush in 2019. He's won on links-style courses before (2-time Irish Open champ), but this is enough cause for concern for me to leave that +750 on the table and look elsewhere.
Which leads me to a discussion about the profile of an Open winner. Links-style golf tends to be an acquired taste. Whether it be by way of growing up in an area where that style of golf is common (the UK, South Africa, Australia for the most part) or through simply playing enough links golf, experience is an advantage here as much as anywhere. If you look at that list of recent winners, that much is self-evident. A guy like Jordan Spieth (who has a next level golf brain and is a popular pick this week because of it) is a rare exception to the rule. If you're holding that rule as gospel, you can write off a big chunk of that group up top right off the bat. Koepka, X, JT, Cantlay, Reed, Bryson, Morikawa, Finau, Scheffler, Berger, and English are off my board.
I'm going to go with a guy who has won an Open Championship before and has been sniffing around a major (and a win in general) the past year. Louis Oosthuizen is +2500 and has three Top 3 finishes in majors in the last 9 months. His recent Open record isn't sterling, but he's playing too well not to contend this week. A couple of wet tee balls missed right off the tee has probably cost him W's under pressure at the Zurich and at Kiawah the past few months, but there's no water here to penalize him. He can flight it low and he's got tons of experience in these conditions. He's top 10 on Tour in strokes gained around the green, and he is #1 in strokes gained putting. That's a formula for success here as much as anywhere.
Other Plays
Marc Leishman +5500 To Win - Perfectly fits the profile of an experienced veteran who's contended in Opens before.
Lee Westwood +5500 To Win - We've had all kinds of awesome stories this year, why can't this be Westy's? He's fallen off a bit since the back to back runner-ups at Bay Hill and Sawgrass, but he showed some signs of life last week at the Scottish. I got him at 100/1 months ago, but still like this price.
Henrik Stenson +25000 To Win - Ben Curtis was 300/1 and Darren Clarke was in a similar range so we're gonna throw some bombs.
John Catlin +35000 To Win - See above. 3-time winner on the European Tour, all in the past 9 months. Including last year's Irish Open.
Group A Rory McIlroy +450 (over Rahm, Koepka, X, and Spieth) - Rory was dangerously close to being my pick this week. Don't care that he missed the cut last week, he always tends to bounce back from MC's. If Rory adds more majors to his trophy case, I'd bet on a Claret Jug being one of them.
John Catlin Top 10 +2500, Top 20 +900 - After typing that out… yeah we're gonna bet him each way.
Rickie Fowler Top 10 +650 - Rickie's been slowly returning to form in recent weeks and he's always been regarded as a great player in the wind. 3 top 10's in his past 6 Opens is enough for me to pull the trigger.
Bryson DeChambeau To Miss The Cut +230 - Of all the major championships where his scientific approach doesn't fit, the Open is by far the unfittiest. 2 of 3 MC's in his career and T-51 in the other. Maybe that shouldn't matter because those were before he beefed up but I'm betting otherwise.
Tony Finau +4000 to win - You thought I wouldn't? Tony's got lowkey great Open Championship history. T-27, T-18, T-9, solo 3rd, and he's played well on links-style US Open tracks as well. Still gotta give the warning… (WARNING: This is merely a FOMO pick. Been chasing that Tony win for like 5 fucking years and there's just no way I'm going to miss the boat. This pick will be a mainstay here for the foreseeable future, ride or don't.)
Enjoy the Open Championship.