Barstool Golf Time Is Offering 5x Reward Points Through June 9th If You Book Tee Times And Leave Course Reviews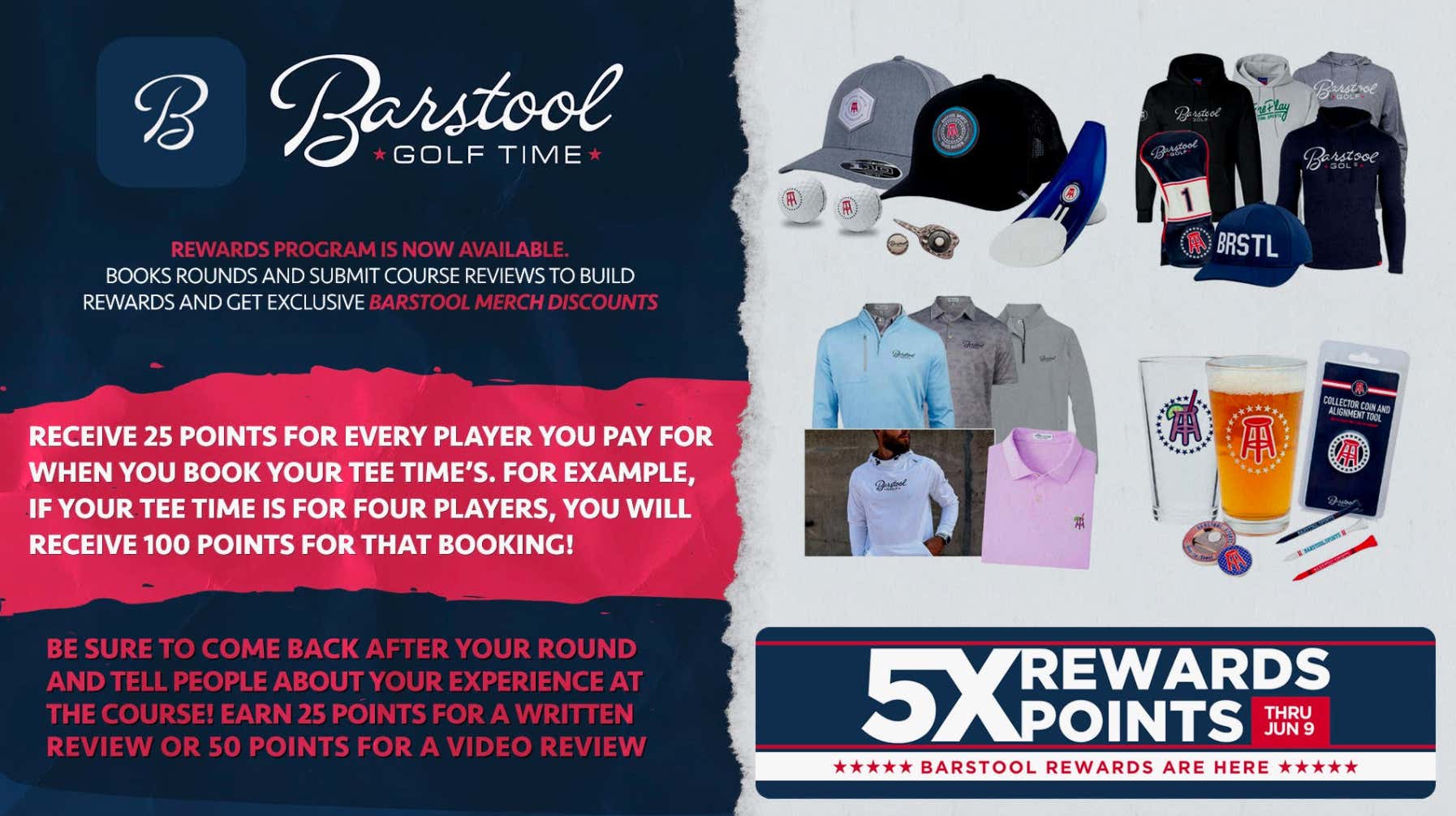 Folks it's Memorial Day Weekend which means summer is officially here which means golf season is officially here. What are you gonna need to play golf this summer? Tee times of course and that's where the Barstool Golf Time app comes in. We rolled out the Barstool Golf Time app about a month ago with the promise of an eventual rewards system and now that rewards system exists. In celebration of the reward system roll out we are offering 5X the rewards points starting now and ending on June 9th. 
How does the rewards system work, you ask? Well it's simple. All you gotta do is starting booking tee times through the Barstool Golf Time app and you instantly start earning points. 25 points per player you book a tee time for so, if you book a tee time for you and 3 buddies, that's 100 rewards points for you. THEN if you come back after the round and leave a review you get even more points. 25 points for a written review and 50 points for a video review. We really wanted to incentivize people to leave reviews so we can build up a database of golf course reviews so other Stoolies will know what to expect at a given course. The ultimate goal is to have tons of golf course reviews by like-minded Stoolies for other Stoolies to see. That's it. The more reviews you leave, the more rewards points you earn, the better the app is for everyone. Lather, rinse, repeat, mucho rewards points.
Rewards points can then go towards all sorts of cool Barstool stuff including merch and exclusive experiences. So get as many rewards points as you can and then use them however you want. You're gonna be booking tee times and playing golf this summer anyway, might as well get additional rewards for doing so.
All you gotta do is download the Barstool Golf Time app, sign up, start booking tee times with your friends, leave reviews after the round and BOOM you start earning a bunch of reward points. It's that simple. 
Barstool Golf Time for iPhone users 
Barstool Golf time for Android users
Play well and have fun.