Fore Please! Your 2021 Masters Recap
Another year, another great Masters at golf's most iconic venue. Maybe wasn't the most exciting Tournament but it's always a treat to see this course and re-live all the traditions - especially back in its typical April spot on the schedule. Lot of winners and losers here this week so let's hit it.
WINNERS
Hideki Matsuyama
Quite literally, the winner. Wrote about it here. Next year's Champions Dinner is gonna be lit.
Will Zalatoris
Kevin C. Cox. Getty Images.
How fuckin sweet was Will Z all week? Guy is a household name now and has a hell of a future in front of him. Absolutely stripes it and flexed some surprisingly impressive length given his slim frame. Kinda reminds me of JT in the way he seems to put everything he has into every drive. But it was really just his entire vibe that impressed me the most. He's confident that he belongs and rightfully so. He's got 6 Top 10's in 15 starts this year. There's a ton of great players who have accomplished tremendous things in this game that can't say that in 2021. Even after the round, he said "I played well, but I left a lot out there". That's coming from a dude who hit the 2nd most GIR's this week (behind Spieth) Dude's gonna be a factor for many years to come.
The Course
Mike Ehrmann. Getty Images.
Huuuuuge bounce back week for the course. In the Fall Augusta National got eaten alive. The course was soft and gettable and the numbers reflected that. 71.752 scoring average from the field and a winning score by DJ of -20. This year the course bit back. It was firm and fast basically all week, especially on Thursday when the scoring average was 74.5. It eased up a little bit the next 3 days, but still played over par each day to finish with a Tournament average of 73.05 and only one player double digits over par. Plus we were treated to some phenomenal drone footage throughout the week.
Stewart Cink, Robert MacIntyre, Si Woo Kim, Kevin Na, and Brian Harman
Kevin C. Cox. Getty Images.
Somewhat of a little known thing about The Masters is that those who finish in the Top 12 (and ties) get an invite to the next year's Masters. These are all guys that I would say would have had work to do over the next 12 months to qualify through more traditional methods and these guys all locked up a spot by finishing T-12 on the number. If any one of them had just made one more putt, the rest of the group would have fallen back to T-13 and been shit out of luck. So congrats to these guys, great teamwork. Especially to a guy like Cink on the last leg of his career and earned (at least) one last ride down Magnolia Lane. And to my guy Bob Mac who was fired up to get the news.
Matthew Ryan Fitzpatrick
Jared C. Tilton. Getty Images.
Jared C. Tilton. Getty Images.
Guy was just an absolute vibe out there all week.
Losers
Bryson DeChambeau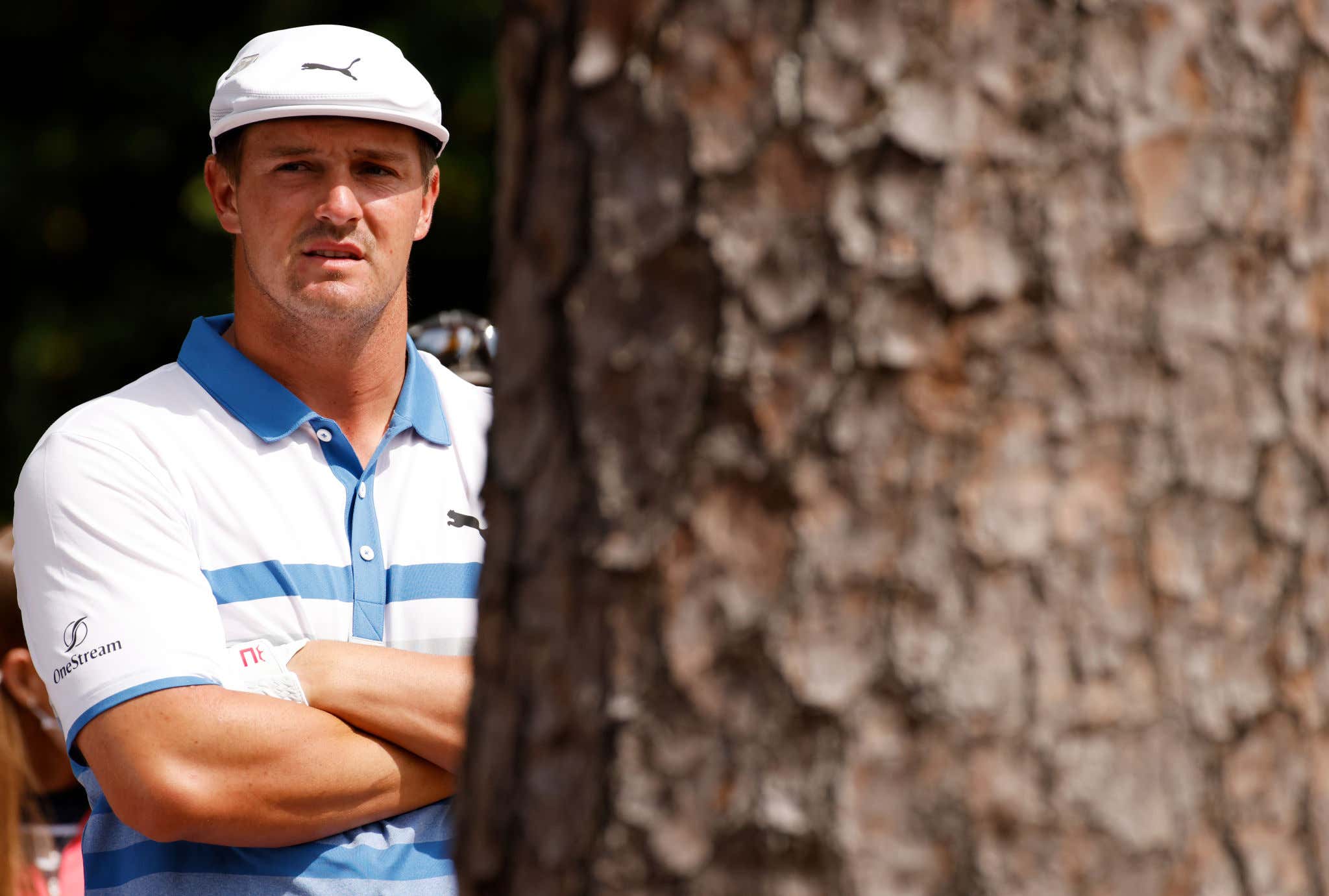 Jared C. Tilton. Getty Images.
There was a lot less buzz about Bryson because of the way he failed in November and the fact that he didn't put his foot in his mouth with any quotes pre-tournament, but this was still a pretty frustrating week for him. He finished T-46 at +5 after posting consecutive 75's on the weekend. What's been shocking is that he only played the par 5's in a total of -4 this week. The field averaged close to -6 on those holes this week. So Bryson was actually behind the pack in an area where he's supposed to dominate, and he played the other 14 holes at +9 the rest of the way. Not a formula for success at all. Maybe this course just isn't cut out for his style of play, I don't know. But he still has failed to crack a Top 20 here in 5 tries.
Xander Schauffele
Jared C. Tilton. Getty Images.
Sure, a T-3 finish is nothing to turn your nose up at and he made a helluva charge on the second nine on Sunday, but he had Hideki in his crosshairs and made a boneheaded error on 16 that sunk his chances. In post-round interviews he said that he had hit the shot perfectly and that he and his caddie simply misread the wind, but it's a little hard to believe given that the play on that hole is to hit it pin high (or just past pin high) to the right of the flag and let the slope bring it in. That shot was about a good 10 yards short of that target. Tough break. X is a guy like Matsuyama that seems primed to break through at a major at some point, but he's struggled to even win a tournament in 2+ years. He's got 8 runner-ups in that timeframe and just can't seem to close in crunch time. Doesn't seem fair to put him in this group because there are still great results and this weekend is included in that, but we live in a world where people are judged by wins and losses and the guy just can't seem to win.
Francesco Molinari
Mike Ehrmann. Getty Images.
Frankie shot himself a birdie-free Sunday 81 for worst round of the day today. The guy just hasn't been the same since his 2-shot lead in 2019 sunk to the bottom of Rae's Creek. Just another soul snatched by the golf gods and Tiger Woods himself. Ya hate to see it.
Dustin Johnson
Kevin C. Cox. Getty Images.
Kinda hammered him a bit on Friday after missing the cut, so you can read about that there. Forgot the guy existed for a couple days before he showed up in Butler Cabin for the jacket ceremony. Tough. I'm sure he'll be
Dramatics
Alright I've tried to put lipstick on a pig here regarding this Tournament, but there really wasn't as much drama this week (and honestly, in November's either) as we often see at the Masters. Hideki pumped a little juice into this thing by flying the green at 15 and into the drink, but X quickly squashed that by doing the same on 16 on his way to a triple. Credit to Will Z for putting a little pressure on Hideki by making that par putt, but I wouldn't have blamed any casual sports fan who might've changed the channel when Hideki pushed the lead to 6 early on the second nine. Plus there were periods on the first nine today where the quality of golf being played was really poor across the board. It felt like everybody was grinding on holes 2-7 today. This Tournament was largely won by Hideki's 30 on the second nine Saturday, and not a lot happened today that cast a lot of doubt that the green jacket would eventually be his.
There ya have it. Best week of the golf year. Thanks for following along all week and see you in Hilton Head for the RBC Heritage.