Jayson Tatum Owns The City Of Los Angeles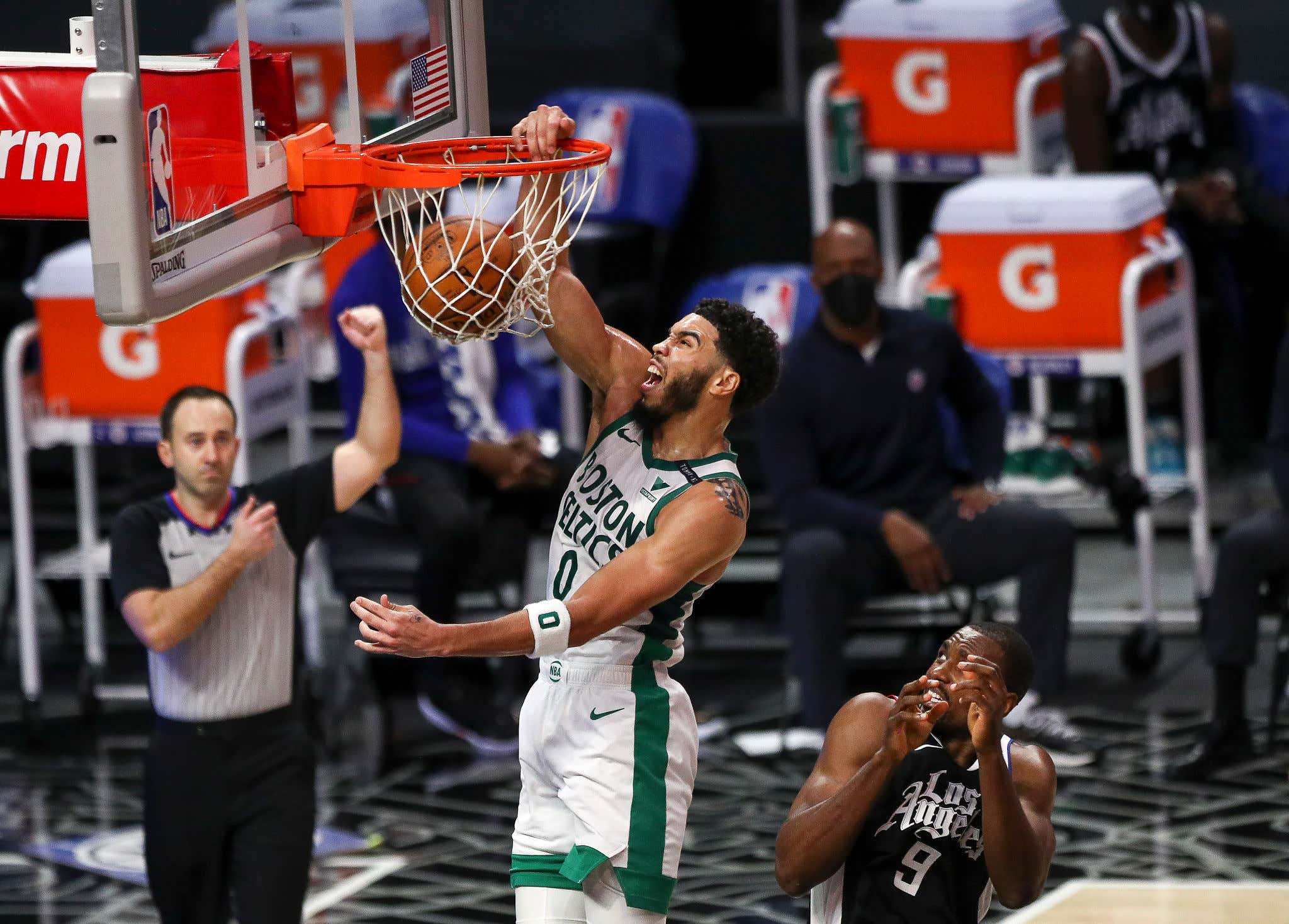 Meg Oliphant. Getty Images.
Coming off another choked away winnable game against the Kings, there's no denying the Celts were facing an uphill battle to finish out this West Coast trip. The Clippers had been rolling, owned one of the best records in the NBA, and were pretty big favorites heading in as they should have been. Then we learned that Jaylen Brown was getting the night off (he deserves it) and things looked even grimmer. Fortunately, the Celts did end up catching a break with Paul George also getting the night off, but this Clippers team is still loaded with talent. If they didn't play well, this could have started a big time spiral to end the trip where 1-4 was a very real possibility.
So what happened? In typical Celtics fashion, they had their best win of the season to date. 
The haters are sick over it. Ever since the Kings loss all I had in my mentions was how bad this team is, how Brad needs to be fired and how Kemba is beyond washed up. Are they perfect? Fuck no. They still have a billion things to improve on if they want to get to the level we all want to see, but a lot of people out there need to relacx. Last night showed us that this team is capable of hanging with any team in the league. Even the big bad teams in LA. Not only that, but they can do it shorthanded. 
This is the type of win that can really spark a momentum run. That's the next test for this team. Ride this wave into PHX and don't drop an egg. You took a giant leap forward last night, don't immediately take 10 steps backwards. Finish this trip strong and you're looking at a possibly 4-1 run. 4-1 is on the table, which is crazy.
But before we look ahead to tomorrow night, we first have to relive the best win of the year
The Good
- Remember a few blogs ago when I asked if anyone else wakes up every day and thanks God that Jayson Tatum is in our lives? If you're not doing that well then shame on you because last night is the exact reason why I do it. 
We've learned something pretty important when it comes to Jayson Tatum and these LA teams, two teams many think are Finals favorites. They do not have a single player on their roster that can guard Jayson Tatum. I'm not even remotely kidding. Against the Lakers it was 30/9/3 on 66/66% splits. Last night against Kawhi fucking Leonard and the Clippers it was 34/7/2 on 44/50% splits. In his last three games against the Clippers, this is what we're seeing Tatum do
Kawhi, Paul George, it doesn't even come close to mattering. In the Kawhi vs Tatum battle last night, it was a bloodbath
Not only that, but on one of the biggest possessions of the fourth quarter we saw Tatum pull a Kawhi…..on Kawhi. He got him with his own move defensively to spark a huge steal. I've been pretty hesitant to put Tatum in that top 10 category because I want to see him at this level consistently, but it's getting harder and harder with each passing game. We've seen him win his matchup against guys like Giannis, LeBron, AD, Kawhi, the list goes on and on. Those are the best fucking defenders in the league! 
As long as Jayson Tatum is alive, this team can beat anyone in the league, regardless of who is out. No Jaylen or Smart? Fine, that just means more Tatum and that my friends is a true blessing.
Oh, and he runs LA
- He started slow, and I am man enough to admit it made me a little nervous, but boy did Kemba Walker show up and come through in the second half, especially in the fourth quarter
Boy did we all need to see a performance like this. He was 6-10 for 14 points in the second half, including a gigantic 4-6 for 10 points in the fourth quarter. He was making huuuuuuge late game midrange jumpers. That's what tells me Kemba is feeling great with that knee. His lift is great, he was able to get by people off the dribble and finally finished around the rim, this is the version of Kemba that this team needs.. It's maybe taken him a little longer than we all hoped to get back to his old self, but last night was a huge step in that direction. Now he just needs to build on it. This means nothing if he also takes a step back. But there's no denying that we ALL had huge sighs of relief watching him in the fourth. He was the closer we are used to seeing and boy does it fill my heart with joy.
- It's OK to admit it, none of us saw that third quarter coming. How could you given the fact that the Celts almost always come out fo the half and look like they are completely asleep. Things usually trend in the opposite direction. Instead, we saw a 38-20 quarter. An 11 point deficit turned into a 7 point lead and they did it through finally playing defense. Some of the best defense we've seen them play all season.
The encouraging part is the fact that after the Clippers shot about 90% in the first half, this team didn't lose mental focus. They didn't play the "woe is me" card and say well maybe this just isn't their night. They were aggressive, they played with great energy on the defensive end and looked like a completely different team. That's what won them the game.
- I've said it before and I'll say it again. I am buying all the Carsen stock. I'll never give up on him. I truly think if given a consistent opportunity he can be the microwave shooter the second unit needs. This is what that looks like
Is it a stretch to say this may have been his best game as a Celtic….ever? I don't think so. He hasn't had many opportunities but I cannot understand why he shouldn't be getting all of Teague's minutes. If he's going to make his threes and show signs of improvement on defense, he needs to be playing way more while Smart is out. This bench needs scoring and Carsen can score in bunches in like 5 seconds. They lose this game without him there's no doubt about that. If he hits his first shot, watch out.
What I loved about his night was nothing really felt forced. He played within himself and the offense. It felt like he wasn't afraid of making mistakes which is huge for a young player. I hope we see a lot more of Carsen in these last two games.
- I'm not alone when I say that up until this West Coast trip, Tristan Thompson has kept me up at night. Why was he so bad? Well if we want to talk about how poor his start was, we have to talk about how awesome he's been on this trip. He's a completely different player
Is this the version we're going to be getting all the time? How can I make that happen. He's been fantastic on both ends and the exact player I think we all were hoping for when he signed. I've especially been impressed with his one on one offense. That shit looked terrible to start the year, but now I almost want him to catch the ball and go into that baby hook. Nobody has been able to stop it this trip.
- On a scale of 1 to 10, I'd say I was a comfortable 50 in my relief factor watching Payton Pritchard return to the lineup and not skip a damn beat
The kid is a lock for like 8/3 on ridiculously efficient shooting. Last night it was 8/2 on 75/66% splits with 0 TOs in his 19 minutes. 
That's all I need from Pritchard. Come in and be a solid, efficient, back up point guard. Make your open threes and give it your all defensively. That's what he's done since Day 1 and it was so good to have this back in our lives again. It's insane he's probably our second most reliable point guard on the roster, but don't question it. Just enjoy the ride.
- Should we start talking about Grant's three point shooting? Another 3-4 last night, he's shooting over 50% from three on 55 attempts since the 2020 playoffs. He's making big time shots at huge moments in real games this season. This is the same guy that started 0-26 or some shit in his career. What a revelation that's been. He gave this team 31 huge minutes last night and you can see why Brad plays him. He's versatile, he now can consistently make threes, Grant was great in this game.
The same is true of Rob. Only 15 minutes but a big 10/2 on 5-8 shooting with great defense. Those two played a crucial role in this win against a team of that caliber, I mean what more could you ask for.  Maybe more minutes from Rob, that's about it.
- How about that late game execution? The Celtics finally didn't poop their pants in the fourth quarter of a close game! They almost did, but they held on so it's whatever! Only 6 TOs on the night and they made their late fourth FTs. Does everyone see how important those are now and why missing them is a big deal? Man was it great to see them finally not throw a game away that they should win. 
The Bad
- I get why Brad tried the triple big lineup to start this game, but I don't need to see it again. There's a reason the Clippers started this game never missing a shot because nobody could get out and constest. It's no surprise we saw this team go small the rest of the way. I commend him for thinking outside the box, but we can throw that one away. Especially because the Suns do not play big outside of Ayton. 
- Sure, maybe I am paranoid, but I don't like all this talk about general knee soreness for both Jaylen and Daniel Theis. Not with this team's injury history. I can't help it but I'm nervous.
- It's pretty important that the Celts find a way to stop giving up a shit ton of fourth quarter points. They gave up 35 the other night in SAC and then another 33 last night in LA. That is not the time to play some of your worst defense in the game. We all knew that 7 point lead heading into the fourth wasn't going to hold, and I can't really remember a time we saw this team really dig in defensively in the fourth quarter. That's a tad concerning and something I hope is not turning into a bad habit.
- Getting the business from Luke Kennard/Nic Batum to start this game was easily a top 10 frustrating moment of the season so far. Who eve knew Nic Batum was even a real person after he'd gone missing for years in CHA. The fact that they made 7 3PM was highly frustrating.
The Ugly
- Do I even have to say it? You know what this is. It's the Jeff Teague minutes. What exactly did he do in his 16 minutes off the bench? Well he missed every shot he took (0-4, 0-3) including some big wide open threes. He was slow moving the ball which clunked up the offense, he had a ball bounce off his face which led to Clippers points, and defensively he was generally terrible.
Like I said, if Carsen is going to play like this, he needs all the Teague minutes right now. This was a big opportunity for Teague to separate himself with Pritchard/Smart out and I suppose he has. It's just gone in the opposite direction to the end of the bench.
Wins like this don't come along very often, especially when you are missing your second best player. But if they don't finish this trip strong, it's mostly all for nothing. All I know is there is not a team in the league that I fear going up against. I've seen enough to know this team can battle anyone, now they just have to find a way to replicate how they closed this game. Then we'll be cooking with gas.