Reports Indicate That Jeffrey Lurie Is Almost On The Final Stage Of The D.E.N.N.I.S. System With The Philadelphia Eagles
Kevin C. Cox. Getty Images.
Inquirer - Eagles owner Jeffrey Lurie for the first time in years — and perhaps ever — didn't travel to his team's road game last Sunday.
Lurie's frustration with his team has been mounting, and his absence in Cleveland was widely believed by many at the NovaCare Complex to primarily be an extension of his feelings, two team sources said.
…Lurie also has been at recent practices and has left various workouts early out of disgust, the sources said.
The 69-year-old Lurie uses his private plane to travel to most road games. On West Coast trips he usually travels on the team's chartered flight. He had attended the Eagles' first nine games this season. In the past, even sickness hadn't kept him from following his team, no matter where it played.
Are you sick and tired of this dog shit Philadelphia Eagles team? Do you want the organization to blow it all up and completely start over? Do you wish you could do quite literally anything else with your Sunday afternoons rather than have your week constantly ruined by these assholes?
Well then it turns out that you and Jeffrey Lurie have quite a bit in common. Aside from the fact that he's a billionaire who owns the team and everything. 
I don't want to be one of those guys who always needs to make relationship metaphors to talk about a professional sports team, but I'm gonna go ahead and do that right now. Because it's pretty damn obvious that Jeffrey Lurie is ready to break up with this Eagles team. Whether it's Doug or Howie or Carson or everybody, Mr. Lurie is ready for some strange. But he can't just come out and say he wants to break up with them right away. He needs to carefully orchestrate this breakup to make it feel like it wasn't even his idea in the first place. He needs to make Doug feel like Doug is ready for a breakup. He needs to make Howie feel like Howie is ready for a breakup. He needs to make Carson feel like Carson is ready for a breakup. He needs to Neglect everybody emotionally right now so that he can eventually Separate entirely.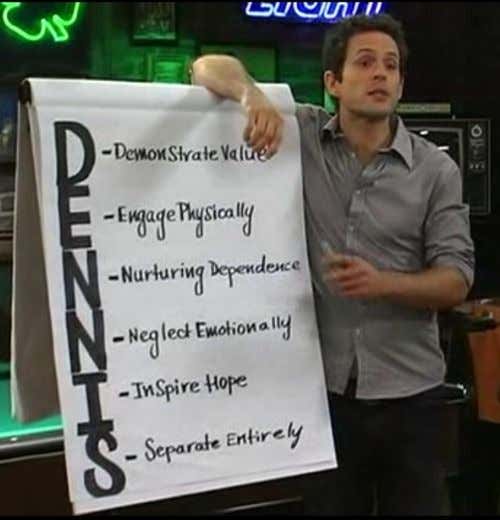 He's Demonstrated value. He's Engaged physically. He's Nurtured dependance. And right now he is neglecting. He's walking out of practices in disgust. He's not even travelling to away games. He's as out on this Eagles team as anybody who has invested $195 million into this team could possibly be. So naturally, the next thing to do is to inspire a little bit of hope. Maybe there's a chance for this Eagles team after all. And what could that hope possibly be?
Injecting a little Jalen Hurts into the mix. Is it actually going to work? Of course not. But Jalen Hurts taking over as the starter isn't the end goal here. Separating Entirely is. And once we all find out that the little hope that Jalen would provide to this team wouldn't be enough to fix all the flaws, then Mr. Lurie can separate. Then he can fire Howie and fire Doug and completely overhaul this roster. There are necessary steps that need to be followed here, but all signs are pointing towards Jeffrey Lurie completely a full D.E.N.N.I.S. on the Eagles by the end of the season.