Fore Please! Your 2020 Masters Recap
Rob Carr. Getty Images.
What a week at The Masters. It may not have been the most exciting Masters down the stretch but hell. We waited 19 months for this thing and I'm sure as shit not going to complain. There was a ton of great golf played and Dustin Johnson is a guy who has been long overdue for a Green Jacket and a 2nd major. And as I just blogged, it means the world to the guy. The Masters is supposed to bring out the best in these guys and there's no question that the best player won.
Plenty of other winners (and losers) this week, so let's get to it.
Winners
Dustin Johnson
Rob Carr. Getty Images.
Obviously. 65-70-65-68 at ANGC is the stuff of legends. There were five rounds of 65 this week and DJ had two of them. Hit 60 of 72 greens and made it look easy. Might not be his last green jacket. Hard to imagine he doesn't rack up a few more majors too. Stud.
Cameron Smith
Rob Carr. Getty Images.
What a week this guy had. First player in the history of The Masters to drop 4 rounds in the 60's EVER. You almost feel bad for him because that -15 number that him and Im posted was good enough to win all but 8 Masters outright. He's got a T-2 and a T-5 at the Masters to his name to go with a T-4 back at the 2015 US Open at Chambers Bay. Everyone makes a fuss about the Wolffs and Hovlands and Schefflers of the world about who may break through next, but they may have to get in line behind Cam when it comes to the majors. I would like to see him win a couple more times on Tour (he won the Sony earlier this year and tag-teamed the Zurich with Jonas Blixt) and with the way he played this weekend, he may do just that.
Dylan Fritelli, CT Pan, and Corey Conners
Rob Carr. Getty Images.
Top 12 gets you into next year's Masters and these guys punched their tickets. There's a handful of ways to qualify for the Masters and one of main ways is to be ranked in the OWGR top 50 at the end of the calendar year. With very few events between now and December 31st, these are 3 guys that were on the outside looking in for that qualification and played great golf on Sunday to lock up their spot. This was especially huge for Pan as he came into this tournament ranked 176th in the world and had very few alternatives outside of winning another event between now and April. Good for him and all of these guys.
Amanda Balionis
Rob Carr. Getty Images.
Amanda wins damn near every week and the interview with DJ was maybe her biggest W yet. But on top of that I thought she also delivered what I thought was the lowkey funniest line of the coverage when she was interviewing Bryson. 
He was going on and on about his stomach and body not feeling right and how it was really weird how he bladed a ball on 8 and how he felt dizzy at times and she just responds "this place will do that to you". Anybody listening to Bryson at that point was rolling their eyes at him rattling off excuse after excuse and she just delivered that dagger. I've been trying like hell to find video because intentional or not, it was my favorite moment of any interview this weekend.
Losers
Bryson Dechambeau
Jamie Squire. Getty Images.
I've probably railed on this guy enough for one week, but I've just got one more thing to add. The whole thing about him being dizzy and whatnot was very extremely on brand. I won't in good conscience say that he's a faker and is making excuses and all of that just in the off-chance that actually does go get that bloodwork done and is legitimately sick, but I'll just say the timing is eerie. 
Bubba Watson
Rob Carr. Getty Images.
Bubba was a popular mid-tier pick for many this week for obvious reasons. 2 time Masters champion blah blah blah blah. He had a bit of a rough one out there on Sunday. Carded a 78 including 7 bogeys and a double. Throughout the week everybody had to deal with mudballs, but nobody made everyone aware of it like Bubba. Bubba vs mudballs is one of the great rivalries in the game and he lost this weekend.
He's only got one Top 10 in his last 6 Masters starts, so the Augusta shine is starting to come off Bubba a bit.
Nike Athletes (except Tiger)
Rob Carr. Getty Images.
Jamie Squire. Getty Images.
Jamie Squire. Getty Images.
I just have to say something. Most of the Nike outfits I saw out there were #trash. Especially Friday and Saturday. Saw waaaay too much of that poop colored pattern you see on Patrick Reed up there. Salvaged it a bit with some cleaner fits on Sunday but clean it up Nike.
The Tiger Woods Section
Jamie Squire. Getty Images.
Tiger birdied 5 of his last 6.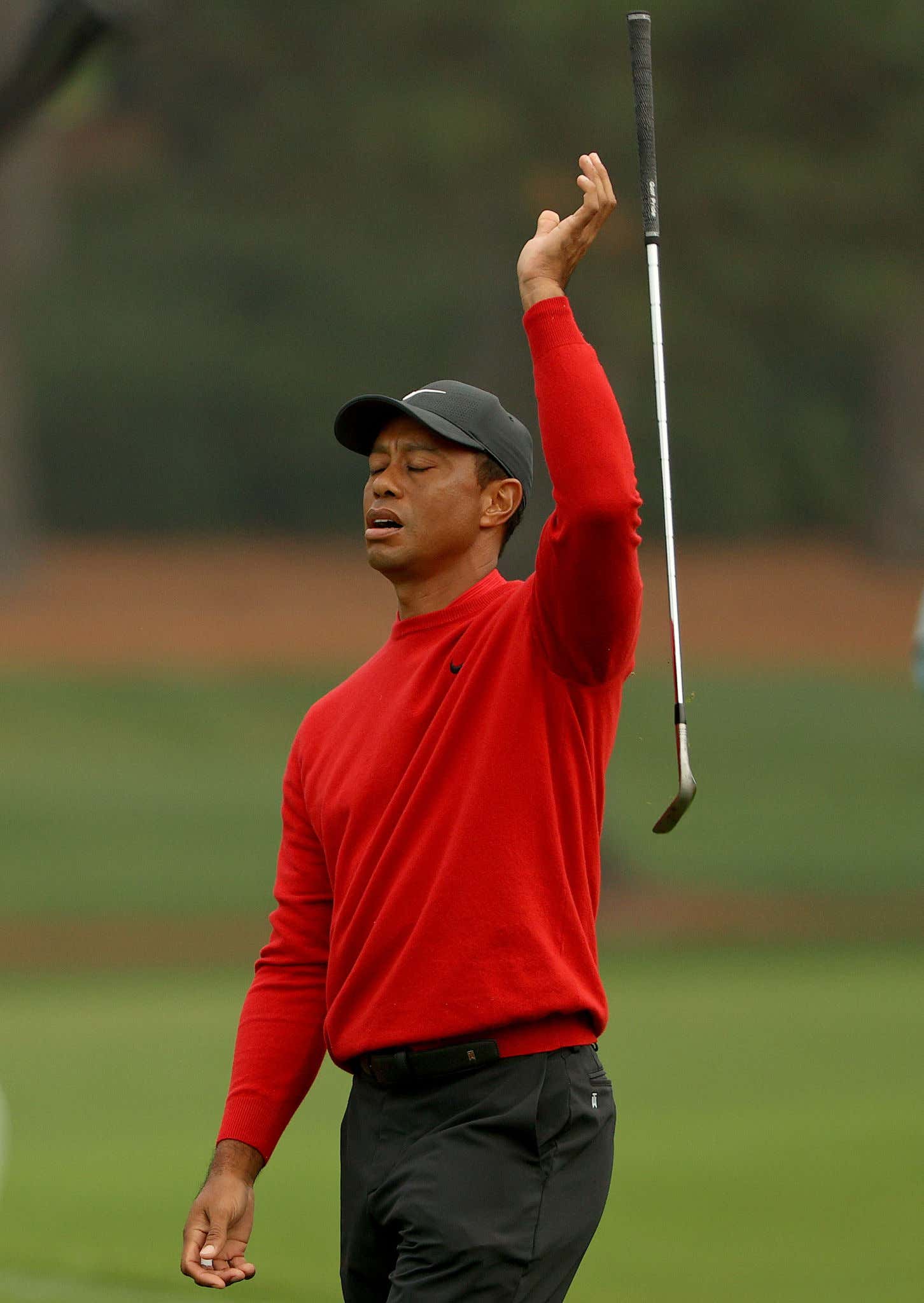 Patrick Smith. Getty Images.
Patrick Smith. Getty Images.
Sunday Highlights
The winning putt
Fleetwood with a sick bump and run that very likely had enough run to roll into Rae's Creek if it doesn't hit the flagstick
Cam Smith's voodoo shit on the First Nine
I guess Bryson gets one highlight where he flips a wedge into 13 and almost makes double eagle
And of course, Dustin Johnson receiving his Green Jacket from Tiger Woods
Thanks for following along. The 2021 Masters is a mere 144 days away. Can't. Wait.