Wake Up (late) With An Indonesian Serial Killer Nicknamed "The Black Magic Killer" Who Used To Drink His Victims' Saliva
Never did a "Wake Up" blog before... They seem kinda dumb but to each their own.
Giphy Images.
This isn't an old-timey Jack-The-Ripper-esque story.  Indonesian serial killer Ahman Suradji (known as "The Black Magic Killer") reportedly started his killing spree in 1986… The same year Top Gun hit the big screen and Alf entered into living rooms through a handful of lower IQ-owned TVs.
Giphy Images.
By the way: I wrote about this once before and spoke about this endless times at bars- The dad from Alf, the late-great Max Wright, went from sitcom "fame" to (allegedly) blowing homeless guys for crack.
Back to Ahman Suradji… His fucked up behavior started after his dead father appeared to him in a dream and ordered him to kill 70 women.  Soooooo, for the next 13 years, he set out to achieve that goal. 
A little background on Suradji: He openly practiced witchcraft in his village, and some of his victims came to him in hopes that his magic would help them solve their problems.
I used the word "village" there because I know nothing about the makeup of rural Indonesia in 1986 (and don't care to), and I assume witchcraft is seen as a viable profession primarily in villages, as opposed to towns or cities.  I suppose I could've chosen the words "Indonesian hamlet", but that seems too New England-ish.
I also think there are very few 1986 cultures where witch doctors would still make sense, but Indonesia is definitely one of them, along with African cultures (Zah told me), and late 80s Irish witch doctors, who primarily were consulted to cure hangovers, small dicks, and maternal guilt.
Back to Ahman Suradji again… So these desperate villagers would show up at his yurt looking for some black magic assistance, and The Black Magic Killer instead lured them into a field where he convinced them to let him bury them up to the waist… Which, for those who don't know (non-Indonesian, African or Irish), was a popular practice for practicing witches. 
I was going to throw some Indonesian cheesecake in right here, but here's what 'spit' out when I searched "hot Indonesian"…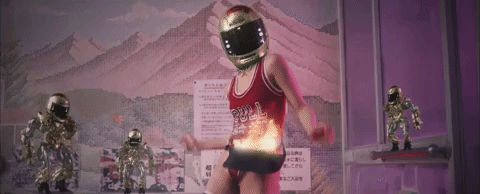 Giphy Images.
Back to Ahman Suradji one last time… Then he strangled his half-buried patients, and, after they were dead, he drank their saliva, believing that it would enhance his own magic powers.  He would essentially milk their salivary glands and do shots of (what I assume was) filthy blood-flecked Indonesian spit.
Giphy Images.
Finally, he buried them completely, making sure their underground faces were pointing toward his own home.
In total, he wound up killing 'only' 42 women and girls, missing his dead dad's request of 70 by an embarrassing margin.
Ahman fled his village in the late-90s and now lives comfortably in a northern New Jersey suburb, where he owns a thriving dentist practice.
I made that last sentence up… In 1998, after police discovered some of The Black Magic Killer's buried victims, Suradji was arrested and eventually convicted of his crimes.
In 2008, he was executed by firing squad… One of his three wives (who were all sisters… which explains A LOT), was also convicted and sentenced to life as an accomplice.
So that's it… And outside of the NJ dentist thing (and possibly the Alf dad thing, but you do the legwork), that all really happened.
Why did I bring this up?… Well… Because The Black Magic Killer and a handful of other psychos were the subjects of this week's Twisted History of Serial Killers part II.
Give it a listen, enjoy your day, and take a shot of filthy blood-flecked Indonesian spit.
-Large
---