I Need Somebody That Had Tickets To This Years Masters To Hook Me Up With Some Pimento Cheese Sandwiches
Golf Digest - In the latest example of 2020 being the weirdest year ever, you can order an absolute feast from Augusta National to your home. Dubbed a "Taste of the Masters," the pimento cheese-filled package costs $150 and claims to serve 10-12 people. Have a look at this online menu unlike any other: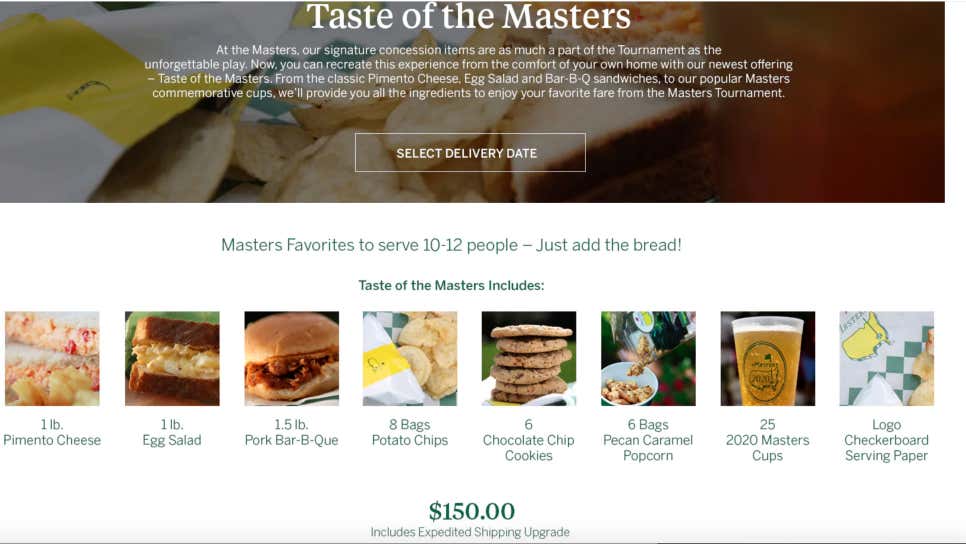 Seriously, though, this is pretty cool, and all that yummy food for $150 is a better deal than paying $175 for a Masters logo football. Plus, if we were to trust anyone to deliver perishable prepared foods, it would be Augusta National (you're paying for "expidited shipping upgrade"). They don't mess around there. Just look at the serving paper they included!

But before you start licking your lips in anticipation of that pork BBQ, you have to be a ticket holder to purchase this or any of the items from the online Masters Patron Shop, created this year with no fans being allowed to due COVID-19. And even if you are a patron, you are only allowed to make two purchases total.
This came across my radar last night and I almost jumped out of gym shorts. 
But then I read that this offer is only available to people who had tickets to this year's tournament…
I've traveled far and wide and made it a point everywhere I go to try the best of the best of what that town or city's know for food-wise. (I documented my top sandwiches in this blog a few months back.)
Some of the more elusive items I've sadly never got to try come from The Masters' concession stands. 
For years now I've heard from countless friends and people on the internet about how off the charts the chicken sandwich, pimento cheese, and even the egg salad sandwiches are. And I don't doubt it whatsoever. Want to know why? 
Look at this.
No pomp and circumstance. No razzle-dazzle. Just bread, cream cheese, cheddar cheese, mayonnaise, and pimentos. Wrapped in that lovely wax paper wrapper and sold for the ridiculous price of $1.50
Unbelievable. 
Now the chicken sandwich I hear is a big hitter. Talking I've been told it goes toe to toe with any grilled bbq sandwich on the block. Bummer that this isn't offered in this package, but I get it. 
I'm not the biggest golf guy in the world but as is the case for every red-blooded American male, attending a Masters has been a bucket-list item for years and years. Tickets are not easy to get. Unless you're Trent or Riggs. I'd like to think that if and when I do get to go to Augusta, I'll starve myself for a couple days ahead of time, and go off on these concession stands over the weekend. And with a menu like this, you could be eating and drinking like a king for $40 bucks a day. 
That is how you throw a party. 
Baseball parks and football stadiums could learn a thing or two. 
If any of you lucky bastards wants to go halves on this package and live in Chicago, Columbus, Cleveland, Detroit, or Minneapolis or around one of those let me know. I'll come to you. Dead serious.