Chicago Is Home To The Greatest Sandwich In America. And Sorry But It's Not Italian Beef.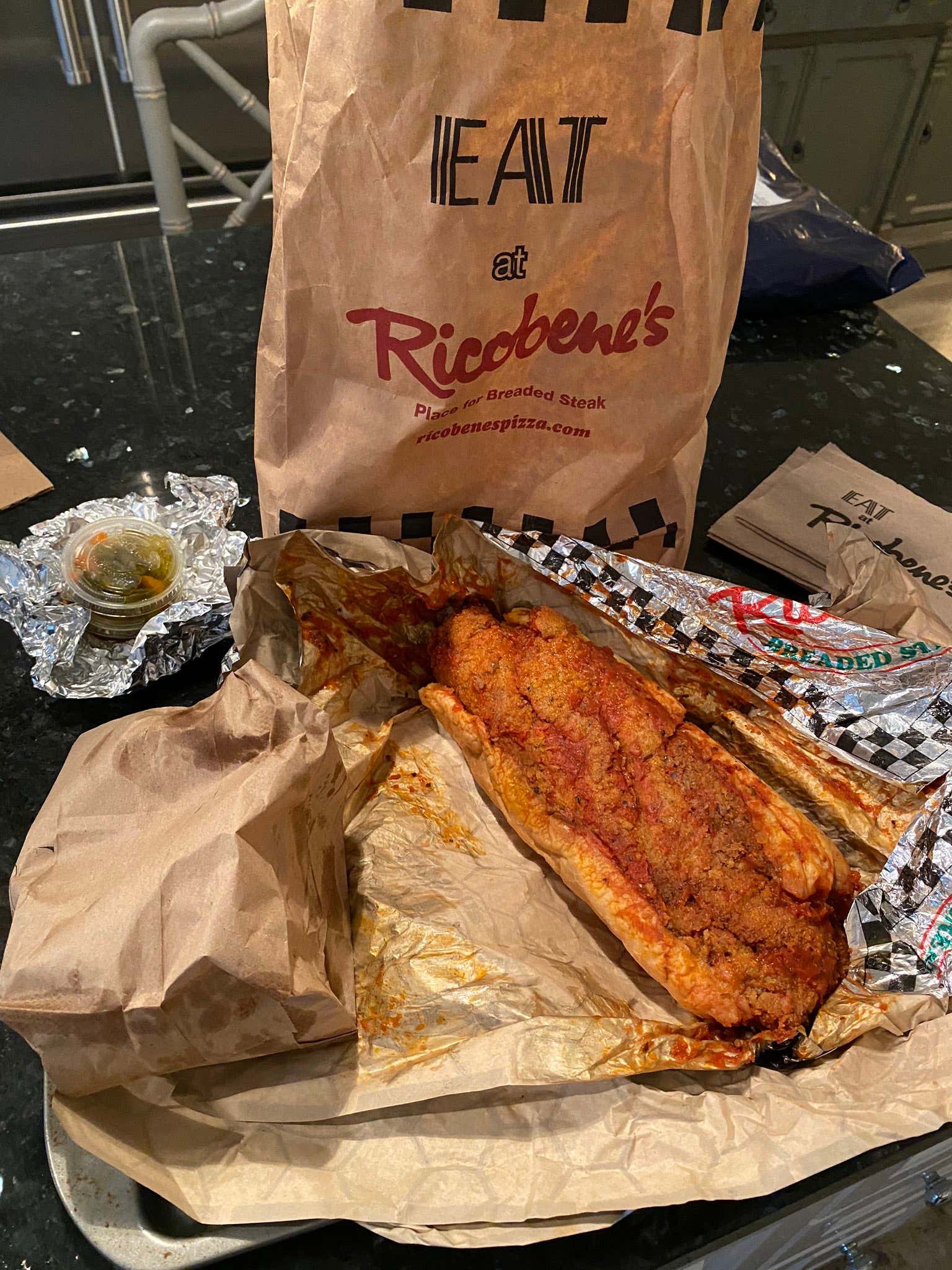 Ladies and gentlemen this sandwich from Ricobene's, on the South Side of Chicago, might not be the prettiest, it might not be "instagram-able" enough for the foodies out there, but it is, without a doubt, pound for pound, the undisputed best sandwich in America. It's called a "breaded steak" and what it lacks in aesthetic appeal it more than makes up for in taste. And since this isn't a beauty pageant, that's what matters here.
Similar to a chicken parm sub, or a chicken cutlet sandwich, the base for this culinary miracle is a cut of sirloin, pounded extremely thin like braciole, then breaded and fried. It's then put on a great roll and. slathered in a red sauce. They'll melt shredded mozzarella on it for you if you'd like or add giardiniera (hot only). It's a ten to twenty napkin mess to eat but it's worth it. 
And I know the South Side peanut gallery is going to chirp me that it's not even the best breaded steak in Bridgeport- shout out to Freddie's and Punky's, but it is the most consistently perfect product out of the three and you can't argue that. And I am a huge Freddie's (fire meatball subs) and Punky's (sausage + peppers sandwich is A+) guy.  
Something that got lost in the whole BSS Chicago/Kmarko incident two weeks ago was that I unknowingly walked into a hornets nest, the Barstool Chicago/local Statefarm office, carrying 7 of the greatest sandwiches in America as a surprise and nobody cared. I was stunned. I texted the guys that morning not to eat lunch because I had a surprise. Drove down to Bridgeport, waited a pretty ridiculous amount of time for lunch on a Monday afternoon (but well worth it), then waltzed into the office expecting a hero's welcome. I pictured WSD doing cartwheels down the hall. Eddie hoisting me up on his shoulders. Chief thanking me profusely like he always does (guy is extremely well mannered). And Carl asking me why I had them put the giardiniera on the side. Instead, it was like I walked into a funeral. The guys were so disappointed and fired up over what happened that weekend they barely noticed the 20lb sack of breaded steaks I was carrying. (However Danny and camera guy Matt were both extremely overjoyed and grateful). 
I left the office asking myself if I'd been overhyping the Ricobene's breaded steak to myself this whole time.
The rest of the week I questioned myself. Then I decided to run it back. So on Monday night I went and grabbed two more. Brought one home for my fiancé who had never tried one before. She agreed with me. Then I posted my tweet above and there wasn't a single objection. I was relieved. 
I moved to Chicago for school 17 years ago. One of the first friends I made at Loyola was another Italian kid from Bridgeport. Like most people from that neighborhood, he knew everybody, and he knew good food. Some of the first few places he insisted on taking me were Freddie's in Cicero (this incredible spot that you walk into and feel like you're in somebody's grandmother's house and they serve you on paper plates straight out of caserole dishes. When something runs out, it's done. They also have one of the best sandwiches I've ever had- a breaded pork sandwich that sells out by noon everyday) La Scarola, Conte Di Savor, Bari, Fonatano's and Ricobene's. 
They were all solid, but the breaded steak from Ricobene's blew me away. I'd never had anything like it. Or seen or heard. When you boil it down it's nothing crazy. Basically a chicken parm but with steak instead of a chicken cutlet. But I'd never seen one on a menu anywhere on the east coast. And as time went by in Chicago aside from the handful of Bridgeport spots in Chicago I never saw it anywhere else in the city. And as work took me around the country and I got the chance to check off countless bucketlist dining destinations that I've compiled throughout years of watching Guy's DD&D's, Man vs. Food, Best Thing I Ever Ate, and the trusted advice of many friends whose opinion on food I value, I realized the breaded steak was a true Chicago specialty.
The Chicago guys, Carl for sure, will kill me for writing this but an Italian Beef is just a common-man's french dip. It's not as blue collar as a roast beef from Harrison's or Simard's, but it's not as pretentious as a french-dip with "au-jus" you'd see on a menu at a sitdown spot. The one that Al's does is out of this fucking world don't get me wrong, but if you haven't grown up eating them it's not something that's going to knock you or an out-of-towner's socks off. 
The Ricobene's breaded steak is.
And what's fuckin mind bottling to me is anytime you see one of these Best Sandwiches ranking articles it's nowhere to be found. Ever. (It's usually because those are pay-to-play advertisements in disguise but I digress) Even in Chicago it can't crack a top 25 for these foodie squids. Not sure if driving down to the South Side under an underpass is a deterrent or what. 
If you know about Ricobene's and this sandwich you know. If you don't then I couldn't suggest you get familiar any stronger.
Here's my personal, as in me, myself, top ten -
#1- Breaded Steak from Ricobene's Chicago
Perfection
#2- Roast Pork Sandwich from John's in Philadelphia
Kind of like the whole Chicago known for Italian Beef while the breaded steak is definitely king situation I'm in the roast pork over the cheesesteak camp when it comes to Philly. Do Philly's big three Pat's, Gino's, and Tony Luke's put out a primo cheesesteak? Absolutely. (Though not my favorite, more on that below). But I've had roast pork sandwiches from Dinic's (out of this world) and John's that have blown my mind. This sandwich is extremely basic- incredibly moist pork, sharp provolone, on a sesame seed Carangi roll, topped with broccoli-rabe. Absolute fire. How is this not more popular with tourists and visitors to Philadelphia? (Supposedly John's also has one of the best cheesesteaks in the city. But I've never tried it because I can't bring myself not to get a roast pork)
#3- Lobster Roll from Abbot's in Noank, CT
I'd put Abbot's and Red's (on RT 1 in Wiscasset, Maine) neck and neck for lobster rolls in New England. Abbot's takes it for me though. Just an absurd amount of fresh lobster piled high on a perfectly buttered bun. 
#4- D'allesandro's cheesesteak in Philadelphia, PA
When we were doing shows almost every week in Philly for Blackout tour I was on a tear of Philly food spots. I hit them all. I was touting Pat's one day to one of our guys who asked where to get a cheesesteak and Lightswitch Lou overheard me and laughed. Told me I didn't know what I was talking about and that the next day he'd take me to the best spot. Next day we pull up to this tiny storefront named D'allesandro's. He got me their standard cheesesteak with onions and red sauce and it rocked my world. After the roast pork, this sandwich is my second must-have anytime I'm in Philly.
#5- Italian sub from Whitehouse Sub's in Atlantic City, NJ
An Italian sub is an Italian sub am I right? 
Wrong.
Not when it's from this place. 
Whitehouse Subs had been hyped to the moon to me by all my Jersey friends, my fiance's brothers, and tons of people on twitter. Even when I unrolled the wax paper and looked at it for the first time I thought to myself that it looked pretty standard. Which it does. But I don't know what the hell this place does, this is THE Italian sub (I refuse to use the word hoagie). Everything about it is perfect. 
#6- Fried Bologna sandwich from Turkey and The Wolf in New Orleans, LA
This fuckin thing. 
Man let me tell you. 
Bologna is tough to dress up and talk fancy about. But when its thick cut and fried perfectly like Turkey and The Wolf does it's on another level. This bad boy sits on Texas toast (why don't more places use this? Is anybody not a fan?) They dress it with shredded lettuce, spicy brown mustard, melted American cheese, and spicy homemade russet potato chips. It's a 10.
#7- The Dennis from Parisi in New York, NY
This place is always a madhouse and for good reason. They have like 20 sandwiches that are prime time plus you can make your own. This one, The Dennis is my go-to. It's breaded chicken cutlets, prosciutto, mozzarella, lettuce, tomato, and balsamic glaze on a PERFECT roll (you can never discount the bread). This sandwich is worth the wait and delivers every time.
#8- The Georgia Reuben from Zingerman's Deli in Ann Arbor, MI
Zingerman's is legendary. Everything on the menu is fantastic. The #18 Georgia Reuben is my go-to. It's a turkey sandwich, with swiss emmental cheese, their homemade coleslaw & Russian dressing on grilled rye bread. Out of this world. (The Lisa Cs Boisterous Brisket is also phenomenal) 
#9- Roast Beef from Cutty's in Brookline, MA
You can't go wrong when it comes to roast beef on the north shore of Massachusetts. There's so many amazing spots up and down it- Harrison's, Zeno's, Bill & Bob's. Cutty's (not Jay) is my favorite. They throw fried shallots (I'm a huge shallot guy), sharp cheddar and horseradish-spiked Thousand Island all on a black-pepper brioche bun. Fuego.
#10- Pork Meatball sandwich from Lardo in Portland, OR
When I was out in Oregon this was the spot that showed up on everybody I asked for suggestions lists. Lardo. This was the sandwich everybody at the shop told me to get. I was floored. Its fried pork meatballs, with a kimchi pickled vegetable spread, spicy siracha mayonnaise, cilantro, and thin slices of cucumber. I know it sounds foo-foo but this sandwich was so good I went back the next day and ordered it again to take for the bus ride. 
#'s 11-21 in no particular order 
I know everybody's got some solid under the radar go-to's. 
Please drop them in the comments or send my way on twitter so I can add to my list to checkout.