Everything You Need To Know For Game 3 Of The NBA Finals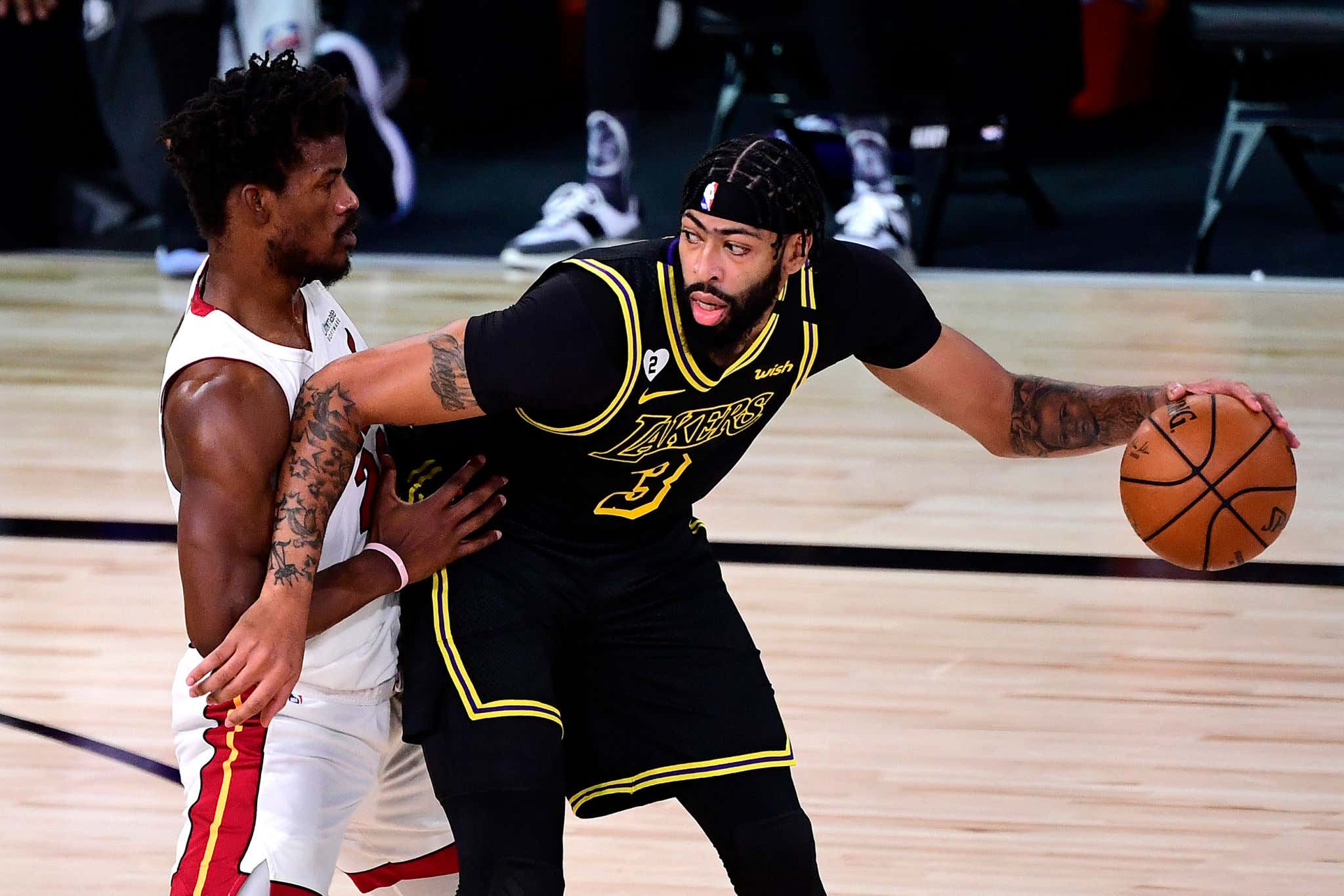 Douglas P. DeFelice. Getty Images.
I know I know I know today if football Sunday. But it's also Game 3 of the NBA Finals tonight so we're going to talk about it. Games haven't even kicked off yet so just give me a minute of your time. I think a lot of people were expected the Lakers to come out and blow this team out in Game 2 after what we saw in the opener, but you have to give the Heat credit. They hung in there and played with much more of a fight. Granted it didn't mean much because they still lost by double digits (10), and for me that would almost be more painful. They were in this game pretty much the whole way, and if they had Dragic/Bam who knows what might have happened. I'd rather get blown out every night so I wouldn't have to play that "what if" game as a Heat fan if it were me. 
So while technically this series isn't "over", if the Lakers go up 3-0, is very much is. That's sort of what happens when no team in the history of the NBA has ever come back from 0-3. So you could effectively say the title is on the line tonight. Let's get your ready for tonight's tip off.
Los Angeles Lakers (2-0) vs Miami Heat (0-2) 8:30 pm ET
What do you think Anthony Davis has to do to snag this Finals MVP? He leads the Lakers in scoring (again) at 33.0 a night, he leads them in rebounding (again) at 11.5, he's averaging 1.5 blocks a night, 3.0 assists while shooting 63/60% from the floor. Look at that shit! It was more of the same in Game 2
Any other series that's the MVP right? Well, when you're on a team with LeBron James who has been just as dominant with a 29/11/9 on 54% shooting, and made his own bit of NBA Finals history in. Game 2 with the 9 assists and 0 turnovers
There is no denying that these two have had their absolute way with the Heat during this Finals. They have no answer. It's not man to man, they are too big and will just head hunt all that weak Heat defenders. It's not zone, LeBron picked that shit apart with ease in Game 2. So what the hell do you do? Well you can pray. That's about it. There is nothing tactically that the Heat have been able to do that even comes close to slowing either of these two down. The scary part? The Lakers aren't even shooting that well as a team from deep! They were just 16-47 in Game 2, including 7-20 in the second half. There was a stretch of Game 2 where they missed 8 shots in a row, but the Heat couldn't close the gap. Sooner or later the Lakers are going to have a complete game offensively where their role players don't disappear in the second half. If they've been able to win with that already happening, I just don't know what you do.
As much as it pains me to see, Rajon Rondo has sneaky been the difference for that second unit. The man is shooting the ball lights out from three, he went 3-4 in Game 2, and I'm sorry but I'm ready to declare that is not a fluke. Rondo can just hit threes now. That's a thing that happens. Dunno where that was his entire career but he's found something from deep this postseason
Not only that, but he's picking this Heat team apart. A total of 10 assists and 1 TO in Game 2. From the backup point guard. The Heat simply don't have anything to match that.
So what should the Lakers do? Pretty simple. Don't change a thing. Just give the ball to LeBron/AD, let them destroy the will and hope of the Heat, and then come over the top with some dagger threes. Seems to be pretty effective so far.
On the Heat side, things are still looking pretty brutal when it comes to Dragic/Bam potentially suiting up
Granted there's still a ton of time before tonight's tip, but that's not sounding great. Even if they do play, how effective can they truly be? The whole thing is just such a bummer for the Heat. To have this magical run to the Finals only for your two best players to get hurt in the first half of Game 1, there's no denying it impacted the series. Even with Kelly Olynyk filling in during Game 2 and dropping 24/9 off the bench…..it's still Kelly Olynyk
This is a team that cannot afford offensive droughts, and they keep having them in the second quarter. Happened in Game 1, happened in Game 2. They simply don't have the firepower right now. Tyler Herro is shooting 36/27%. Duncan Robinson 20/20%. They were the whole reason the Heat were able to get this far. They have not even been close to being a threat from deep. Some of that is the Lakers defense, but some of it is just them missing open looks. Jimmy Butler has been great, but he can only do so much
If their outside shooting never shows up, and this zone defense that has been their secret weapon is ultimately ineffective, I'm not sure what Erik Spoelstra can do. Their biggest issue is their matchup problems. If their shooters aren't knocking down shots they immediately become huge liabilities. So far, that's been the story of the first two games for Miami.
At this point, you have to just stick to who you are, play hard as fuck, hope some shots actually fall, and pray for an off night. That's really all they can do. If that doesn't sound all that promising that's basically because it isn't, but what other choice do they have? Somehow find a way to prevent LeBron/AD from going 29-45 and maybe you have a chance to at least force this thing to go five games. If they don't and the Lakers go up 3-0, this shit will be over before you can even blink.