My Friend JackMac Is One Of The Hardest Working People At Barstool Sports
This blog is about my pal JackMac, but it's also about the different ways we approach work here on the Pirate Ship. 
It all began the other day when I tweeted out a promo for the Barstool App (Download here).
Brandon Walker? Please take note. 
Here's the thing about JackMac. He likes to chirp on Twitter, and being the same guy who blogged like five times about Akron -9, he also likes to double down. So after seeing me doing the job for which I was hired -- shooting video and promoting Barstool properties -- he decided to have a little fun at my expense (which seems to be a common theme of late around these parts).
Now, Jack and I have been friends/desk mates since I started working here. He's a good dude and more than that, he is a grinder. He works his ASS off. Not only does he produce the podcast Unnecessary Roughness under what can sometimes be called VERY difficult working conditions, but he's also part of Gaz's killer social team and then also blogs his dick off. He really is one of the hardest working people at Barstool Sports. I'm glad we're friends.
HOWEVER…
Sometimes he doesn't know when to stop. So I tweeted back, which caused this exchange. 
For the record there were two IG embeds in this article but I digress.
Honestly, it's all in good fun, as is this blog. It's not about calling him out, but you can't dangle that carrot in front of me and not expect me to take up the gauntlet. LOL Come on JackMac, you know me better than that.
So below is a comparison of the blogging data (number of blogs, word count, total word count, and average word count per blog) for the two of us since the start of the NFL season. 
You asked for this, JackMac.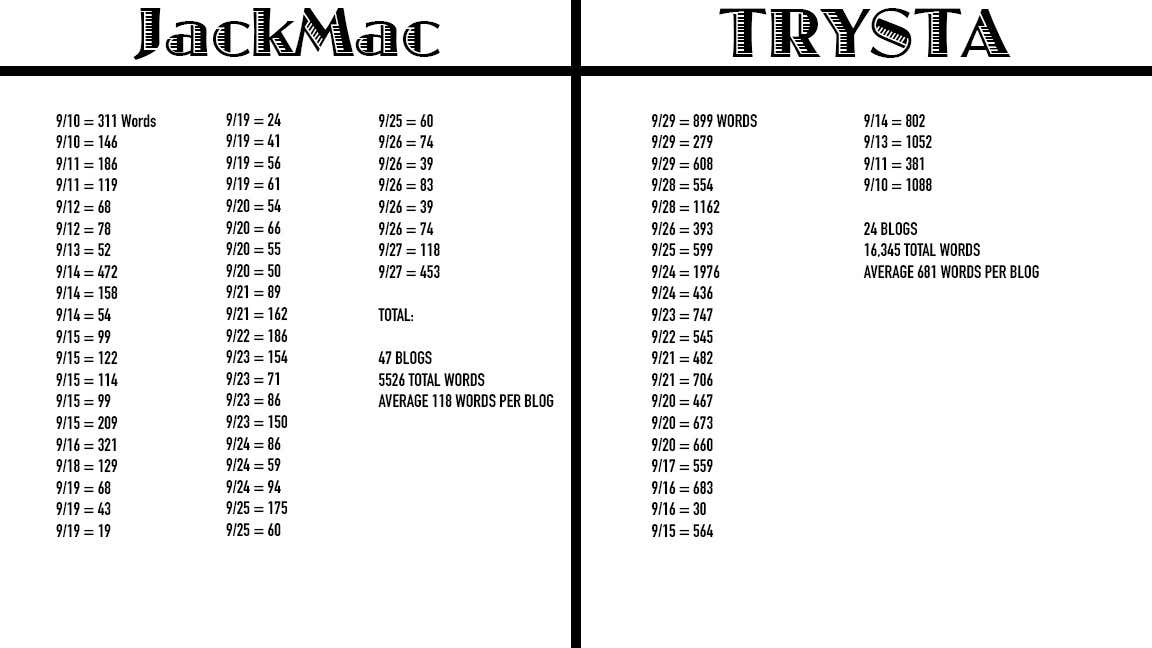 The point of this is not to call out JackMac -- who blogs his ASS off. 47 blogs in a little less than three weeks is a LOT of blogging. Like I said he's a grinder. 
But there is more than one way to skin a cat. Bloggers like KB and Nick produce blogs that are 2000-3000 words and might take a week to research and write. And that's valuable, for the site and for the brand. There are different ways of doing things.
I don't produce as many blogs as JackMac -- in fact the data shows he technically blogs twice as much as I do (47-24). But that's only one way to measure productivity. JackMac wrote 5526 words in his 47 blogs for an average of 118 words per blog. He also produced an astounding THIRTY blogs with under a 100 words, some of which could fit in their entirety inside a tweet. 
I produced 24 blogs, but wrote 16,345 words for an average of 681 words per blog. 
So I would point out that technically, I wrote three times as much as JackMac since the start of the NFL season, but that's not really the point. Well, I guess it is because in a roundabout way this started by a passive aggressive swipe at my work ethic and productivity because of the location of my promo video and the time of it's publishing. 
The bottom line is that I was not hired to blog, I was hired to do video, and have been doing a ton of that since I started, including three seasons of Stool Slang, Let Her Shoot, Barstool's BFF Game Show, a conversation series called Three Minute Tryst, a new video series about to drop in a month called Old Claims Court, along with doing radio and all of the other things content people do here at Barstool (getting scammed, having rap battles, "making caddies dig through the trash," and now apparently beefing with my teammates Tommy and Frankie in the Barrstool Fantasy Football League). 
LOL OOOH Some "controversy". 
The point of all this is that sometimes you see people on social chirp, "what do you actually do here?" to various Barstool personalities. As if they have ANY idea of how the sausage is made. The truth is, almost everyone here works their ass off, oftentimes in ways that aren't easy to quantify or easily seen. JackMac is def one of these guys. 
And truly, what we do isn't exactly working in the coal mines, so no matter how much time we put in and how productive we are, we're still all living the dream. So let's keep it pushing and not try and go all B90x on each other. 
Love you JackMac!!