10 Of My Biggest Questions Heading Into The Eastern Conference Finals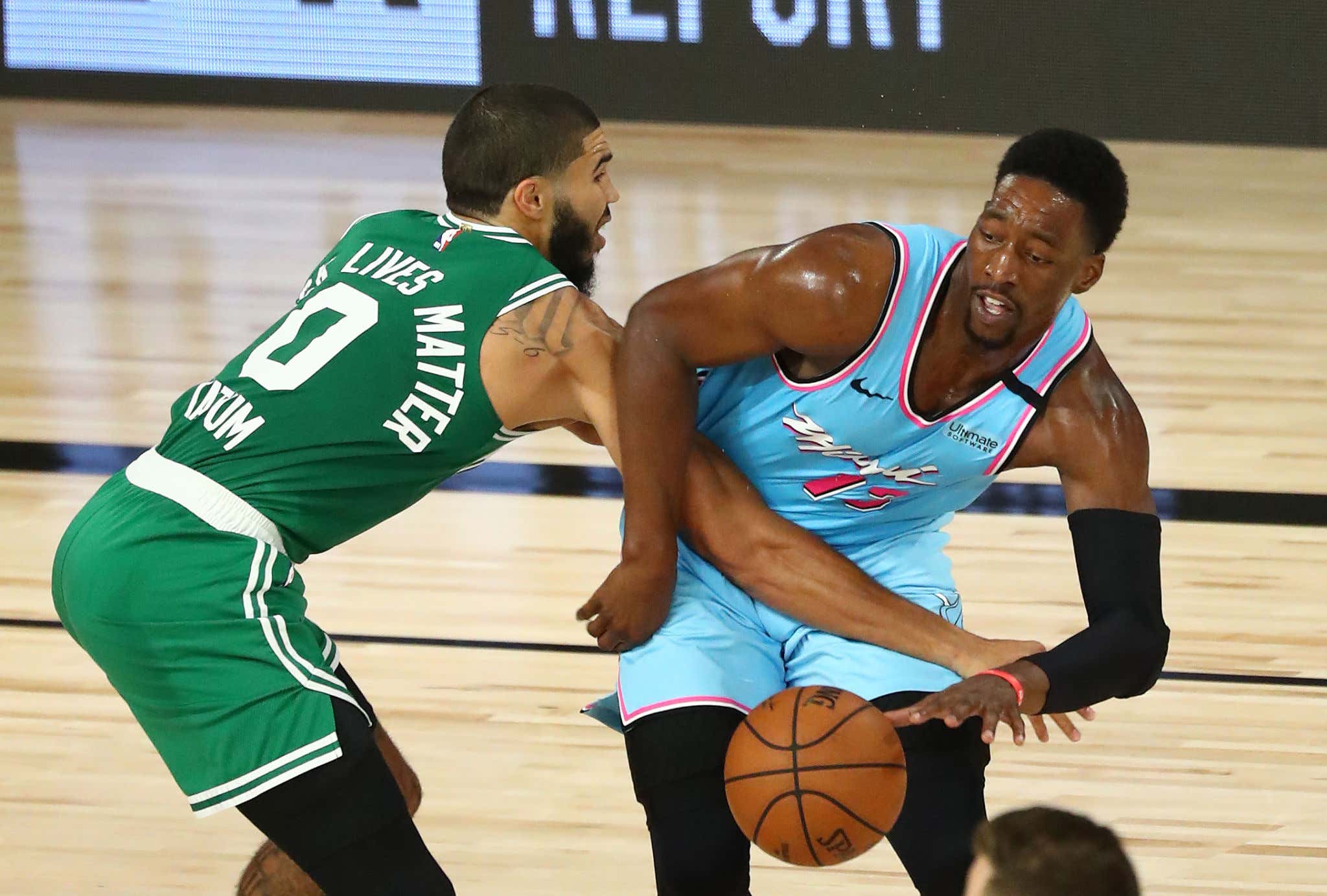 Pool. Getty Images.
Nobody said making the NBA Finals was going to be easy. If you want to win a championship you have to beat really good teams along the way, and for the Celts that means entering a series against arguably the best team in the bubble right now. Even if you think that might be a stretch the Heat are for sure playing some of the best basketball right now out of any team in the field. That doesn't mean teams like the Celts and Lakers don't also look really good, but it's not as if the Heat are getting hyped up for no reason. You manhandle the Bucks like they did in convincing fashion, you should feel pretty good about yourself.
To help set the stage, this is where the Heat rank heading into the ECF.
Offense: 112.9 (4th) / 113.0 in the second round
Defense: 105.4 (4th) / 106.4 in the second round
Net Rating: 7.3 (3rd) / 6.4  in the second round
3PM: 14.1 (6th) / 15.0 in the second round
Compare that to how the Celts have looked in the same areas
Offense: 110.2 (7th) / 106.4 in the second round
Defense: 101.9 (1st) / 100.3 in the second round
Net Rating: 8.3 (2nd) / 6.1 in the second round
3PM: 12.4 (10th) / 12.4 in the second round
As you can see, pretty damn even. The Heat have had the more efficient offense/better shooting in the bubble, while the Celts have had the best defense where their strength is guarding the perimeter. So seeing as how we've had a ton of time to think about this series and this matchup, these are a few of the questions I have leading in. I'm sure there will be other things I think about as time continues to go by, but lets run through these because I need an outlet to express all the shit filling my brain. Benefits of having a blog at my disposal I guess. 
1. Can Marcus Smart stay under control?
We saw him be able to do it against the Raptors for the most part, but this series is a different animal. When the opposing team employs Jimmy Butler, I think we're all in agreement that there will be some sort of dust up within the first 15 seconds of this series between those two. If there's one thing Jimmy Butler loves besides telling everyone how hard he works, its getting under opposing players' skin. Smart does the same shit. It's why their battle is going to be so awesome to watch.
So where I have concern is that Smart is going to try and overcompensate when it comes to Jimmy Butler. I can see scenarios where they go back and forth and are talking shit, and then we get ill advised threes. 
2. How will Jayson Tatum respond to the Heat's physical wings?
Against the Toronto wings like Siakam/OG/etc, Jayson Tatum shot 42% from the floor. That was a huge drop off from the 48% he shot against the Sixers, and a big reason for that is the Sixers did not have the wing defense to bother Tatum or prevent him from getting to his spots. The Raptors did, and we saw what frankly wasn't the prettiest offense from Tatum. Lot of chucks at the rim hoping for calls. 
I look at the Heat and I see Jae Crowder, Iggy, Bam, and Butler as potential defenders, all of who have the size and defensive ability to give Tatum trouble. I'd argue they are deeper at that position than the Raptors with a group of defenders who are better overall. 
Let's face it. For the Celts to advance he's going to have to be better than he was against the Raptors, mostly from an efficiency standpoint. My guess is Jimmy gets the first crack at him and this team needs to find a way to avoid the classic 2-8 start from Tatum that we've seen at times this playoffs.
3. Is this a Kanter series or Timelord series?
What if….it's a neither series? What if this is actually a Grant series? That sounds crazy, but look I'm just thinking of how the Heat play. You need guys that can handle the P&R/Pick and Pop, and I'm not sure that is either Kanter or Timelord. If they play Kanter, guys like Dragic will just force the switch and attack him in drop coverage. If it's Timelord, I'm not totally convinced he'll be able to stay with someone like Olynyk who is looking to pop out for three. Remember his play on Serge Ibaka? 
Then I think about Grant. Someone who is strong as hell to do his best at boxing out Bam on the glass, someone that I trust to switch and guard three point shooting bigs, and then someone that technically spreads the floor offensively. If I had to put money on it I think Grant gets the first shot after Theis, then Timelord, then Kanter. Kanter has only played 22 minutes this year against the Heat, but did have 10/5 in their seeding game in 15 minutes. 
4. How will I mentally prepare for Goran Dragic to never miss?
Now I wouldn't fault you for not really knowing this unless you watch this team play all the time, but Goran Dragic is firmly on the list of Celtics Killers. You know the list, the one with Khris Middleton, LeBron (it's OK to admit it, we tell the truth here), Giannis, Dragic, Luis Scola, etc. We can pretty much take it to the bank that Dragic is going to make huge shots in this series. End of shot clock threes, back breaking runners, just mentally prepare yourself.
It also should be noted that Dragic has been AWESOME these entire playoffs., I wonder if the Celts decide to hide Kemba on someone like Crowder, who pretty much only spots up for threes, to give someone a little longer like Jaylen the Dragic assignment. 
5. Can the Celts stay with the Heat's shooters?
It's not a stretch to say that a lot of these playoff games really come down to who makes more threes. Few teams have been able to do that more than MIA, and it's what makes this series so fascinating. Something is going to have to give. On one hand, you have the Heat that made 15 threes a night against the Bucks. They are shooting 38% from three this postseason which is the 3rd highest mark in the league. Even Jimmy Butler is making threes and he shot 24% all year!
Then you have the Celts. Holding teams to just 30.5% from deep this postseason, easily the best in the league. Their 11.1 3PM allowed is also the best in the league (MIA right there at 11.3). In terms of styles, the Heat rely on the exact thing that the Celts excel at. This isn't a situation where they have a huge 7ft big man and have a gigantic size advantage or someone like Giannis that the Celts don't have the bodies to match up with. This is a team that relies on a scheme the Celts are theoretically built to stop. Fight over screens, contest threes, that's the name of the game defensively in this series.
6. Will Hayward play and how effective will he be?
You can read my thoughts from earlier on this here
7. What will clutch time look like?
Maybe I'm just missing it, but I don't feel like we talk enough about how good the Heat have been in the clutch this postseason. I'm talking the 3rd best offense (122.7 Ortg) / 6th best defense (100.0 Drtg) / 4th best net rating (+22.7). They are loaded with guys who are not afraid. Jimmy Butler LIVES for big pressure close playoff moments. Jae Crowder certainly isn't afraid to let it fly from deep for huge late threes, and the same is true for Tyler Herro. 
The Celts are a much different story. They tighten up defensively, posting an insane 86 Drtg in clutch situations, but my concern is more where the offense will come from. In their last series there were 5 games that had "clutch" moments. Other than Theis (100), no other Celtic had an Ortg above 98. That's not good. Here's how the shooting splits looked
Jaylen Brown: 27/0%
Jayson Tatum: 36/25%
Kemba Walker: 42/33%
Marcus Smart: 33/50%
I mean that's pretty bad. A small sample sure, but not something I can just sit here and ignore. The Heat are a team that will lock in just as much defensively in these big moments, but have still found a way to generate offense and not get tight. How many times have we seen the Celts go 3-5 minutes without scoring in a huge spot in a close game? Too many to be honest. 
8. Will Brad show up against Erik Spoelstra?
To me, this is another series where the Celts will not have the clear coaching advantage. I consider it even, but if you wanted to put Coach Spo ahead right now I won't argue too hard against it. He's been fantastic, knows what he's doing, has the experience, etc. This isn't going to be a series where Brad coaches circles around the opposing coach like he did with Brett Brown. If anything, it'll be just like the Toronto series that also had a competent coach.
I thought Brad had a so/so series against the Raptors, and as we reach closer and closer to the Finals my pressure on Brad only increases. We can't have the bonehead mistakes, rotation issues, lack of timeouts, not having any sort of offensive strategy, etc that we've seen from Brad at times. 
At some point Brad has to get this team over the hump. None of this starting the third quarter slow, none of this not making adjustments if something isn't working. He needs the best series of his career if the Celts want to make the Finals because you know Spoelstra will show up.
9. What are the chances Kemba will remember how to play basketball?
This is interesting to me. On the surface, the Heat do not have the same quality of perimeter defenders that the Raptors have. At the same time, why wouldn't they try the same strategy that appeared to work for the Raptors and give Kemba issues?
The fact is, Kemba had a horrific end to the last series. He was a complete non factor offensively. If that was any other guard on this team, we would kill him for it. Well now we get to see if that was just a personnel thing or if there is more to be concerned about. This is why Hayward is so important. 
For the Celts to win, Kemba needs to be Kemba. The one that was a walking 22/6 who was getting to the line and would make you pay when you give him an open look. Defensively I have no issues, Kemba is flying around on that end. But for this team to be successful they need his offense to be efficient and reliable. 
10. Can they resist the homerun play?
Sneaky one of my biggest fear heading into this series. Part of it is the fact that Jimmy Butler and Jae Crowder are going to talk a tonnnnn of shit that I'm nervous whoever they are guarding will force things offensively in an effort to shut them up. Then I also worry about this team trying to get into a three point shooting contest against the Heat. Look at how Game 7 started, 12 of their first 19 shots are threes. That's not the recipe against this Heat team. God forbid the Heat come out and make their first few, I really feel like the Celts will find themselves being baited into playing that sort of game in an effort to keep pace. Not sure I love that idea. Threes are good, but are best when they come as a result of good ball movement within the flow of the offense. Hero ball/homerun threes are the exact opposite of what they should be doing. 
The good news is we'll start getting answers to these questions tomorrow. While on one hand I like the rest, on the other I'm starting to lose my shit since I was used to the Celts playing every other day. I'm sure tomorrow will go quickly and only take roughly 50 hours to get to opening tip. Buckle up.