I Hope To God Coach Duggs Hasn't Rubbed His STINK On Garrett Crochet
With the 11th overall pick of the 2020 MLB Draft, the Chicago White Sox select....
Garrett Crochet, LHP, University of Tennessee:
Now this morning I was begging for Mick Abel. I wanted him SO goddamn badly, but I am far from mad that opted to draft Crochet instead. The dude's filthy. He throws goddamn whiffle balls. I mean look at how tight these sliders are...
That's filth right there. Grade A, unadulterated filth. Filth that's good enough to get you drafted 1-1 so long as you can pair it with another 2 pitches and you stay healthy. The first part of the last sentence is already taken care of, as he sits mid 90s with (also filthy) arm side run and reportedly top-line spin rates: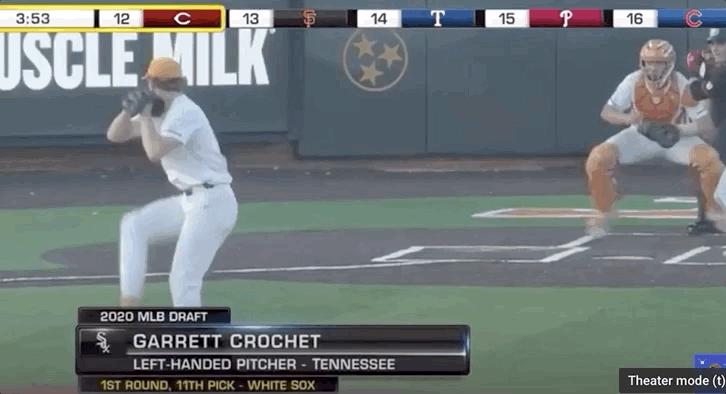 Here's him touching 100:
and has a faaaaadddddiiiiinnnnnngggg changeup that he can work off of and command in any count.
Now with that fastball/slider/changeup combo you're shutting down the best of the best. But the difference between Crochet turning into a stud TOR pitcher and being a "wish we would have taken X player instead" guy is two things:
1. Staying healthy and
2. Staying healthy
Yes, I said it twice, because health is the only thing holding him back. Now I'm not some orthopedic surgeon (obviously) but his arm action scares me. A lot. It's far from "clean" and if you told me 3 years from now he had a lot of elbow issues, I'd say 'that makes sense'. But the White Sox historically have a great history of keeping pitchers healthy. No two elbows, shoulders or pitchers are the same but Chris Sale was viewed similarly back when he was a draft prospect. Wonky arm action, 2 pitch LHP that had disgusting shit, but was thought of as a future reliever if he stayed healthy. But guess what? He did, at least until this year. Knock on wood they can keep Crochet healthy in spite of his mechanics too. 
I said earlier today I wanted the Sox to go big or go home. Just drop that back shoulder and swing for the fence. This was them doing that. I still would have preferred prep talent, but this is a more than fine consolation prize, for lack of a better way to put it. Crochet could be a stud and could be a stud in Chicago as early as next year, or who knows? Maybe they throw him to the wolves this season with the expanded rosters. He has the pure stuff to get big league hitters out as we speak and obviously hasn't shouldered any workload with his cancelled season at UT. 
Here are his MLB Pipeline grades:
Those are 3 starter or better projections. Feed it to me. Just stay healthy.
OH and PS - if he turns into an Andrew Miller/ Josh Hader type swing man I'd LOVE that