Juggalo Family Reunion Cancelled As Insane Clown Posse Calls Off Annual Gathering
Honey, put the Faygo back on the shelf... I just got some terrible news. 
.
.
.
.
.
The gist of that post:
…it is with a heavy heart that we announce that due to the COVID-19 outbreak, we have no choice but to postpone the Gathering until next year. 

…the bottom line is simply that we REFUSE to risk even ONE Juggalo life by hosting a Gathering during these troubling times.
The wise words of the esteemed gentlemen Fred Fury and Flip the Rat closed the message out:
BE SAFE: Watch your step and take it easy. You can't replace what you mean to our team. Without you, tell me where the fuck we'd be?
First up - nice to see frequent Gathering performer Vanilla Ice offering up a sympathetic "Whoop whoop" in the comments. 
And now dare I say, 
"Holy shitballs… Who would have thought Insane Clown Posse would come out as one of the more reasonable voices when it comes to any sort of large, upcoming gathering???"
They've even got a 'Stay At Home Playlist" reminding Juggalos & Juggalettes to be safe. 
"The Gathering" lasts nearly a week and thousands attend. It usually takes place in August and its usually in different locations. This time it was going to be in Garrettsville, Ohio at Nelson Ledges Quarry Park AKA"Crystal Forest", but alas, no more. 
I can't quite explain my fascination with ICP but I've had once since I noticed kids wearing those Hatchet Man necklaces in my high school. More of a wacky Babadook vibe compared to my boring vanilla world. And once you start Googling and going down the rabbit holes there's no stopping you. 
In 2017 when they were pissed at the FBI for labeling them a gang, they marched on Capital Hill & held a rally that I for sure did not want to miss. This was before my Barstool days & I wasn't there to make a video or anything but I was curious to be among this storied group of misfits in American subculture. I know there's a darker side of things, but these folks were an absolute delight. Everyone I spoke with was cool with me taking pictures & happy to explain who they were & what they were doing. 
My favorite thing was how they all screamed & flipped off any helicopters that went by because they assumed it was the FBI, and all the homemade signs with bholes on them.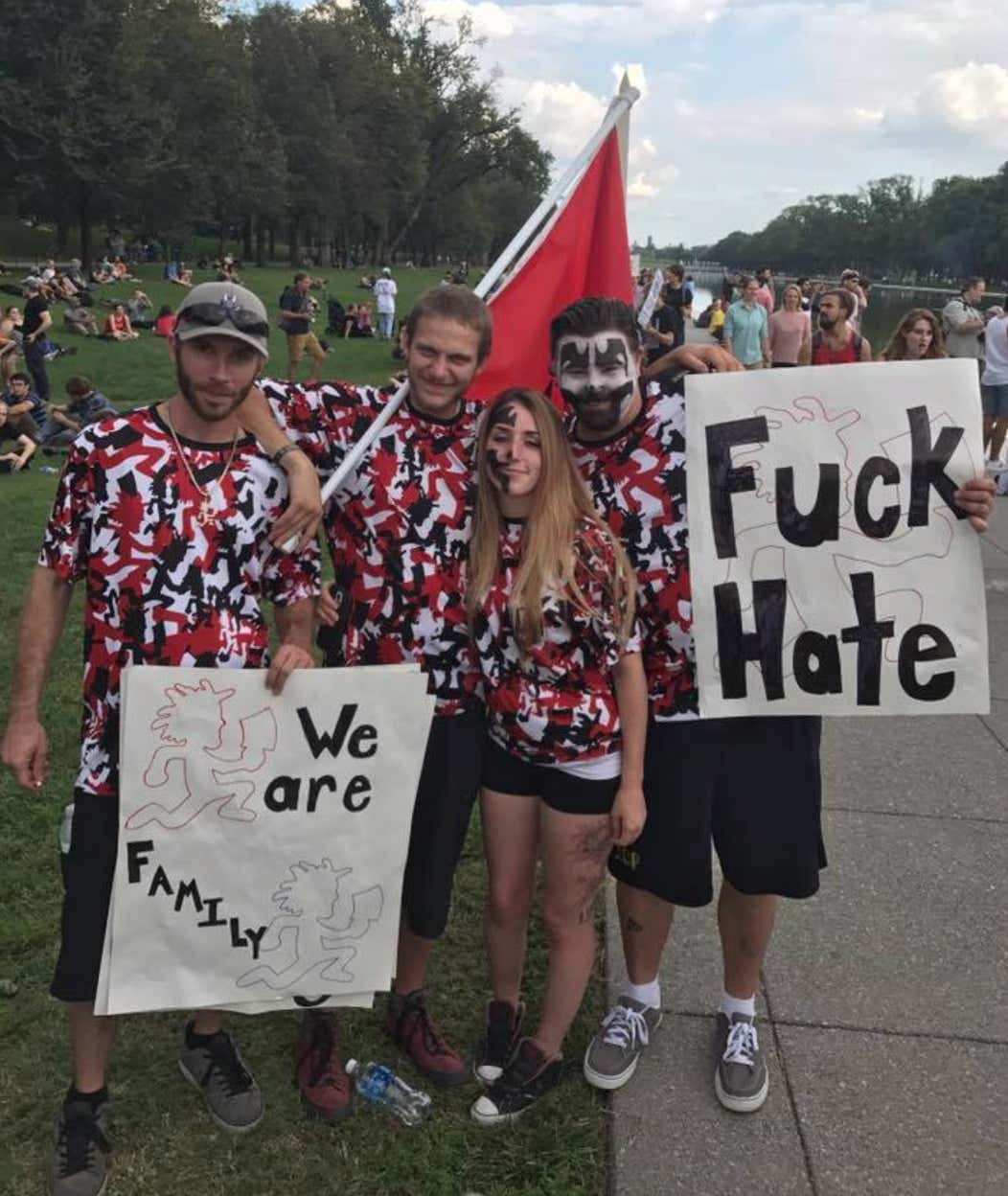 And I know many others have delved into their world because let's face it - for better or worse you can't look away… ICP fans are on a whole other planet with its own customs, courtesies, and lots of exposed anuses. 
From what I know of this rowdy 'family' they'll heed the words of Violent J & Shaggy 2 Dope and lay low, and will likely come back with 10x more homies, hatchets and PhDs (playa hata's degrees) the following year. Keep your heads up everyone!
Bonus - Please enjoy this dictionary of Juggalo terminology: