Britney Spears Shouts Out Her Break Up With Justin Timberlake On Her IG - One Of the Greatest Couples To Never Make It
Earlier last week I waxed poetic about J Lo and Puffy - personally my favorite celebrity couple. Puff was on top of the rap world (still is, but back then he was all up in the videos and "take that, take that'ing" all over every smash record. J Lo was Jenny from the Block and was busy make big asses en vogue. They were so New York. Matter of fact they were too New York - once Puffy got arrested for the gun in the club incident J Lo was out and on her way to eventually finding Arod and (hopefully) becoming my new owner.
But as J Lo and Puff were tearing up New York...there was another It Couple from an entirely different demo of equal stature. They were young, sexy, claiming to be virgins, and rocking the FUCK out of matching denim fits:
JT and Britney were the hottest thing on the planet in their prime. Prime Britney has an argument for hottest chick of all time. Prime JT wasnt until he moved on from Britney and went solo, but his MEGASTAR years as the front man of Nsync coincided perfectly with Britney. Both child stars from the Mickey Mouse Club, both on top of the TRL charts, both pretending not to fuck, and absolutely dominating the celebrity world. In an alternate universe, Britney is as normal as Timberlake is, she doesnt end up shaving her head and losing her fucking mind, and they go on to churn out a mixed boy band/girl group that would start to begin their rise to prominence on Tik Tok right now. Imagine that? FUCK your Hype House, wiggle dickers! The Timberlake-Spears kids are trending and their mom and dad are training them to become Hollywood superstars. ICONIC:
JT and Britney werent the only hot white pop star couple, though. They passed the torch to another boy band front man and a girl who arguably may have been hotter than Britney. Nick Lachey swooped in and scooped up another alleged virgin, Jessica Simpson. Nick Lachey - the ultimate normal guy. Other than having a fucking perfectly chiseled jaw, I have no idea how Nick Lachey ended up in a boy band. Hes a fucking Cincinnati Bearcats fan, for fucks sake. Guy belongs more on the Grit Tour than he did in a boy band with his brother and those ugly dudes, but shout out to him. Snake it til you make it. He churned out a single or two, was on Making The Video with that camera that did the 360 degree filming, ultimately ended up with ultra underrated smoke Vanessa Minnillo, and along the way pinned down a WILDLY sexy Jessica Simpson. When the rest of the world was arguing Britney vs Christina, the real ones knew that the Dark Horse J Simps was FIRE. From her early days until she went nuclear on everyone and showed us her walking boots:
Nick Lachey picked her up, wifed her, and I'm pretty sure immediately recognized she was the dumbest girl alive. He simply had no choice but to make a reality show for the world to see. Once you realize you decided to marry an airhead, I think you have no choice but to make lemonade and put it on TV and make money off of it. So he trotted his hot ass wife out there as she said words like "Plata-ma-pus" and declined to eat buffalo wings because "she doesnt like buffalo." But nothing will top their tuna fish moment. To this day, I think you could make the argument that Jessica Simpson confusing chicken and tuna is the dumbest, most memorable moment in reality show history. Take all the Bachelor and Bachelorette moments, all the Challenge moments, all of em - an international pop star confusing Tuna and Chicken way back in the early 2000s is GOAT shit. And I'm not talking goat like sheep. I mean goat like goat:
What a moment. What a reaction from Nick. That was the exact moment he knew he was getting a divorce. Jessica Simpson went on to make a billion dollar fashion line but also frequently makes drunk appearances on talk shows, and Nick Lachey is cashing checks for like 15 seconds of hosting on Love Is Blind. Everything worked out well for them both, Id say. 
Before there was ever famous couples on TV or arranged pop star couples, there was simply the Hollywood, A-List, actor and actress. Since the beginning of time, actors have been banging each other and there has never been a greater Hollywood couple than Brad and Jen. This was as perfect of a fit as you can get in Hollywood. She, the most famous TV actress in the world…men wanted her, women wanted to be her. "The Rachel" swept the world
and she was IT. Meanwhile, Brad Pitt is arguably the best looking person - male or female - to ever live. They met in 1998, and in 1999, he was Tyler Durden, where he films this scene and becomes the envy of all men and women:
Eventually Angelina Jolie stole him away with her DSLs, which is still a pretty wildly underrated moment that, while very well known and talked about, is still under appreciated as far as celebrity gossip goes. One A List bombshell stealing the man of another like that is still crazy to me. But before Brad went Mr. and Mrs. Smith on the world, he was a hippie dippie free spirit rolling around town with the baddest bitch in the game:
Certain couples are just meant to be together, and the world will never be in balance until they are. Brad and Jen are one of those couples. Its just RIGHT. It how the world is SUPPOSED to be. And in the sports world, that "meant to be" couple will always be Derek and Minka.
Lyla Garrity upgrades from the Texas quarterback to the New York shortstop. This was the PERFECT fit. Minka Kelly always has been, and always will be, an under the radar MEGA SMOKE. Whenever you heard people listing their top celebrities or hottest girls in the world, she would never be mentioned. She never made it big enough in Hollywood to be remembered for lists like that. But take one look at her and you know she should have been on all those lists. The daughter of a rock star, stunningly gorgeous, but low key enough to fit into Jeter's reclusive lifestyle. I always thought it was such a flex that Jeets ran through all the high profile names but then settled down with a name you didnt often think about but when you saw her you were like "Oh fuck." Thats perfect for a dude like Jeter. You never really saw The Captain do much other than exaggerate routine plays at short and win championships…so when I saw him out in public, frolicking in the ocean in St. Barts with her, I thought it was a wrap: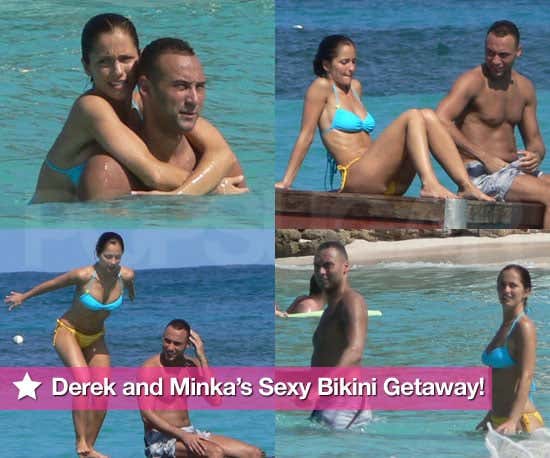 I thought for sure Minka had "Yeah Jeets'd" herself into a gift basket with an engagement ring, instead of a Z-Pak and some validated parking like all the other hoes got. But alas, it was not meant to be. I heard a rumor that they broke up because she used to call the paparazzi and tell them where they were going to be in order to get shine, in which case shes for sure NOT the one for Jeets. But in my heart, Derek and Minka will always be the best sports couple that never made it. 
All the greats of the past paved the way for the starlets of the future to fuck each other and then fuck each other over. You'd think after all these examples in every realm of fame, from all time periods, celebrities would start to understand it never really works out when they date each other. But when you're young, dumb, sexy and rich, you wanna date people who are also young, dumb, sexy and rich. Enter, Jelena. Justin Bieber and Selena Gomez. The new age Couple That Should Have Been. I'm pretty sure they were dating when they were like 7. Britney and Justin 2.0, just with a lot less denim. In the case of Britney and JT, Britney was the bigger star who had the meltdown. In the case of Biebs and Selena, Justin was the true star. And when the true star is a teenage boy with a couple hunnid million, you can trust youre gonna get a meltdown. Eventually Biebs was pissing on the floor of restaurants and fighting paparazzi and I'm sure smashing everything in sight. Not great if you're that dude's girlfriend. As we all know, Biebs settled down with Haley Baldwin who was very clearly always a snake in the grass just looking for that Bieber D. Selena went on to have lupus and go to rehab because she cant get Justin off her mind. Thems the breaks. Hey, we'll always have this moment at the AMAs, right?