An Important Update To The Barstool Instagram Posting Process
A couple of weeks ago, Nick published a masterful blog detailing the necessary steps to get your content posted on the Barstool Instagram page. It stemmed from a girl DMing him a video to get posted. He then sent her to KB, who sent her to me, who sent her back to Nick, and on and on it went for several hours. The girl never realized that we were sending her in a never ending circle and obliged to our most ridiculous requests. If you missed that blog or need a refresher, check it out here. 
The blog was published, and we assumed that would be the end of it. Surely nobody could read that blog and then think to send more content to the three of us, right? RIGHT?!? Wrong. As KB chronicled the next day, the DMs flooded in even more. Now I'm sure some people were just clout chasing and were in on the joke. But sadly, a lot of people have been dead serious about sending in videos to us three and asking if we could post them. I do not understand how it's humanly possible for someone to read that blog, take it seriously, and then be like "Oh great, I found my guys."
That's right. People saw that chart and thought, "Simple enough process" and then proceeded to DM us their videos. At first we were hesitant. Could we ever pull off such a brilliant heist again? But then we remembered that we are locked in quarantine and get throbbing erections from pulling pranks on people. So we got some fish on the lines and reeled them in. While it will be difficult to recreate the pure magic of our original heist, we did find several more people equally desperate to go to great lengths to get their content posted. 
Here I will be focusing on one girl. There will be other blogs to come chronicling our other journeys. Let's review the streamlined process for getting your content posted to the Barstool Instagram. 
1. Initial Request To Tommy
Simple enough request to start off. A brag about what she did, an attached video, and an on-screen caption boasting "literally my best friend y'all" as she gives it a "full send." We've seen this stuff a million times here at the The Night Shift Social Media Request Quality Control Task Force. Unfortunately for her, this was only the beginning of the process. 
I complimented her video that I watched precisely zero seconds of and sent her over to Nick to provide him with information she typically would only need to reset a password. I also wanted to get her creative juices flowing with a possible caption. We can't do all the work around here. 
2. DOB/Mother's Maiden Name To Nick
The second she agreed to giving this information, we knew we had her on the line. 
An overachiever, she provided us with not one, but two, laugh out loud funny captions. Nick queued it up in our system, like he does so well, but a cumbersome glitch required her to put in a little extra work. 
3. Upside Down Video To KB
By god, she's a natural. 
Now we just needed her to make up her mind and choose one of those two brilliant captions, as well as some more information. For paperwork purposes. 
4. Caption And Video Location To Tommy
While I would love nothing more than to help her, rules are rules. If it's not mountain standard time, then I simply cannot touch it. Back over to Nick. 
5. If Not Mountain Timezone, Send Back To Nick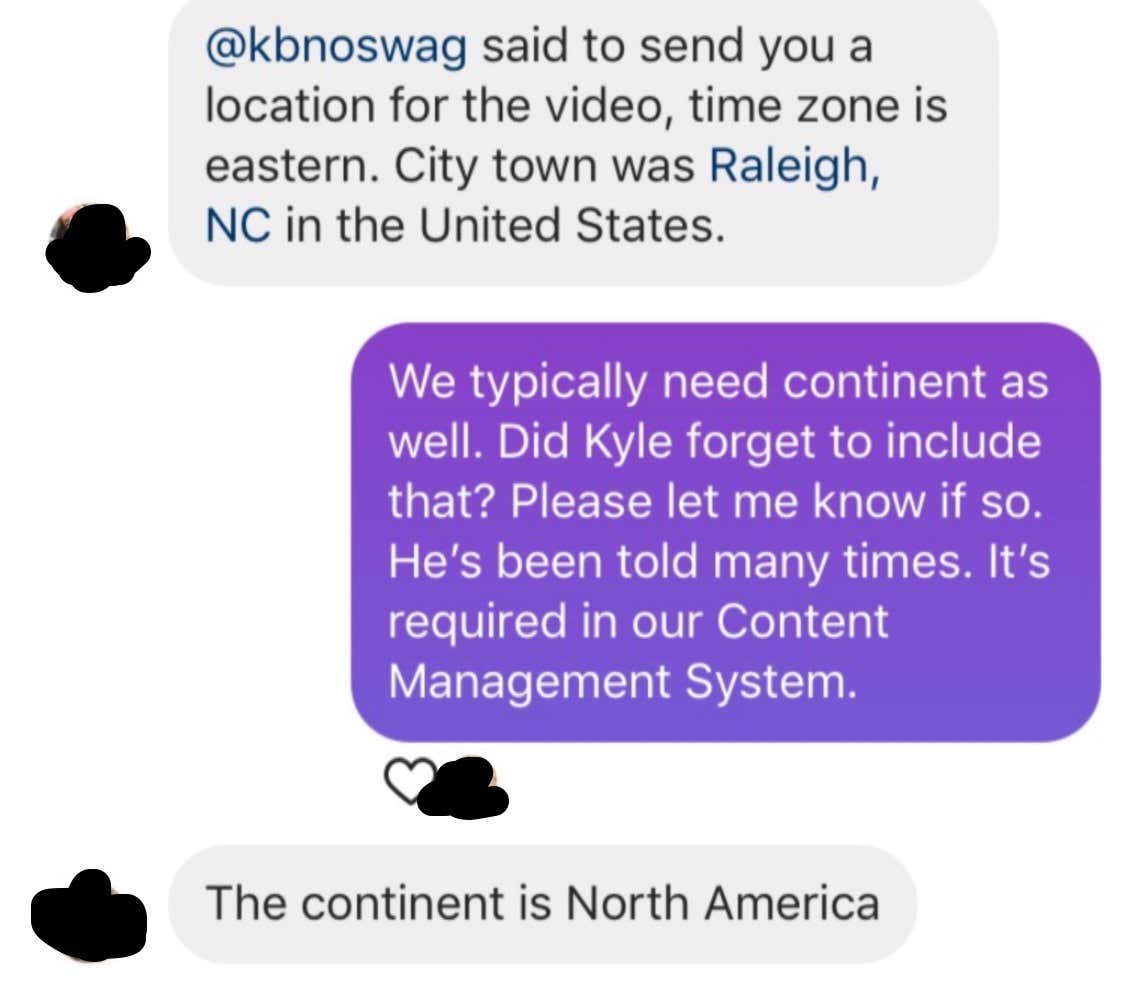 "The continent is North America."
To this point, our need for her mother's maiden name, upside down video, strict timezone posting rules, and continent clarification did not set off any bells in her head that perhaps we were fucking with her. Maybe an Instagram release form that asks for her favorite extinct animal would? 
Nope. 
6. Fill Out Instagram Post Release Form
RIP to all West African black rhinos. 
Phew. For a second there, it looked like we might have an issue on our hands. 
7. Send Form To Tommy
She was almost at the finish line. But the autumn was tough for us on the legal front, and we needed to take every precaution necessary. 
At this point, I wanted to make sure she wasn't going to break social distancing practices to run to a public library or a friend's house just to print an imaginary form for a video that will never be posted. 
After confirming that her quarantine was up to our standards, we decided that we could continue to do business with her. 
But a week passed, and we had nothing. From Saturday April 3rd to April 10th, this eager beaver did not say a word to us. We had lost hope. Maybe she was finally on to us? Maybe she just didn't want her video posted that bad? Maybe she forgot?
Wrong. Wrong. Wrong. 
8. Print Out Form, Take Picture On Coffee Table
The week long wait was simply because she needed to order printer ink. Incredible. 
9. Wait For Phillip In The Scheduling Department
10. Post In Several Months
And that concludes the story of Victim #2. Given that we made her waste money on printer ink delivery, we decided that she had been through enough. Will she come back in a couple of months angry that her video never got posted? Extremely possible. We'll cross that bridge when we get to it. 
To summarize, here is the updated process on how to get your content posted to the Barstool Instagram. 
Stay tuned for a follow-up blog from Nick later this week. 
Signing off, 
The Night Shift Social Media Request Quality Control Task Force