Last Night In The NBA: Buddy Hield Went Nuts, Markelle Fultz Has Arrived, The Lakers Are On Top And More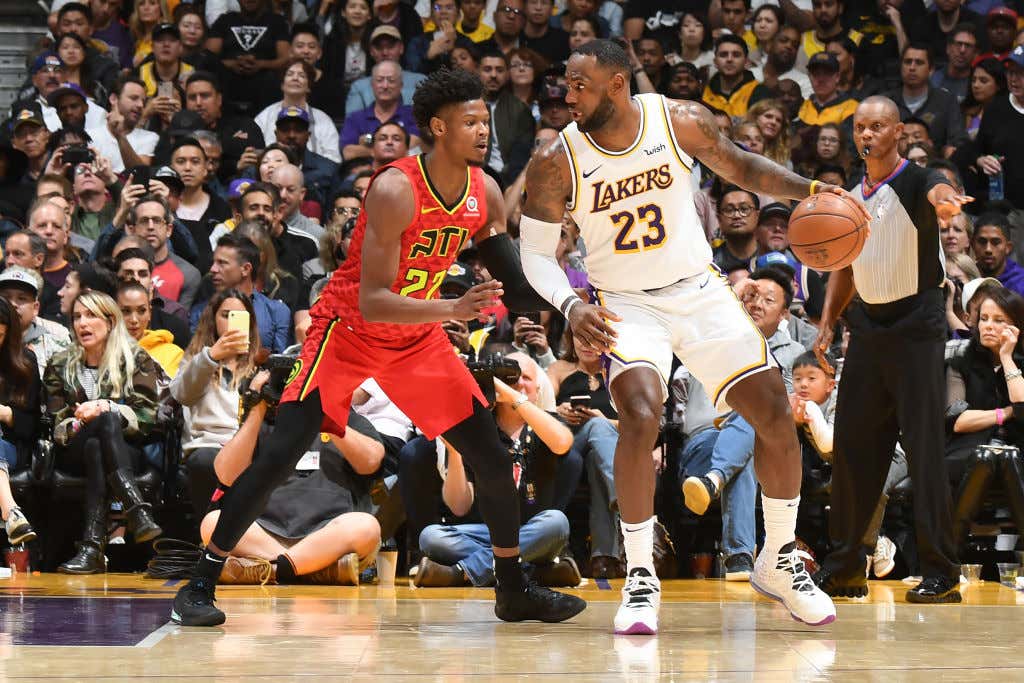 Good morning everybody happy Monday and welcome back to another edition of Last Night In The NBA where we bring you up to speed on everything that went down from the night before in the Association. It was another busy day on the NBA schedule with 6 total games, with half of them coming down to the wire. Chances are you spent the day watching football which is fine and all, but since it's Monday morning and I have no doubt you have no interest in starting your work, let's talk about what you missed.
Philadelphia 76ers (8-5) 114 vs Cleveland Cavaliers (4-8) 95
Are you feeling like maybe the Sixers have underachieved a little bit? Well the best cure for that is playing the Hornets and Cavs. Nothing gets you back on track like that schedule favor and like all other good teams in the East the Sixers took advantage. You may remember a few weeks ago they took care of CHA/CLE back to back and while they just squeaked by CLE in their last meeting, yesterday was much more along the lines of what you expect. 
Finally Tobias Harris looked like a real basketball player going 12-14 to lead everyone with 27 points
and this was good for PHI because guys like Embiid/Simmons didn't have to play huge minutes yet were still effective
and hey, outside shooting might still be a problem, the Sixers may have the just the 18th ranked offense, but anytime you can get yourself a nice, easy, blowout win that comes on the road, you take it. This thing was over pretty much from the tip, so credit the Sixers for finally not blowing a big time lead, even if they once again only had 19 in the fourth quarter. 
For CLE, see this is why you shouldn't have thrown away that earlier game in PHI. Because the reality is you stink and that was your one chance. Gross 37/24% splits, almost nothing from Love/Osman which is never going to work out well, and outside of like Collin Sexton there really wasn't all that much to write home about
They did play the Sixers more even in the second half, but by that time you were already down 20 so what difference does it make.
Washington Wizards (3-8) 121 vs Orlando Magic (6-7) 125
Man is it awesome to see Markelle Fultz healthy and looking like the player many thought he would turn into when he got drafted. This may have been his best NBA game to date ending the night 8-10 with 19 points and a game sealing steal
This was one of those Magic performances where they were firing on all cylinders, really only Aaron Gordon and Aminu struggled. Everyone else? Buckets
Here's the thing with ORL. We know they can defend at a high level, they have one of the best defenses in the entire league (7th), what holds them back at times is their offensive droughts. So to see them explode for 125, make 15 3PM and shoot 49/39% was a nice surprise. They did it all without Jonathan Isaac too. Now things weren't without stress, they did give up 44 points in the fourth quarter and make this closer than maybe it should have been, but this is a team that is now 6-3 at home and if they can just get to like league average on offense instead of their current 27th, well then they might really have something. 
For WSH, like most nights it was a lot of Bradley Beal
he continues to be an absolute monster, and he got some good help from the second unit which you can't always say when it comes to the Wizards
but what do we always say when it comes to Wizards games. They keep getting let down by their defense. Did you know WSH has the #1 offense in the NBA right now? That's a true sentence. The problem is their are pairing it with the 29th ranked defense. As we've seen time and time again scoring all these points are great, but if you can't stop anyone from dropping 120+ on you then you aren't going to win in this league. The Wizards are living proof of that.
Boston Celtics (10-2) 99 vs Sacramento Kings (5-7) 100
No, I am not over how Marcus Smart's floater did not drop. I need a little more time so we will revisit this in the Celts normal blog.
For SAC, this is why Buddy Hield demanded all that money. I mean this dude was NAILS down the stretch and basically stole this game for SAC
there's being in the zone, and then there's being in whatever the hell Buddy Hield was in during this game. All you can honestly do is tip your cap, because in the final few minutes he hit some tough ass shots that you simply have to live with. Good offense beat good defense. Between Hield and some timely ass threes from Bogdanovic
the Kings did all they could to hang around and then delivered dagger after dagger. It's not like they shot well, they didn't live a the FT line or anything like that, they simply gave the ball to Buddy and let him do the rest. Ultimately the three point shooting was the difference and suddenly the Kings have won 5 of their last 7. Not dead yet!
Denver Nuggets (9-3) 131 vs Memphis Grizzlies (5-8) 114
Much like that SAC game the Nuggets didn't have to do much to pull this one out, just give the ball to Jamal Murray and get out of his way
he finished with a team high 39 on 14-24 shooting and 7-12 from deep, so basically exactly what Hield did, and they certainly needed it because it looked early like MEM was ready for the challenge. But a huge 44-17 second quarter pretty much took care of things for DEN who is now 5-1 on the road and they are this weird team in that their record is great but I still don't feel like they are playing their best basketball. That's good for them but scary for the rest of the West
Hard for this team to lose when they shoot 55/56%, make 18 3PM and only turn it over 12 times, if they can just tighten up defensively a little bit this team can very well be the wagon they hope to become.
For MEM, not ideal but hey as a young rebuilding team there are going to be nights like this. On the plus side JJJ looked great
Ja Morant had his moments and rookie Brandon Clarke was a perfect 8-8 off the bench
there are certainly going to be nights like this in the Grizzlies future, but since this season is all about developing their young talent and that's what we're seeing it's all gravy in my opinion. We've seen what one down quarter can do to teams, and essentially that's all this was for MEM. A bad 12 minutes makes this look worse than it maybe was.
Golden State Warriors (2-12) 100 vs New Orleans Pelicans (4-9) 108
Man, think of what a GS/NO matchup could have been when the schedule first came out. Now you have everything that went down in GS, and then for NO there was no Ingram, Okafor, Hard, Jackson, etc. Luckily for NO both Jrue Holiday and JJ Redick were active, because they had about half their points
You also have to be impressed with what we've seen from their other rookie NAW, who backed up his big performance the other night with another 19 off the bench
you even had a double double and three blocks from Jaxson Hayes. Basically, even without Zion you can see just how great the Pelicans did at this past draft. Sure you don't love being so close to GS at a game you play at home, but whatever a win is a win.
For GS, yeah it's basically Eric Paschall and nothing else
that's not exactly new, but if there is one bright spot to come from this season of hell, it's that the Warriors have themselves a real player in Paschall. Shit, he very well may be in the conversation for ROY despite his team being terrible. 
Atlanta Hawks (4-9) 101 vs Los Angeles Lakers (11-2) 122
With the Celtics losing, the Lakers are now in sole possession of the best record in the NBA. For a team that had shooting and depth questions, well they seem to be getting both of those as of late
We know all about LeBron and AD. What LeBron is doing in Year 17 is pretty damn ridiculous, but what is making the Lakers so tough is what they are getting from everyone else. For example Kyle Kuzma has done since coming back healthy has been just what the Lakers have needed. He had another 17 points and 3 3PM off the bench, Rondo had 15 off the bench and as a team the Lakers made 15 3PM. You have to be impressed with the defense this team is playing, currently ranking 1st in the NBA paired with the 9th best offense. As long as they stay healthy there's no reason to think this won't continue.
For ATL, stop me if you've heard this before but it was basically Trae Young and nobody else
he finished with 31 on 50% shooting, but he also had 8 TOs which certainly isn't good. As a team it's always tough to win in LA while shooting 43/28%, and despite them playing the Lakers even over the final 24 minutes, it was the first 24 that were the problem. Down 12 after the first, and then a 33-17 second quarter, I think you can imagine what happens when you have offensive droughts like that. Combine that all with not much bench help and it's no surprise the Hawks are now 2-5 on the road.
And that's it! You are now all caught up with everything that went down last night in the NBA. We're back tonight with 9 more games so as always you know the drill. Have a great Monday!