Daniela Is Not a Snitch, She's a GOD DAMN MOTIVATIONAL SPEAKER
Lot of talk about Daniela being a "dry snitch". That's for the Stoolies to decide I guess. I consider her the Tony Robbins of Barstool HQ. Her tweet (and Erika's) not only scared the shit out of me as the new kid on the block, it was also HIGHLY motivating. 
I was told this is the first time anyone has ever hand-written out a blog for the site, which does not shock me because it is WILDLY inefficient. Keith was kind enough to edit it and compile his thoughts on my debut work for Barstool Sports:
*As per Keith's note to expand on the firing... 
After I went on the radio show with Dave as a "job tryout," I heard from friends and colleagues who listened to the show. They were a touch concerned that USA Today might not find the interview as hilarious as we did. I later looked on Twitter and saw that the producer's name I mentioned during the spot had been tagged on Twitter. 
Because we were friends outside of work and because I didn't want anything getting out of hand, I called her to give her a heads up that I said her name in regards to why we didn't interview Dave on Radio Row during the 2019 Super Bowl. She said, "I'm going to do some research" and get back to me. 
I woke up to this: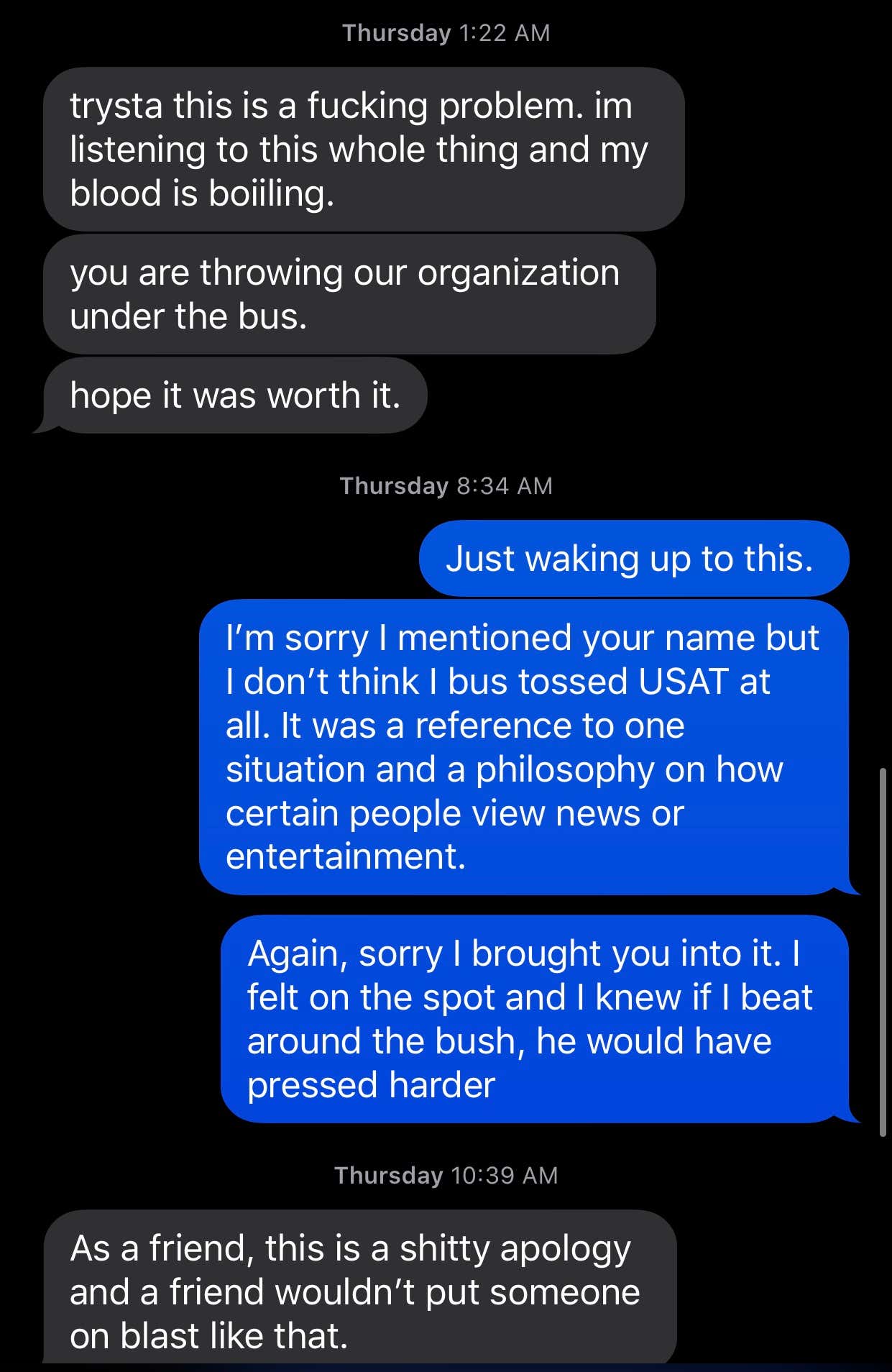 I was obviously freaked out by the "hope it was worth it" line but went in and worked Friday (11/7) out of our NY office. Later that night, as I was headed back to DC, I got a missed call and a text from our head of video. I knew something bad was happening. But I definitely did not expect to be fired. 
So post firing, I've been blocked on social media from some of my former colleagues, ex-communicated by others, and surprisingly supported and still liked by the majority of former colleagues that truly know me. To answer my producer's question, while I do regret some of what I said on the radio, I actually do think is was worth it and am moving forward. 
POSITIVE VIBES ONLY. READY TO ROLL. READY TO FUCKING ROLL.