Barstool's Weekend Soccer Preview – The "Put Up or Shut Up Weekend for Arsenal?" Edition
What a GLOOOOOOOOORIOUS week to be an American soccer fan – the first in god knows how long where it actually felt like there might be a light visible at the end of this cold, dank, dark tunnel of sadness we have been stuck in for… oh… two or three YEARS now.
First we had The First Coming of The Babyjesus on Sunday (aka the lord's day, appropriately enough).
Then all that hard work, sweat and toil we put in on Instagram bore fruit as Sergiño Dest chose to play for the USMNT rather than the Netherlands on Tuesday.
Annnnnnnnnnd sure, some chap named Dean from Bleacher Report tried to rain on our parade on Friday, but haters gonna hate and Dean's permanent banishment from the USMNT bandwagon means one extra seat for another true believer.
Sucks to be you, Dean! No seat for you!
So all in all a good week for America and a great week – the 12,680th in a row since 7/4/1776 for those counting at home – to be an American. But enough about our national team and the blind patriotism that is set to win us back-to-back World Cups. We got a big bad weekend of sexy soccer staring us dead in the face so time to do a quick run-through on what to watch for and where (not) to put your moneys if you wanna get rich and retire early…
***********************************
ENGLISH PREMIER LEAGUE
Results from last weekend: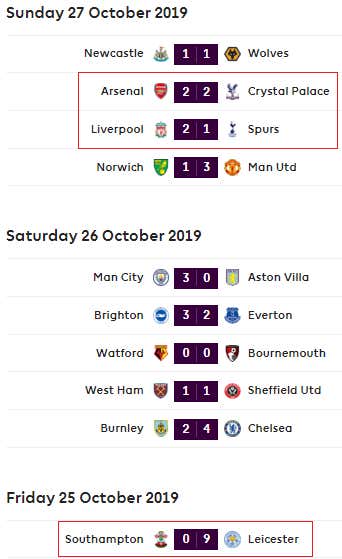 ***
POWER RANKINGS
TOP 4
1. Liverpool
2. City
3. Lester
4. Chelsea
Honorable mention: Arsenal, Tottenham, Palace, Burnley
BOTTOM 3
20. Southampton
19. Norwich
18. Watford
Dishonorable mention: Brighton, Everton
***
The table as things stand:
***
And this weekend's schedule:
***
PICKS OF THE WEEKEND
Arsenal [-135]
Wolves [+350]
Draw [+270]
All three of the "Big 6" London teams have tough matchups this week. In the case of Arsenal, it isn't necessarily that they will be tired since they rested much of their midfield and both Aubameyang and Lacazette, but rather because (1) there is so damn much negativity surrounding the club at the moment and (2) Wolves seem like they are rounding back into the excruciatingly tough opponent that they were all last season. For example, they have conceded one or less goals in nine straight games, including a recent 2-0 win over City that will likely be looked back upon as a major inflection point.
Back to the negativity for a moment though, nobody is faster to turn on their own team than the Gooners. They'd probably even be the first to admit it. But usually there is some disagreement among fans about whether the team, coach or such-and-such playesr are disgraceful or just merely bad. In contrast, there seems to be an absolute consensus right now that guys like Emery and Xhaka need to go. This from a team that has only lost one (competitive) game since the end of August – AUGUST!
Sometimes clubs can feed off negativity by circling the wagons and taking an "us versus the world" attitude… and if they were fighting off Eastern European "carjackers" then I'd be a lot more optimistic about what they are bringing to the table. As it is I think this is not a great matchup for Arsenal, but they are somewhat rested and at home so… let's go with a 2-2 draw.
**
Everton [+165]
Tottenham [+150]
Draw [+255]
Not a big believer in past results predicting future success in soccer where teams experience such big change from year to year (transfers) and even week to week (injuries) but Spurs have had Toffees number BIG TIME. Last time Everton won a league matchup was… wait for it… waaaaaaaait for it… 2012. Yikes. They have pulled out some draws here and there, including last spring when Spurs were focusing every last muscle fiber on losing the Champions League final (great success!) but I think the cock-n-balls still have Everton's number (especially with the way they have been playing lately – hint: NOT GOOD). Tottenham to win 3-1.

Loss = ass firmly in the jackpot
**
Palace [+255]
Lester [+110]
Draw [+235]
I am thissssssssssssss close to reverting back to spelling Lester the long way out of respect for the season they are having. I'm not there yet, but I'm pretty damn close. They are really solid from front to back, have put together a very good midfield that can play with anyone in the league, and if they can keep scoring just enough – which appears to be the main question mark – they have an outside shot at competing for a Champions League slot. Just to be clear: I don't think they will… but they are a MUCH bigger threat to the established order than I thought coming into the season.
This weekend's game is just the kind of test that will determine how "for real" the Foxes are. Palace is a tough, no-nonsense, experienced side that defends as a team, has a couple of guys who can make things happen up top, and are playing at home to boot. Precisely the kind of game Lester need to win if they want to be in the mix for top four come May. Call me a romantic if you must, but I think they can get it done. Lester to win 2-1.
**
*UPSET OF THE WEEK*
Bournemouth [+220]
United [+115]
Draw [+255]
Nice win and solid performance by United both last weekend at Norwich and again in the midweek against Chelsea (albeit both playing with weakened sides in the latter). Time for a letdown? Time for a letdown. Even against a Bournemouth team that hasn't scored in 300+ minutes? Even against a Bournemouth team that hasn't scored in 300+ minutes. Cherries to win 2-1.
**
Some more predictions (to increase the possibility that I eventually get one right – maybe):
• Villa 1-4 LIVERPOOL – Playing at Villa Park is never a walk in the… well… park, but Liverpool comes in fully rested and fit (they played nothing but yutes in the Mickey Mouse cup game), and I suspect the question is now whether the Reds will win but rather by how much.
• WEST HAM 2-1 Newcastle – Toon have scored six goals all season. Six. That's turruble. The recent insertion of Allan Saint-Maximin on the opposite flank from Miggy Almiron gives them a lot more punch so I wouldn't be surprised if they started bagging a few more… but the diminutive Frenchy bring almost nothing on defense so it comes with a tradeoff. Basically, I just think West Ham is a better team.
• Sheffield Utd 0-0 Burnley – Shouts to the Blades who came into the season as odds on favorite to get bounced right back down to the Championship, and yet here they are in EIGHTH place! I have no idea how they have 13 points from scoring nine goals in 10 games… but cheers to their efficiency! Burnley on the road against a team that can't score? Yep, scoreless sounds about right.
• BRIGHTON 2-0 Norwich – The Canaries are dead until they prove otherwise. Where you at Team Pukki!?
• CITY 4-0 Southampton – The Saints scored on City in the midweek Mickey Mouse cup game against City, which I'd call a major moral victory. I'd be kinda shocked if they pulled off back-to-back results – moral or otherwise.
• WATFORD 2-1 Chelsea – The Blues have been WAY better than me or anybody else thought possible coming into the season so this pick makes less than zero sense apart from the fact that Watford are better than their record and are definitely to sneak up and shock somebody at some point… I again will have to withdraw this prediction if The Babyjesus is in the starting XI and go with 2-2 draw, but I strongly suspect that Frank is going to revert to hating fun and success and America again.
***********************************
LAP AROUND THE WORLD
ITALY – Roma hosting Napoli (9:30am CT) and the Turin Dærby with Juventus visiting Torino (2:45pm CT) on Saturday is a nice little one-two punch.
SPAIN – Sevilla welcoming Atletico Madrid on Saturday (12:30pm CT) should be a high quality, albeit low-scoring affair.
GERMANY: Tonnnnnnns of fun in the Bundesliga this weekend with BVB/Wolfy, Bayer/Gladbach and (perhaps more interestingly) Eintracht/Bayern all at 8:30am CT on Saturday morning.
***********************************
So there we have it. Big weekend. Only one more weekend before another international break. Stay safe out there, fam.
Holler,
Samuel Army