Let's Make Even More Money - Giving You Every NBA Award Winner And Other Bets To Make For The NBA Season
The NBA tips off tonight, which means it's truly the last day to get more future bets in preseason. Last week I gave out all 30 team totals – check that out here. Last year I went 20-10 in those, so let's keep rolling the dice and see what other winners we can find. I'll give my individual picks, a longshot (20/1 or better) if you want to get frisky and some other suggestions if you don't like my pick.
So we're going to get into the awards race and a couple divisional bets I really like. Again, these are all from our friends at PointsBet. Let's get right into it.
Rookie of the Year Obviously the Zion news came out yesterday and there is no open bets on this right now. When they do open I'll tweet it out, but I'll probably try and fade Ja- assuming his odds are ridiculously low. I like Tyler Herro, who is going to be a popular pick with this. But the fact is he's going to start on a playoff team. That helps. We'll see what odds are at some point.
MVP
Pick: Joel Embiid (+1200) This is one of the tougher races I think in recent times. It's more wide open and you have these duos as opposed to a couple dominant teams and then an individual guy like Giannis. Now, don't get me wrong. Giannis is going have a huge year, but I want to fade him for that low price. Then comes what do you do with the duos in LA, Houston and even Portland. I'm going to fade those LA duos because of health (Paul George/AD even), minutes restrictions (Kawhi/LeBron) and then in Houston, while I think they have a huge year part of me thinks the media doesn't want to vote for Harden. So that leaves me with guys like Embiid, Jokic, Dame, Steph. I almost wanted to take Steph at 5/1. But, here's where I'll go with Embiid. This year is just so damn important for the Sixers. A lot of that falls on Embiid. He's getting some help with Horford where Embiid can rest a bit and not get as gassed is huge. Throw in even more that Embiid might win DPOY too and I like him for an MVP.
Longshot: Damian Lillard (25/1) Other picks to target: Steph (5/1), Jokic (12/1)
6th Man Of The Year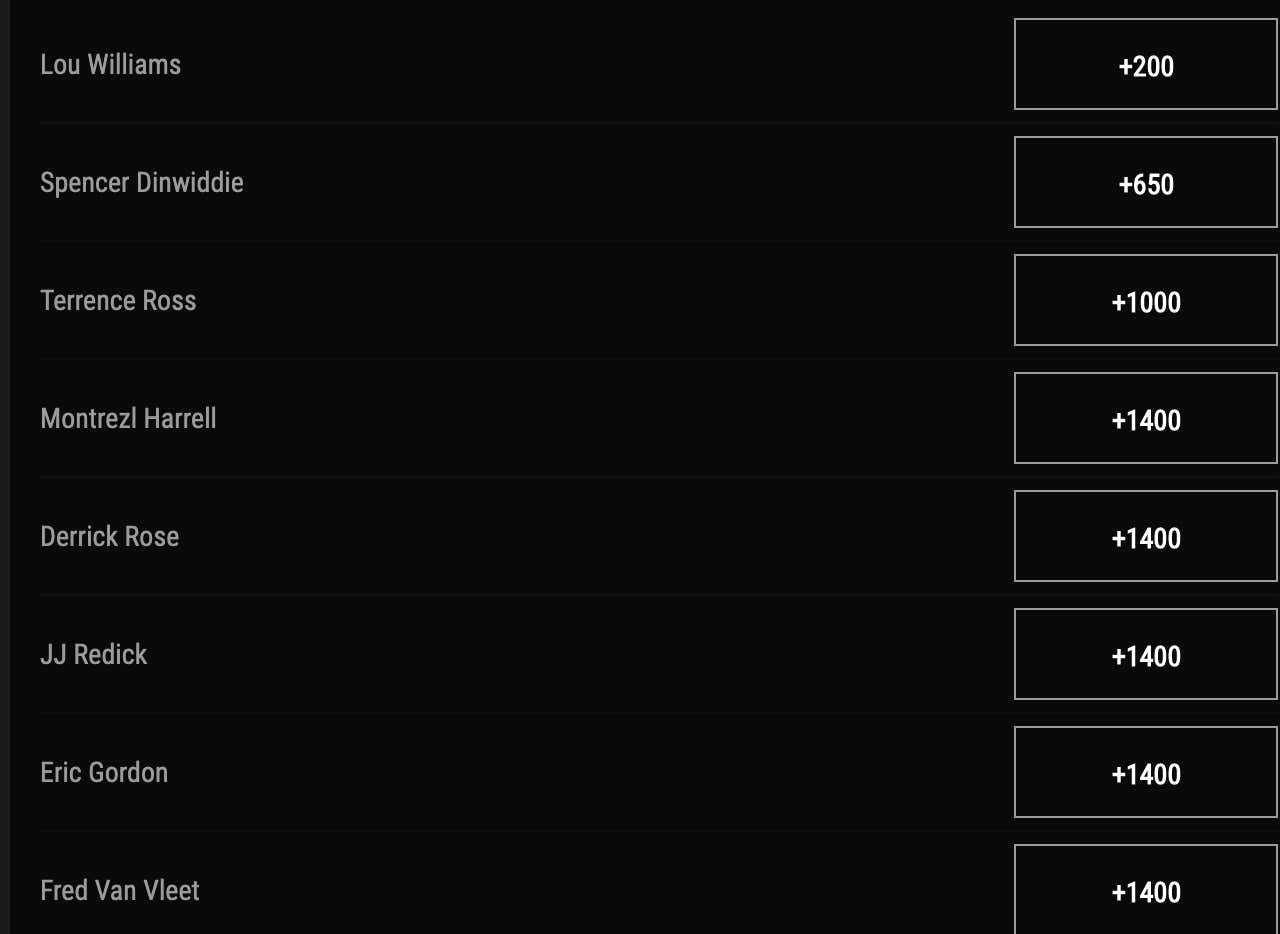 Pick: Lou Williams (+200) I don't think I'm breaking any crazy ground here picking Lou Williams. The guy is probably the 2nd best 6th man of all time behind Manu. He's the leading 6th man scorer and with the Clippers being arguably the best team in the league this year he's going to get a ton of pub. We saw him win it even with splitting some votes with his teammate Montrezl Harrell. I just don't know how he loses this outside of injury.
Other Picks: Fred Van Vleet (+1400), Spencer Dinwiddie (+650) Longshot: Bogdan Bogdanovic (+2500)
Most Improved Player
Pick: Bam Adebayo (+1600) Call me crazy, but I'm absolutely fascinated with this race this year. There are a ton of different ways this could go. You have guys that are high picks that dropped off a bit last year (Tatum), you have guys finally getting their break in minutes (Bam) and then you have just random guys (Luka, Fox). But I'm going with Bam here. The dude finally is going to get more run with Whiteside no longer there. He fits with what the Heat want to do with Jimmy Butler. His ability to defend multiple positions, rebound and run to the rim is perfect. The question is will he score enough to win this award, because he's a sneaky DPOY candidate. 
Other Picks: Johnathan Isaac (+1800), Caris LeVert (+2000) Longshot: Thomas Bryant (+30000)
Coach of the Year
Pick: Michael Malone (+1400) Coach of the Year is always the weirdest race out there. Rarely does the best coach (Pop) win. It's usually who exceeds expectations or something along those lines. So with that in mind I'm going with Michael Malone at 14/1 in Denver. First off the dude is a damn good coach. Second, they are going to be in the race in the Western Conference, especially since they have the biggest home court advantage in the game. They went 33-7 there last year. They realistically could win 50+ games with somewhat ease. They are also the media darlings in the sense of being this homegrown type talent and developing these young guys.
Other Picks: Brett Brown (+1200), Erik Spoelstra (+2000) Longshot: Terry Stotts (+3300)
Defensive Player of the Year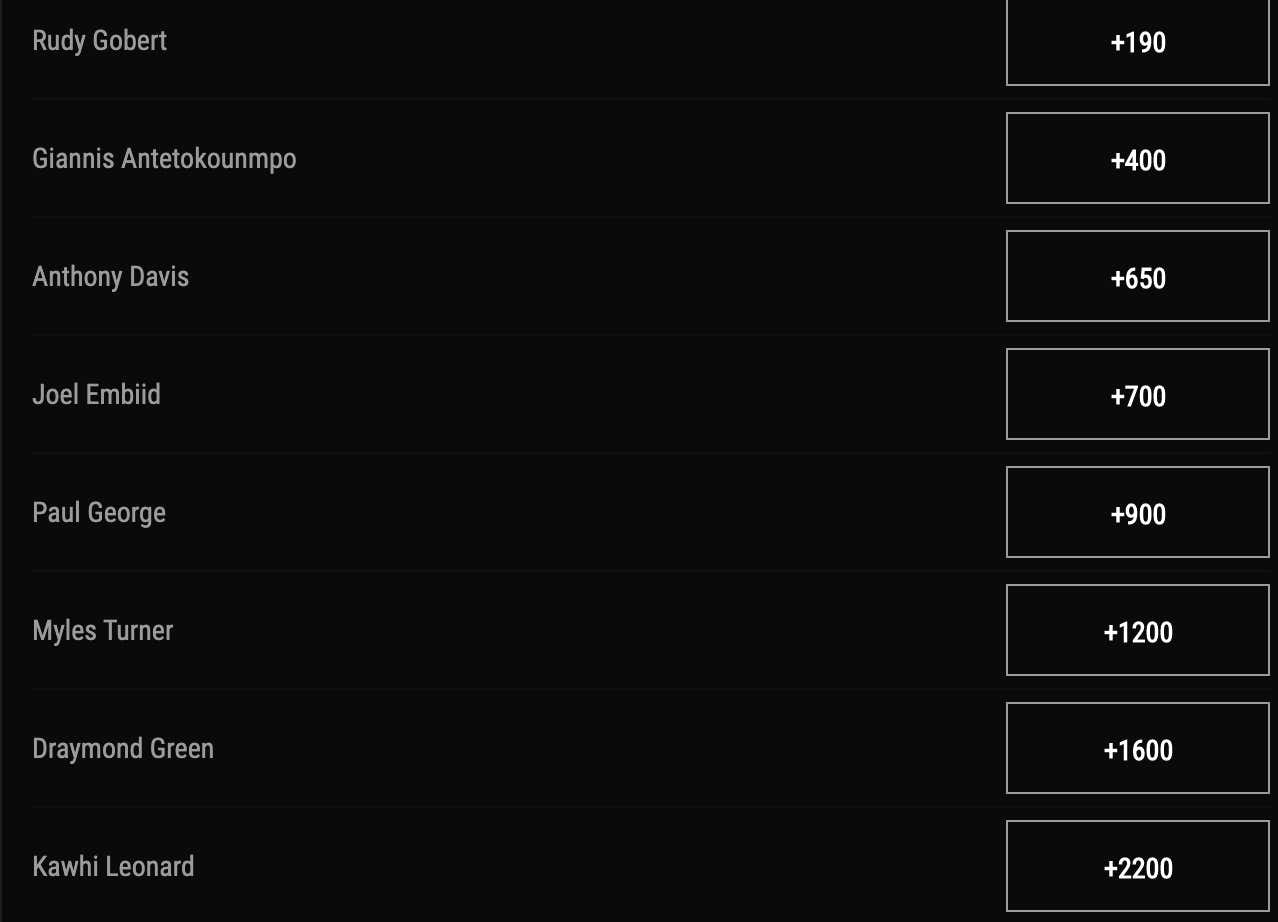 Pick: Rudy Gobert (+190)
I mean what the hell else are you supposed to do here? The guy is the best defensive player in the league and you're still getting him at pretty much 2/1. I'll take that and run. I don't want to bet against him just yet. That's it. That's the summary.
Other Picks: Joel Embiid (+700), Draymond Green (+1600) Longshot: Jrue Holiday (+3300)
Division Winners
I'm not going to go through each division here because I don't like them all. But if you want to get nuts with some more futures, here are a couple I like. 
Pick: Blazers +325 To put it simply – like I mentioned in the win totals blog, I love the Blazers in the regular season this year. Dame and CJ aren't going to miss time. Nurkic should be back at some point. They aren't going to do load management or anything like that. They add in Whiteside even too. The Jazz tend to start slow, so I think it's debating the Nuggets or Blazers. I'll take Portland at +325.
Pick: Miami Heat (-117) The first one we're going to take not at plus value here. Give me the Heat as I think they end up as the third seed in the East this year. Jimmy Butler is going to play his ass off. They add Tyler Herro who could win Rookie of the Year. I already talked about Bam. You can throw out the Hornets and Wizards right away here too. I like the Hawks, but not to win a division. So it comes down to the Magic (who won it last year) and the Heat. I'll trust Jimmy.
***
Enter the Barstool Bets WS contests presented by FanDuel. Whether you're a beginner or an expert sports bettor, our free-to-play betting contests give you the chance to win cold hard cash at zero cost.
- $25K in FanDuel DFS Credit Prizing for WS Games 1-4
– $5K FanDuel DFS Credits to 1st Place
– FREE to play
Go to barstoolbets.com or download the app to enter the Game 1 contest by Tuesday at 8:08pm ET.