Former #1 World Golfer David Duvall Posts A 13 On A Par-5 After Playing The Wrong Ball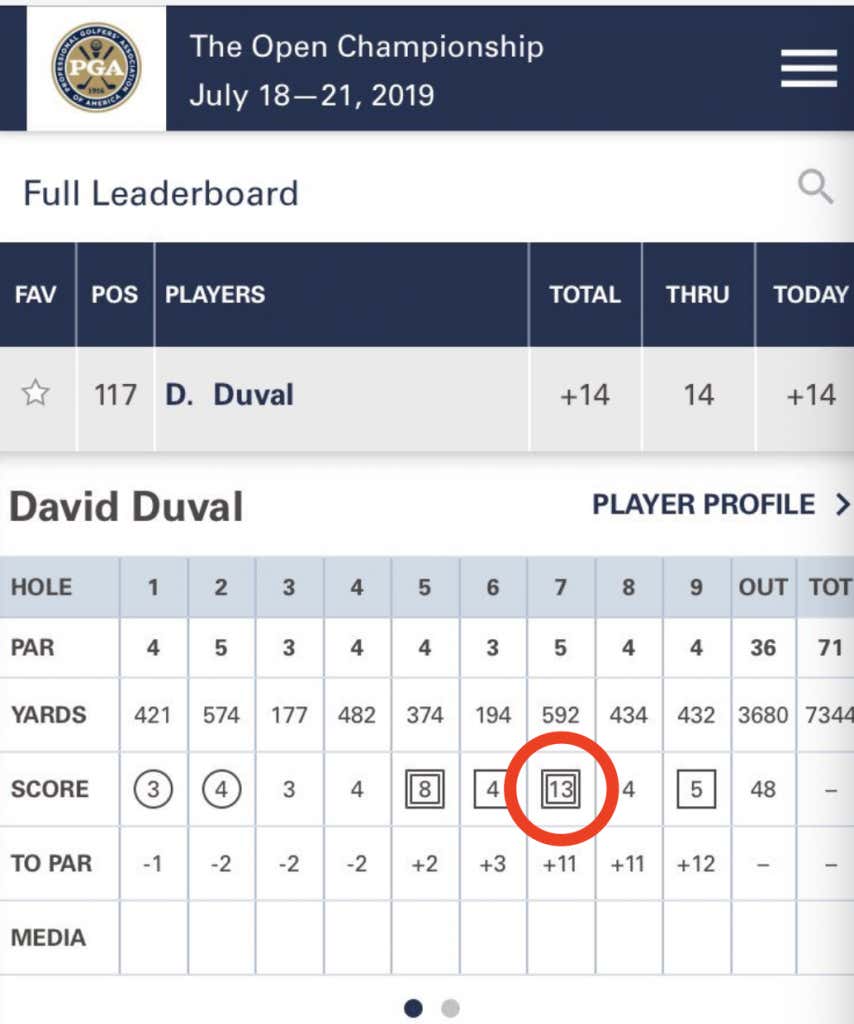 ORTRUSH, Northern Ireland – David Duval got off to a fantastic start in the British Open. After birdieing his first two holes and reaching Royal Portrush's 5th tee 2-under he was one off the lead.

But the 2001 British Open champion then went quadruple bogey, bogey and 13 at the par-5 7th, which added him to the history books.

The 8-over-par tally is the third-highest score in championship history, surpassed only by D. Murdoch's 14 at Prestwick's first hole in 1925 and Herman Tissie's 15 at Troon's Postage Stamp in 1950.

According to the British Open radio broadcast, Duval hit two provisionals off of the 7th tee and thought he was playing his third ball most of the hole before realizing it was the second provisional. He went back to the tee to start over again and that led to an initial posting of 15. But the antics were reconsidered and his score soon reported as a 13.

Duval was a 1/7 pre-tournament favorite to miss the cut.
That last line hurts. "1/7 pre-tournament favorite" starts so promising. Like Damn David those are remarkable odds to….
Miss the cut? Yeesh. Sheesh. Woah.
That's an overwhelming cloud of negativity. Imagine strolling up to the 1st tee knowing that it would take a miracle for you to even belong on the golf course. What an awful feeling aka exactly how I am any time my buddies take me golfing somewhere nice. Medinah? Yeah I'm a 1/7 favorite to get your account dinged a few grand in sandtrap assessments.
Olympia Fields?
Granted I didn't burn the furniture but you get the point. Nothing worse than being somewhere you don't belong from the very start and the fact it's David Duvall has me overdosing in nostalgia.
People forget David Duvall used to fuck so hard back when the world was a much cooler and insensitive place:
Back when shot tracer was actually a 65 year old guy in the tower drinking bourbon and talking shit about how much golf had changed since Ben Hogan died. Back when Oakleys were considered revolutionary technology and driver heads were the size of your ballsack not brain.
Those were simpler times and I don't miss them at all. Not with this technology;