Do You Believe This Leaked Celtics Trade Offer For Anthony Davis?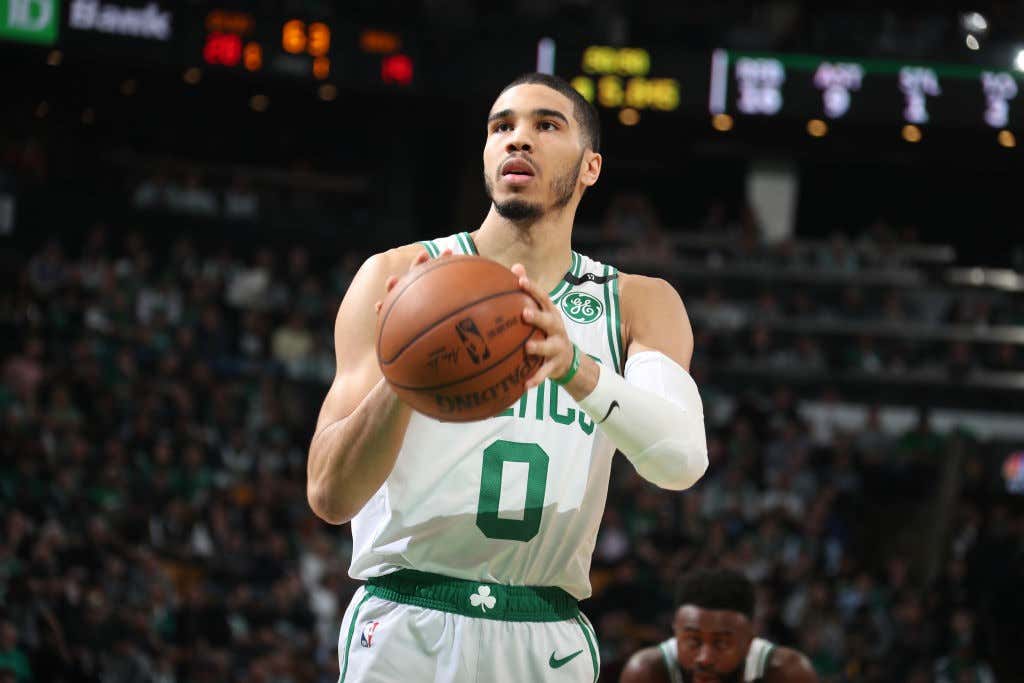 If the Celtics are serious about pursuing Anthony Davis no matter what ends up happening with Kyrie Irving which is appears they are
it all comes down to what that package might look like. Soon after the Globe published that story, there was this leak on Twitter.
Is "Robot Dave" credible? No fucking clue. His profile says he worked for NBC Celtics for 25 years so who the hell knows. As someone with zero sources it is my mantra that I won't assume nobody else does even if this isn't coming from the normal names. Take this with a gigantic grain of salt. But for the sake of discussion, as each of these "reports" come out, we'll look at them and act as if they are fact. Now with this specific package there's a huge win right off the bat, and that's the fact that Jaylen Brown isn't included. A big part of this whole thing is that Ainge is able to hold onto at least one of the Jays. What you have to accept is that no matter what the package is, it's going to hurt your heart as a Celtics fan, and you throw Tatum/Smart/Yabu/Timelord in a package and that's basically every single Celtic this fanbase would murder for.
From a player perspective, this is the least painful combination of talent when you accept the fact they aren't going to be able to move Hayward in this deal or Horford. In terms of the overall package, considering this is a 1 year rental it really matters what the picks end up being as well. Are they able to hold onto the MEM pick? Is it this group and then every pick they own? Given the serious flight risk that is Anthoy Davis, that may be a little too steep.
People are going to point at Kawhi's situation and say no matter what you need to always pull the trigger for elite talent even on 1 year. I think it's not that simple. If Kyrie is really gone and this is something that happens and you don't have any picks to restock, what are the Celtics left with?
PG – ?!?!?!?!?!?!
SG – Jaylen Brown
SF – Gordon Hayward
PF – Al Horford
C – Anthony Davis
Their bench would look something like Semi, Baynes, Daniel Theis (maybe) and not much else. I'm also assuming that Terry isn't back as well as Kyrie, but maybe that changes if this deal goes down. Whether or not you're interested in paying Terry starter money and giving him the keys is another story. How can we also be sure if AD really doesn't want to be in Boston that he doesn't just pull a Kawhi and say he's hurt and sits out the year? I'm sick just thinking about it. In terms of cap space the Celts won't have much so who knows what veterans they are able to bring in to fill out their roster, so as you can see it's not that easy.
If Ainge is hell bent on making this deal and is able to save some picks, this type of offer doesn't surprise me and something I think he does. Personally, with each passing day I'm leaning more and more to just passing on Davis all together, Rich Paul's scare tactics have worked on me, but something tells me Ainge doesn't share that same mentality.
So I'll ask you. Are you buying this potential offer, and if so would you do it given everything we're hearing about AD and his future?