Cleveland Bars Have Been Approved To Stay Open Until 4 a.m. For MLB All-Star Weekend And I Am NERVOUS For My City
CLEVELAND, Ohio (WOIO) -With the MLB All Star Game coming to Cleveland in July, bars within the Cleveland city limits were given the chance to ask the Ohio Division of Liquor Control to extended their liquor licenses until 4 a.m..

The extended licenses fall under the "major event" category, much like what was approved for the Republican National Convention.

The temporary extensions will go into effect Fri. July 5, through Wed. July 10.
I feel like I'm a mother getting ready to host my son's graduation party and nothing is ready. In just one month, the entire nation's eyes will be set upon MY city. And I know this is going to become a regular occurrence with the NFL Draft, NBA All-Star Game, Women's Final Four, and multiple AFC Championships all being in Cleveland in the next couple of years, but this is our first big event of the bunch. First impressions are everything. We need to knock this one out of the park, and then people will be begging to come back for more. This is our chance to finally show the world how great of a place downtown Cleveland is. How it is both a tourist destination and a desirable place to live. The MLB All Star Weekend is the weekend Cleveland turns the corner in the eyes of the world. And our first big move is to keep the bars open until 4 am????
Ugh. I just don't know about this. Do I like to drink? Yes. I've probably had more beers in my life than all of you combined. But alcohol entices you to make BAD DECISIONS. We don't need any bad decisions made next month during All-Star Weekend.  And I know that all of you New York folk will say, shut up Tate, this is common place in the city, it'll be fine. First of, New York people, you're dealing with a sports fan base on a much smaller scale than the one we have here in Cleveland. Have you ever seen how Cleveland sports fans turn out in droves for big events?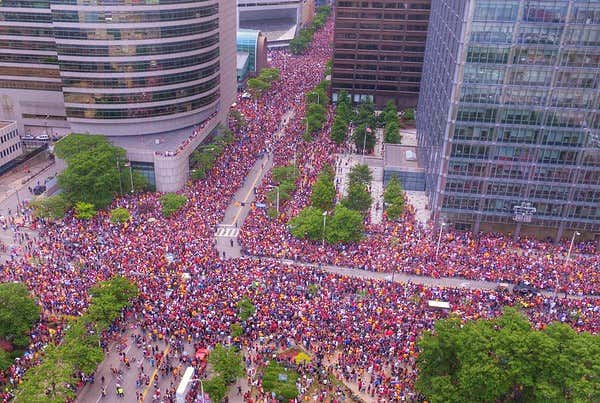 New Yorkers couldn't even imagine hosting a crowd that large all night, so spare me the "our bars are open til 4″ talk. This is a completely different situation. And I am not alone in feeling a little bit of butterflies over the whole ordeal.
I'm not saying it's a bad thing. I'm just saying I'm nervous. We need this to run smoothly so people start to move here in droves and boost the economy into one of the country's finest. But some critics are saying that this bar ordeal is already ruining that plan.
Good point, man. Leaving the bars open longer will cost this city millions.