I Went To Nashville This Weekend And Officially Crowned It The Funnest City On Earth
This past weekend I ventured down to Nashville with 8 of my closest friends and had one of the funnest weekends I've ever had in my life. One for the history books. One we'll be talking for years and years on end. A weekend filled with good music, good drinks and good vibes. If you like live music, if you like to be on your feet cutting rug on the dance floor, Nashville is the place for you. Nashvegas as I'm calling it now is heaven on earth for people who like to party. It's a strip of bar after bar after bar that are all multiple floors with live music, DJs and rooftop bars with views of the gorgeous city. Everyone knows there is nothing better than a rooftop bar and they come in bunches on Broadway in Nashville.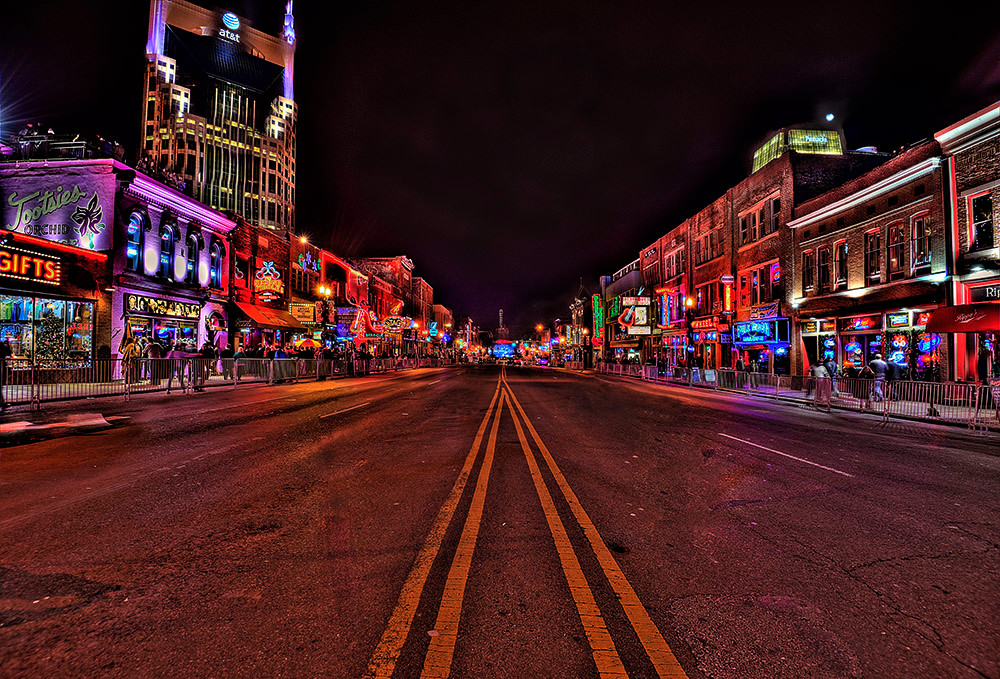 Our adventure through Nashville started around noon on the strip hitting every bar for a drink and moving on to the next. On our journey we stumbled into a bar called Stage. We had been doing beers at each bar but something about this one gave me the urge to make the switch to double vodka Red Bulls and that was when things started to go off the rails in the best way possible. The Double Vodka Don was officially activated and it was absolute mayhem.
It all started with a choir of 9 drunk ass 25 year olds screaming the hook to 'Country Roads'.  It was at that moment the people in the bar started taking a liking to us and the front man in the band immediately backed off and was letting us sing the chorus completely by ourselves because we were yelling it so loud you could probably hear us all the way in West Virginia. The people around us started asking if we were from West Virginia and were surprised (but also not surprised) to find out we all were actually from New York. After that I don't know what happened. My friend was making out with a women over 40. I was swing dancing with women older than my mother and putting on a display of dancing some may characterize as immaculate. I blacked out and snapped back into it by an older gentleman dragging me to the bar saying my performance on that dance floor was so incredible that he had to buy me a drink. He slapped a $100 on the table and said give me 2 of whatever he's having. I didn't hesitate to order another double vodka Red Bull because they're pricey as is and I'm not one to turn down a free drink. He had no idea what it was but he took his and went back to the bleachers to watch me pitch a perfect game.
I couldn't miss. Every move. Every gyration of my feet and hips was spectacular. I got lost in the music and I was in the fucking zone. I had a women older in her 50's tell me she could do things with her mouth that I wouldn't believe. I became slightly erect but also confused because I love older women but I could have swore she was there with her husband. I also had another older gentleman approach me like he was the football coach of an opposing team who had just played Cam Newton in High School. I never in a million years thought I'd be comparing myself to Cam Newton other than the fact we've both been kicked out of college, but in this scenario it plays swimmingly. He pulled me aside, put his hand on my shoulder and looked me dead in the windows of my soul and said "Son, I've been on this earth almost 70 years and I've seen a lot of people dance, but I've never seen someone that can move like you." It almost brought a tear to my eye. But instead of lingering in the euphoric high of that moment, my content brain turned on and I went outside the bar to film a reaction video to my first few hours in Nashville.
I was blown away by the Music city and all that came with it. Being from New York I will admit we tend to stick our noses up to places that aren't on the east coast or California from time to time but Tennessee and specifically Nashville will always have a special place in my heart. It was non-stop drinking, dancing and fun. No drama, no fights, just everyone out and about with great vibes looking to have a great time. I was amazed by how little law enforcement was out for thousands of drunk people wandering the streets between 10 am and 4 am but everyone was just so cheerful. There was no dirty looks or fists flying it was just high-fives and laughs. Nashville was like a little slice of heaven for a guy like me. I'm a simple man who likes a cold, strong alcoholic beverage, some good music, good people and good vibes and that's all I need to have one hell of a time. (A LOT of groups of bachelorette parties sure as hell didn't hurt either)
Before I finish this blog I would be lost not to mention what might be my favorite bar I've ever been to, Jason Aldean's Rooftop Bar. I couldn't name a single song by Jason Aldean (I'm sure I'd recognize some if I heard them) but I'll tell you what, he put together one hell of a bar.
The Rooftop turns into a nightclub type atmosphere when the sun goes down and it is unbelievable. We ventured all over the strip during the day but after going to Jason Aldean's Bar the first night there was no where else we were finishing our nights at then this establishment. All three nights I was there I had to get dragged out because they were closing and I just didn't want to leave. I wanted to soak up every ounce of energy that place was giving off.
Having to go back to New York yesterday was heartbreaking but I have no regrets. For three straight days I left it all out on the field and couldn't be more proud of my performance. If it was equated to a basketball game I'd humbly say I went for 73 points, 48 rebounds and 27 assists. The basket looked like a god damn ocean. I was crashing the boards and going back up for buckets like a young Wilt Chamberlain. But anyways with that being said Nashville is the funnest city on planet earth and I will 1000000000% be back, you can take that to the bank.
Anyone that wants to go on a trip to party with a big group of friends, I couldn't think of a better recommendation than Nashville, Tennessee. It was just recently crowned the funnest city on earth by yours truly.